Bienvenue dans le sud-ouest de la Louisiane
Situé à seulement 140 miles (225 km) à l'est de Houston, Texas à 206 miles (331 km) à l'ouest de la Nouvelle Orléans, en Louisiane, Lake Charles a beaucoup à offrir aux voyageurs recherchant des jeux de casino, une nourriture délicieuse, des aventures en plein air et des divertissements. Nos gens vous feront sentir comme chez vous tandis que vous explorez nos casinos, greens de golf, concerts, arts, notre histoire, cuisine cajun, sans oublier la pêche tout au long de l'année.
Vous venez peut-être pour assister à une conférence, pour visiter de la famille et des amis, ou juste pour explorer un peu du sud américain. Le sud-ouest de la Louisiane est parfait pour des voyages en famille, des voyages organisés, des rassemblements ou des congrès. Nous vous souhaitons une agréable visite du sud-ouest de la Louisiane.

 Demander un guide d'escapade     

 Regarder une vidéo
Creole Nature Trail All-American Road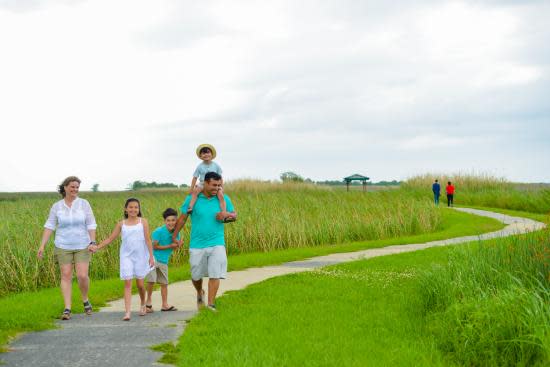 Le Circuit nature créole attire tous ceux qui ont le goût de l'aventure.  Il s'agit de l'arrière-pays de la Louisiane où vous aurez l'occasion de sortir et de profiter de la pleine nature le long du Circuit nature créole tout en observant des alligators et plus de 400 espèces d'oiseaux directement depuis votre véhicule. La pêche aux coquillages sur les plages naturelles du golfe et la pêche en mer de classe mondiale sont également possibles le long du parcours. Téléchargez l'application smartphone gratuite, disponible en de multiples langues, avant de quitter la maison en cherchant « Créole » dans votre app store. Une fois sur le chemin du parcours, activez l'emplacement sur votre appareil, et l'application passera en lecture automatique à mesure que vous approchez d'un point d'intérêt.
Creole Nature Trail Adventure Point

Creole Nature Trail Adventure Point donne vie aux nombreuses qualités intrinsèques qui rendent cette région unique. À l'aide d'écrans imaginatifs et pratiques, vous pouvez prendre connaissance des meilleurs emplacements pour observer des alligators et des oiseaux chanteurs migrateurs, jeter un coup d'œil sur la faune se trouvant dans des bayous et des marais, sentir les arômes alléchants de la cuisine cajun/créole, et « entrer dans le jeu » d'un orchestre cajun et zydeco.
Observation des oiseaux


Chaque année, les oiseaux et les amoureux des oiseaux affluent sur le parcours pour observer les oiseaux tout au long de l'année ainsi que les oiseaux migratoires. Dans une année normale, plus de 400 différentes espèces peuvent être aperçues dans cette région, un vrai paradis pour les amoureux des oiseaux ! Le terrain plat et les plans d'eau facilitent l'observation et la photographie des oiseaux.  Les grandes destinations d'observation des oiseaux incluent : Le sanctuaire de Peveto Woods à Cameron Parish ; la réserve naturelle de Rockefeller State ; la réserve naturelle nationale de Sabine ; et la réserve naturelle de Cameron Prairie. Ce n'est plus un secret, le circuit a été cité parmi les 40 meilleurs points d'observation des oiseaux d'Amérique du Nord par Wildbird Magazine et a été proclamé comme l'une des 10 meilleures destinations d'observation des oiseaux dans le pays.
Hôtels casinos


Les hôtels casinos dans le sud-ouest de la Louisiane sont des établissements 4 étoiles avec toutes les commodités. Des terrains de golf, des spas de classe mondiale, des rivières à bouées et des bars dans l'eau plus une grande variété de restaurants et de boutiques ne sont qu'une partie de ce que ces hôtels ont à proposer.  Il existe des tramways au Golden Nugget Lake Charles et à L'Auberge Casino Resort qui permettent aux clients de profiter des deux établissements. Suivez le tiercé en direct à l'hôtel casino Delta Downs ainsi que les activités de casino ou glissez-vous dans le rythme de l'île dans l'hôtel casino Isle of Capri, directement sur Lake Charles.
Explorations culinaires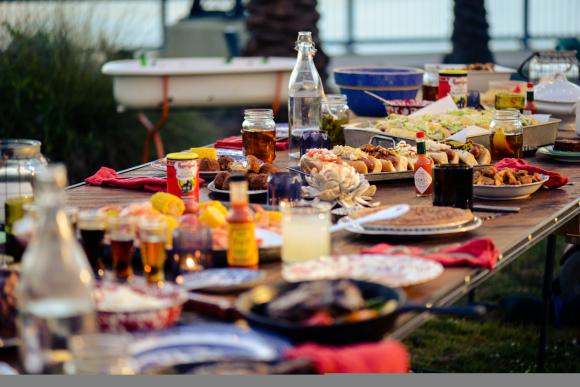 L'alimentation occupe le devant de la scène ici à Lake Charles / dans le sud-ouest de la Louisiane.  Les traditions culinaires du sud-ouest de la Louisiane proviennent des cultures amérindienne, française, allemande, cajun et créole qui se sont fixées dans la région. Savourez les arômes des délicieuses denrées cajun/créoles : boudin, gumbo, jambalaya, crabes, langoustes et pudding recouvert de sauce au rhum. Il existe des circuits gourmands de Bayou Rum, le circuit du boudin du sud-ouest de la Lousiane (le boudin est une préparation traditionnelle de porc, riz et épices fourrée dans un boyau), ou essayez ces cafés micro-torréfiés organiques chez Acadian Coffee Roasters ou des spécialités de saison dans les marchés fermiers locaux pendant que vous êtes en ville. Si vous préférez les infusions sous forme de bière, visitez nos brasseries d'origine locale : Crying Eagle Brewing Co. et Rikenjaks Brewing Company.
Festivals

Vous êtes dans la capitale des festivals de la Louisiane ! Nous accueillons plus de 75 foires, festivals et manifestations spéciales chaque année. Mardi Gras à Lake Charles est familial et géant avec le deuxième plus grand festival Mardi Gras en dehors de la Nouvelle Orléans. Visitez www.swlamardigras.com pour une liste complète des manifestations. Ne vous en faîtes pas si vous ne passez pas durant la saison du Mardi Gras. Vous pouvez découvrir le musée Mardi Gras Museum of Imperial Calcasieu toute l'année comprenant des costumes somptueux, des mannequins animés et un « char de parade » où vous pouvez vous entraîner à dire « Lance moi quelque chose, monsieur ! »
Vous visitez durant les 2 premières semaines de mai ? Guettez les pirates arrivant pour Louisiana Pirate Days. Visitez www.visitlakecharles.org/events pour plus d'informations sur les festivals et les manifestations saisonnières à venir.
Historique
L'héritage du sud-ouest de la Louisiane est fascinant. Il s'agit d'un endroit où les pirates ont rencontrés les cowboys, et où des immigrés cajuns, créoles, allemands, des habitants du Midwest et des pionniers du Sud et de l'Ouest ont bâti une communauté et une culture sans pareil. Le quartier historique de Charpentier, un site listé dans le registre national, peut être divisé en plusieurs circuits de quartier.  Plus de 400 structures constituent le quartier. Visitez www.visitlakecharles.org/history pour en apprendre plus sur la région. Veillez à télécharger notre application gratuite Circuit historique de Lake Charles, disponible en de multiples langues.
Êtes-vous un voyagiste préparant un voyage organisé en bus à Lake Charles, ou un opérateur réceptif ayant besoin d'assistance en matière d'hébergement ou d'attractions ? Si c'est le cas, nous sommes là pour aider. Merci de nous adresser un courrielavec tous les détails et nous serons heureux de vous assister.