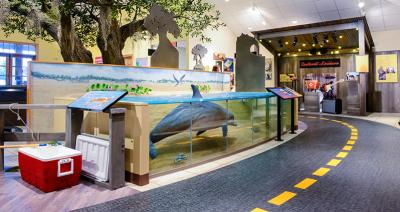 1. Experience the Creole Nature Trail Adventure Point --- Adventure Point brings the outdoors inside with imaginative, hands-on displays sure to inspire your little ones to head out on the Creole Nature Trail All-American Road. The kiddos can take a peek at wildlife found in bayous and marshes, smell mouthwatering aromas of Cajun/Creole cooking, and "play along" with a Cajun and Zydeco band. They can even practice their crabbing skills. It is so much fun!
2. Discover the Creole Nature Trail All-American Road --- Turn the car ride into a safari through The Creole Nature Trail. Offering an up close look at nature and wildlife, including the American alligator and Louisiana's "pink famingo" the roseate spoonbill.   You will also see other animals like turtles, herons, ducks and geese. A drive further south on the trail offers up some of the most beautiful uninterrupted beaches.  Which leads us to number 3!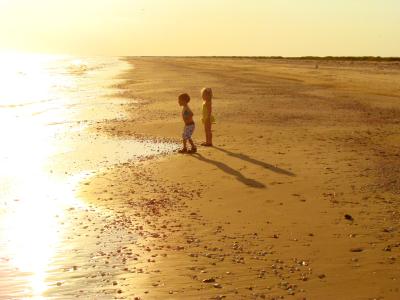 3. Find the perfect seashell --­ The 26 miles of natural Gulf beaches along the Creole Nature Trail All-American Road providing an excellent opportunity for a wide range of water activities, the most popular is shelling. The best opportunities for shelling are at low tide. Our most popular beaches are Holly Beach and Rutherford Beach. Kids will love to find these shell treasures including whelks, cockles, angelwings, olives, wentletraps, periwinkles, and many more. (Shelling Brochure)
It's also a great location for bird watching! Track how many you see with our Birding Brochure. (Birding Brochure)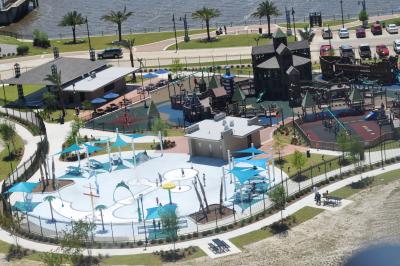 4. Explore your imagination at Children's Museum– The three-story Children's Museum is sure to excite the child and the child at heart. Imaginative events are going on nearly every single day at the museum. Not to mention the Louisiana wetlands, fire station, 
and water exhibits. Plus museum pet and mascot, Iggy the Iguana!
5. Play at Millennium Park -- Millennium Park is the perfect place to picnic along shimmering Lake Charles. The park is 20,000 square feet with a tower, "Shiver Me Timbers" pirate ship, a multi-story Louisiana Hurricane slide, and a tree-house. 
6. Enjoy the lakefront with a carriage ride -- Carriage rides are not just for the romantics. The kids love them too! Several carriages are available in the Lake Charles Downtown area. Their routes usually last 30 minutes and will showcase parts of our historic districts and beautiful lakefront. There are usually food vendors long the boardwalk, so you can grab a treat before or after your ride.
7. Seasonal Fun & Festivals --- Just about every weekend, there is a festival or event featuring local cuisine and toe-tapping Cajun music. That's why the area is deemed the "Festival Capital" of Louisiana with over 75 annual festivals. Check out www.visitlakecharles.org/events for full listings or download our free Lake Charles Events App.
Southwest Louisiana also features seasonal fun like splashing around at Sulphur Parks and Recreation's (SPAR) Waterpark (open during the summer months) or the family-friendly Lost Hollows Haunted Attraction Spooky Timbers trail. (open Oct 2-31).
8. Step aboard the USS Orleck Naval Museum --- The USS Orleck was a WWII Destroyer that was built in 1945. It now serves as a museum dedicated to preserving the history and legacy of USS Orleck. You can enjoy guided tours, exhibits, or laser tag!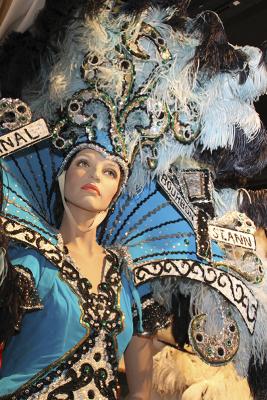 9. Enjoy the great outdoors at Sam Houston Jones State Park ­­­­--- There is plenty to explore with 1,087 acres of lakes, trees, vistas, rivers and streams, nature trails, biking trails and campgrounds.  It's an excellent spot for bird watching and camping. Pack a picnic and take the day out in nature.
10. Tour the Mardi Gras Museum of Imperial Calcasieu --- The Mardi Gras Museum of Imperial Calcasieu celebrates Mardi Gras year-round with more than 250 complete costumes and talking, animated mannequins who tell the history of Southwest Louisiana Mardi Gras. There is even a "parade float" where the kids can practice their "Throw me something, MISTER!!!"
We hope these ideas will help the little travelers enjoy their visit to Lake Charles/Southwest Louisiana! For more ideas, visit http://www.visitlakecharles.org/things-to-do/kids/. See you soon!