1911 Historic City Hall
On downtown Ryan Street stands one of the most notable buildings in town, the Historic City Hall. With its three floors of gallery space and its beautiful clock tower, this building has acted as an Arts and Cultural Center for the last seventeen years, featuring countless travelling exhibitions and local pieces by many well-known artists. Admission is almost always free to the public, providing something easily accessible to anyone looking for something fun to do. Remember the Titanic Museum that came to town? That specific exhibition was housed here at Historic City Hall! That was over a decade ago, but is still one of the most memorable experiences I've had here in town. When I was given the opportunity to catch up with Matt Young, who oversees this building as well as Central School, I knew I was in for a treat! My meeting not only gave me a chance to talk about upcoming events with Matt, but also the opportunity to tour the building and check in on the repairs. Good news for those wondering about the progress—it will be finished sooner rather than later! In fact, there are already several exhibitions set to visit here this in June! Read below to find out about the exhibits opening June 12.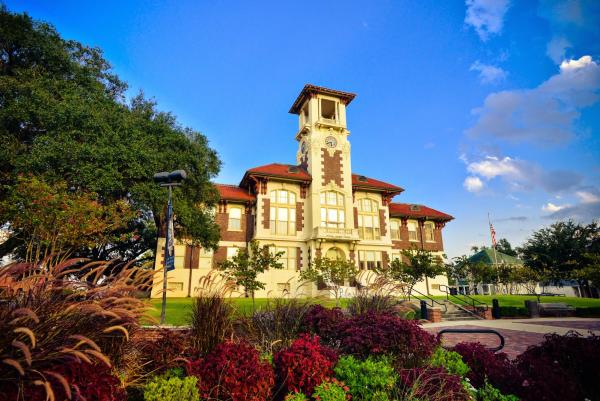 The Progress
This past year, Hurricane Laura tore off nearly 50% of the roof and rain continued to pour into the building for a prolonged period of time. After I heard this from Matt, I had to know whether or not there had been art in the building during all of that. Unfortunately, there was a lot of art still inside. There were a few pieces featured by artists Salvador Dali and Pablo Picasso, and of course, those had to be restored. Hurricane Delta brought in floodwater from the street, ruining what had not been touched by Laura. Needless to day, it was a huge challenge, but  Matt said to me immediately after talking about the hurricanes that really stuck with me: "We're using the opportunity to build back better." Wow. Even typing that I'm reminded again of how passionate our town is about rebuilding, about taking the pieces to make something even better.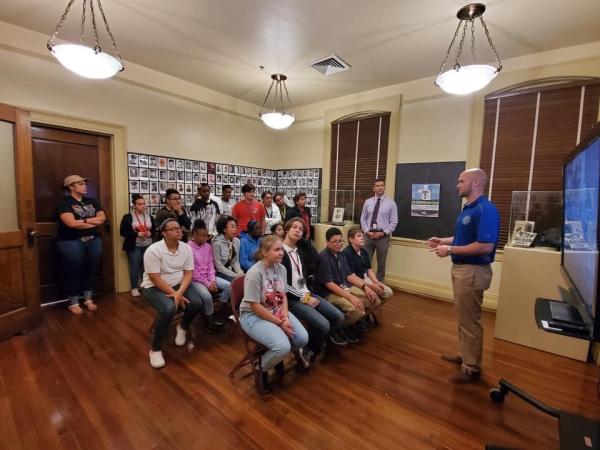 (Matt Young pictured with a touring group.)
From what I have heard from Matt, areas inside are being opened up to allow more natural light into the building. That allows for both better lighting inside and better views of the iconic courthouse across the street. After speaking with museums across the nation, Matt also learned of proper ways to tint the windows inside. This allows for UV rays to be filtered without having to hang black sheets around the rooms. It still keeps it bright enough to see, and, as Matt humorously stated, will help to keep the building's interior from feeling "cavernous." In addition to this, renovations are being made in order to reroute the building's entrances. For years, the back has served as the entrance to many of the exhibitions. Later this year, the front of the building will be able to serve as the "grand entrance" to the exhibitions within. In other words, it will allow for much easier access!
As I toured the building with Matt, I was reminded of how large it is. There were so many spaces for art to be shown. And almost every section was being renovated, so I know that it will be even better than before. This goes for Central School as well, where auditoriums and rooms are being renovated to create a much better space for those needing to use the facility. Looking on the bright side, more opportunities are being created for local artists, and the love for art is growing!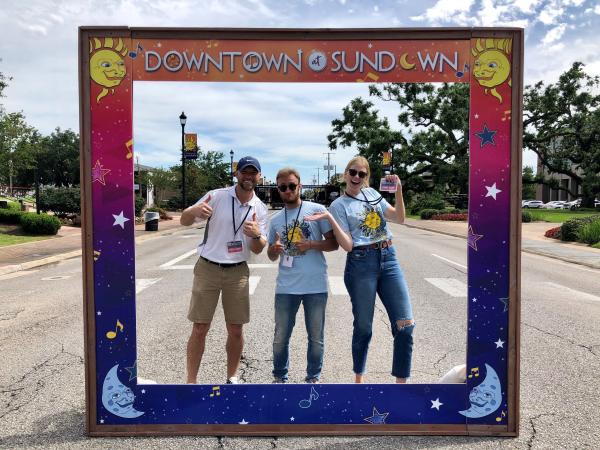 (Recent Cultural Event held outside 1911 Historic City Hall)
The Future
Things are happening in our city! It has been such a long time since we've been able to gather together at the events that mean so much to our area. Just in the conversation I had with Matt, I got to hear about all kinds of things that are being planned. Back in the wintertime, Matt orchestrated the "Six Feet Apart" event, which gave the town a chance to open up again. Art galleries popped up in places that had not been given much attention. Ballet studios, local bands, and school clubs got the chance to perform Christmas musicals and winter productions at the Historic City Hall. When I asked Matt what went into the planning for this, he stated that he and his team "just wanted to inspire people."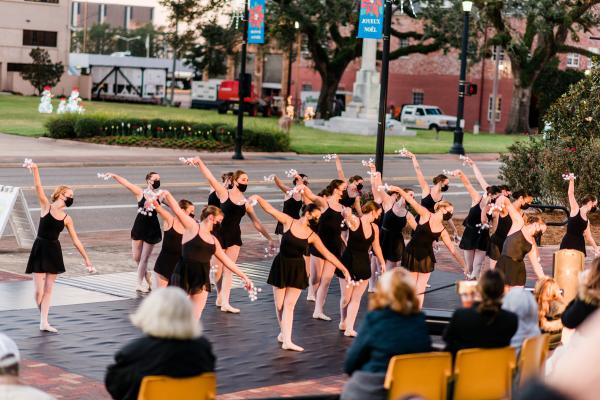 Photo by Kathryn Shea Duncan
Another upcoming event that I really enjoyed hearing about from Matt, called "Meet Me at the Market," is set to start in August, and will run every first Saturday of the month. The Historic City Hall will feature a new take on the Charlestown Farmer's Market—the farmer's market will be at the back, an art market will be at the front, and musicians will be playing throughout. The Children's Museum will also host programming geared towards children during this time. It will be a great place to check off all of the boxes—local food, art, and music! I'm always blown away by how many things people in our town are able to create and curate.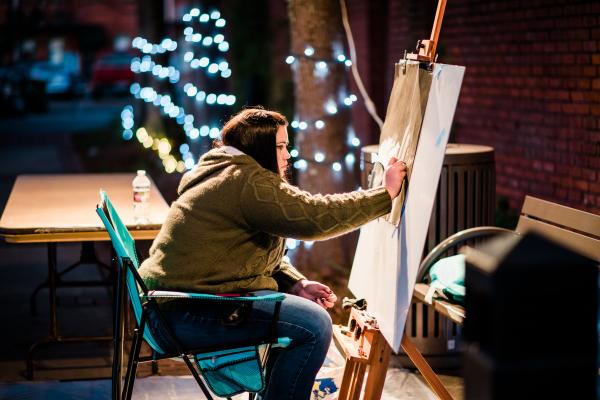 Photo by Kathryn Shea Duncan
Two New Exhibits Opening this June:
With the actual building, two new exhibits will be shown. "A New Moon Rises" will be featured at the opening on June 12, which is a world travelling exhibit curated by the Smithsonian's National Air and Space Museum. In addition, "Intimate Portraits of President Barack Obama," curated by the Black Heritage Gallery, will be featured. This exhibit will showcase portraits taken by White House photographer Pete Souza. The first and second floors will be opened with these exhibits, and although repairs will continue on the third floor, Matt hopes for the entirety of the building to be opened by July 9. I can't wait for the building to reopen, and I can't wait for these exhibitions. Great things are coming, and I hope that everyone will take the time to come and see all of the hard work!