It's only a few more days until Thanksgiving. It's so close, I can almost taste it!
Of course every family has their traditions when it comes to the Thanksgiving Day and the menu. This year, I challenge you to give your dinner a touch of SPICE with some Cajun inspired dishes.
1. Add the "Trinity" to your recipe
One bonafide Cajun ingredient is actually three – chopped onions, bell pepper and celery. We call this the trinity, and it is the base for many Cajun dishes. Include a touch of minced garlic, and the trinity can be mixed into your turkey stuffing or gravy.
2. Smoked or Fried Turkey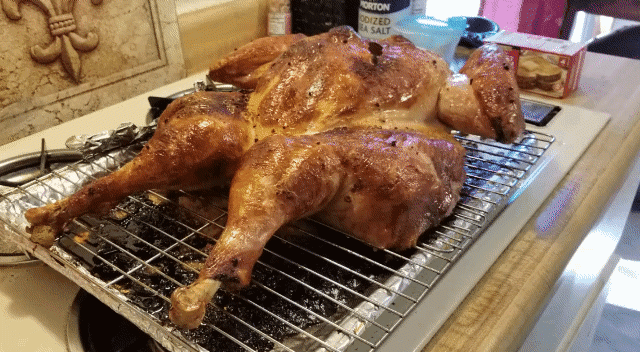 We love this big ol' bird as much as the rest of America – we just like it a little crispy. Before cooking your bird make sure to season it up just right. For my family that means injecting a mixture of melted butter and Cajun seasonings under the skin. That keeps it nice and moist! Once you've decided between smoking or frying – prepare your cooking vessels, kick back and enjoy the wait. PS: Be careful before frying your turkey – make sure to read all instructions before getting started. Here's a good recipe to follow.
3. Turducken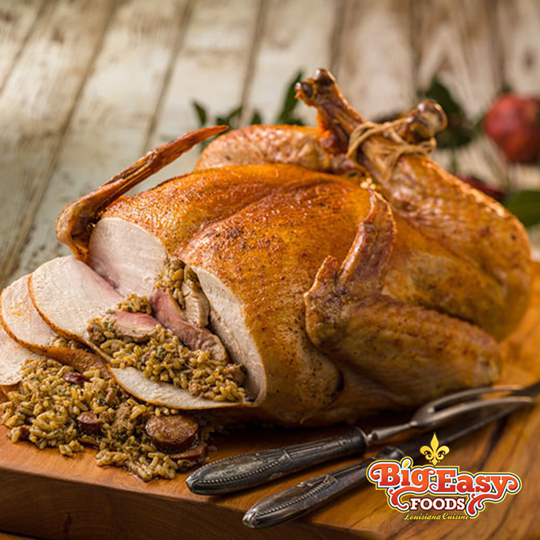 We can't talk about turkeys without mentioning this creation of Cajun culinary skill. It may sound like some mythical creature, but in reality, is a de-boned chicken, stuffed in a de-boned duck stuffed in a de-boned turkey, and it is SO good. You can order your turducken from Big Easy Foods.
4. Cornbread Dressing
Don't you DARE call it stuffing. There is a difference! It is my favorite of all holiday foods and for good reason – It is delicious! Some recipes call for ground beef, sausage or oysters to be baked in but my mama always served it "plain" with a brown, giblet gravy to pour over the top. Find a recipe here.
5. Deviled Eggs
Once the eggs have been boiled, these take less than five minutes to prepare. A little mayonnaise, Cajun seasoning, and the trinity if you'd like and this side dish is done. We always skipped the trinity and added sweet pickle relish.
6. Dirty Rice
It is one of the easiest recipes to prepare and a crowd pleaser. It's another dish that features the trinity. Get the recipe here.
7. Cajun Appetizers & Cocktails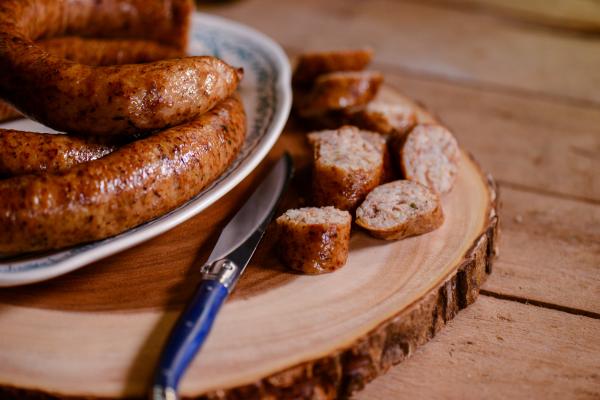 If changing up the main course or side dishes is too much for this year's plans, start off small with Louisiana flavors served as appetizers. Boudin and grilled andouille has all the flavors of Cajun Country without much hassle. Barbecue Gulf shrimp is another easy app straight from the marshes.
Raise a glass to family and friends with a festive beverage featuring Louisiana Spirit's Bayou Rum. My favorites holiday cocktails: the Fais Do Do and Holiday Bayou Toddy.
 
8. A delicious Bread Pudding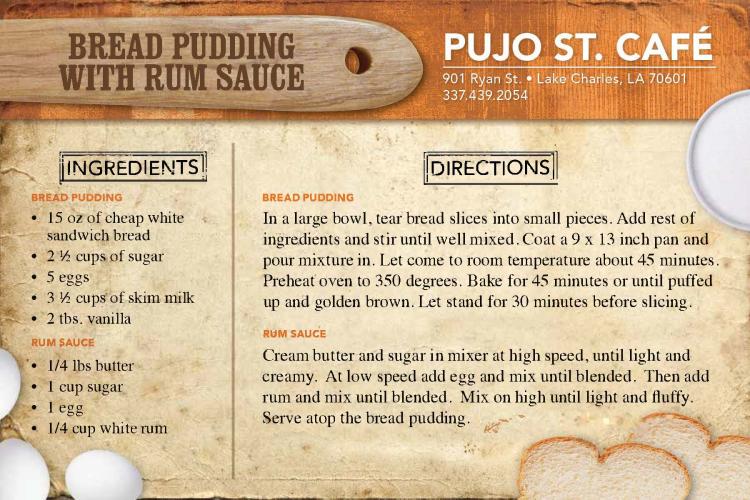 BREAD PUDDING 
In a large bowl, tear bread slices into small pieces. Add rest of ingredients and stir until well mixed. Coat a 9 x 13-inch pan and pour the mixture in. Let come to room temperature for about 45 minutes. Preheat oven to 350 degrees. Bake for 45 minutes or until puffed up and golden brown. Let stand for 30 minutes before slicing. 
RUM SAUCE 
Cream butter and sugar in mixer at high speed, until light and creamy. At low speed add egg and mix until blended. Then add rum and mix until blended. Mix on high until light and fluffy. Serve atop the bread pudding.