King cake spinoffs have become a seasonal trend. Everything from king cake hamburger buns to boudin king cakes are being seen in Louisiana. There are even local businesses creating their own Mardi Gras masterpieces.
Check out this King Cake Recipe
Where to find King Cakes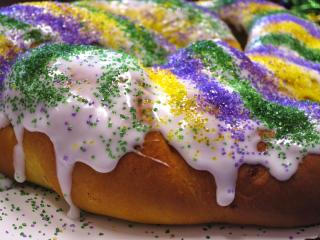 Photo by David Hill
I came across a Facebook post by Botsky's talking about king cake sweet potato fries. I basically ran down there, and y'all - these fries are amazing! Owner Michael Krajicek calls them Krewe de Patate Douce (Krewe of the Sweet Potato) and they not only have the traditional purple, green and gold sugar sprinkled on top, but they smell just like a fresh king cake!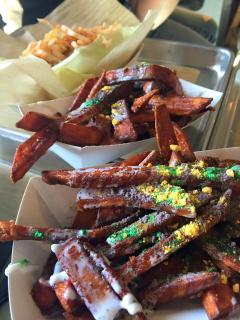 Botsky's Krewe de Patete Douce
Pops and Rockets released their king cake popsicle, Alive and King Cake (a play on Simple Minds' hit "Alive and Kicking"). This fresh treat has all the flare of Mardi Gras with bold cinnamon spice and cool cream cheese.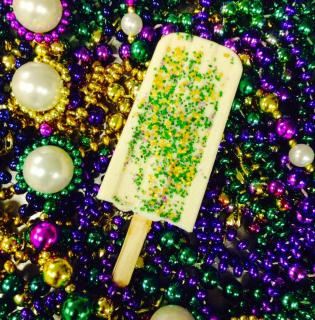 Pops and Rockets' Alive and King Cake Popsicle
I have also heard people talk about a king cake cheesecake from SweetChic Cupcakes. To me, this version is all the wonderfulness of the rich, creamy filling of at king cake but with less bread which means I CAN EAT MORE! Who can argue with that?!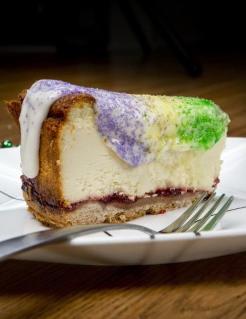 SweetChic's King Cake Cheesecake
To complete my Mardi Gras spinoff feast, I found Community Coffee's Mardi Gras King Cake flavored coffee, Blue Bell's Mardi Gras King Cake ice cream, and  Abita Mardi Gras Bock.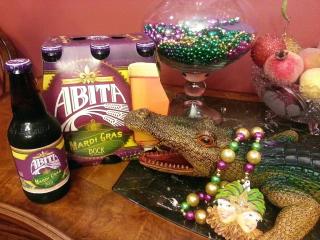 But let's not forget about the traditional king cake. These cakes originated in Europe as part of Epiphany celebrations held 12 nights after Christmas. Louisiana Creoles began serving the cakes of brioche dough (yeast, butter, and eggs) at Twelfth Night balls. The person receiving the lucky slice, which concealed an object (usually a ring or bean), was crowned king or queen of the ball. Throughout the years, the king cake tradition has endured. The cakes are available in every bakery and supermarket during Carnival season and are as varied as the customers who choose them.
King cakes are special pastries unique to our culture and will always hold a dear place in our hearts. Wondering where to buy a traditional king cake or how to make one, visit https://www.visitlakecharles.org/swlamardigras/about/king-cake/