How often have you driven down I-10 West and seen signs for Delta Downs Racetrack and Casino? Have you been there? Recently, I went for the opening day of Thoroughbred Season. Being newbies to Louisiana horse racing, my husband Bob and I were excited!
The first step at horse racing is to buy an Official Program. This booklet tells you all about the races, information about the horses, their odds of winning, the names of owners, trainers, jockeys, and lineage. There is also information about each horse's racing history, the weight of the jockey, and more data than I can understand or need to know!
For some, horse racing is serious business. I saw people there who sat intently with their pens and programs and pored over the pages, studied the stats, made notes in the margins, and obviously put considerable thought into their betting.
How did I pick a horse to bet on? Whichever horse had the prettiest name, of course!
Soon after we arrived, the first race was about to start. Post time 5:55 p.m. We quickly purchased our program and scanned the horses slated for Race 1. Horse number 8, Lovely in Lavender, sounded like a winner to me. Never mind the odds were 15-1. It was early in the evening and I felt lucky. 
Minimum bet is $2.00. I'm such a big spender; I bet $3.00 for number 8 to show (1st or 2nd place). She came in 7th. Out of 10 horses. Maybe rooting for the underdog isn't the best idea in horse racing.
So we went to The Lookout Restaurant for dinner. They specialize in fine dining, steaks, and seafood. The south wall is all windows and overlooks the racetrack. There is also a balcony where you can watch the races, and a convenient betting window, so diners don't miss the fun and excitement of a single race.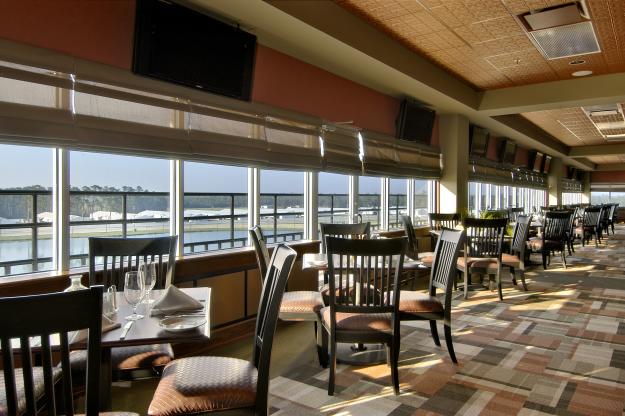 Most of our bets resulted in similar outcomes to that first race. After two or three races, I started considering the odds and checking "Don's Picks" on the television screens. He seems to have a pretty good track record.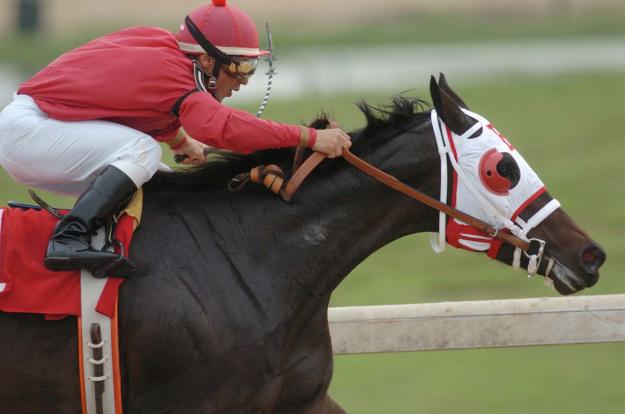 Eventually, I picked a favorite and bet $3.00 for the horse to place (1st, 2nd, or 3rd). And he came in second! Yay, I won something! I went to the betting window to cash in my ticket. The return was $3.90. I netted .90 cents.
We weren't big winners that night, but it didn't matter. Win or lose, horse racing is fun and entertaining. There's a certain thrill, trying to guess which horse will win and watch him race around the track. Your eyes focus on the color of his silk (the cloth that identifies his number). You cheer him on as he thunders by; go, Go GO! It's especially exciting if you watch from the fence beside the track. You smell the horses' sweat and adrenaline. You hear them pant, snort, and battle it out for first place. Their hooves kick up the dust and pound out a competitive beat; your own heart drums a little bit faster.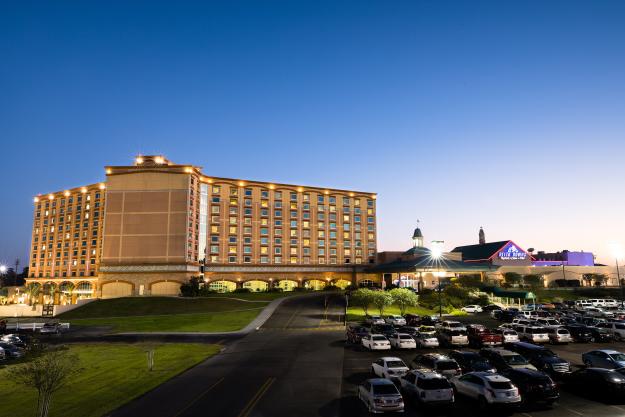 Delta Downs Racetrack Casino and Hotel is located in the quiet town of Vinton, near the border of Texas. Watch Thoroughbred racing every Wednesday through Saturday evenings, from mid-October through mid-March, except Thanksgiving, Christmas Eve, and Christmas Day. The resort sits on 240 acres of Louisiana countryside, the perfect setting for an evening's entertainment, a weekend getaway, or a fun-packed vacation. 
In addition, to live horse racing, they offer off-track betting, over 1,600 of the most popular slots and video machines, live entertainment, modern hotel rooms and suites, an outdoor pool, and five restaurants, from fast food to fine dining. Meeting and convention facilities are also available. For more information, go to www.deltadowns.com.
For "from the track" action and photos, follow Don Stevens on Twitter.