With the challenges faced by Southwest Louisiana in 2020 and two major hurricanes, it's important to support local businesses and the community to build a better future. A small shop that is locally managed by Shelby Roberie, a native of Southwest Louisiana, has been serving our community since she was in college. Shelby (@shelby_roberie_ceramics) has been using her talent to recover from the hurricanes in a different way. She is a ceramic artist who graduated with a bachelor's in Art at McNeese, but she currently has her own shop in Welsh, LA selling her handmade items.
Impact From the Storms:
Through all the struggles and hardship from the hurricane, Roberie said, "I got really lucky," since all her equipment and pieces were okay even with a front window broken and weather blowing into the store.
She is slowly building back her normalcy by selling paint-your-own-pottery kits for the children who are unable to attend her usual pottery classes. Her classes will soon be restarting as soon as Covid-19 measures say it is safe to do so.
Giving back to the community:
Lake Charles and the surrounding areas mean a lot to Shelby, she has been working on giving back to the community that helped her. Shelby Roberie Ceramics will be starting a hurricane relief fund by donating all the proceeds from her handmade prayer bowls to UMCOR (United Methodist Committee of Relief). She has made about a hundred bowls so far and is planning on making more. A win, win in my book you get a beautiful piece of handmade ceramic and your money is going to a good cause!
Importance of Lake Charles:
Shelby started her local shop in her hometown of Welsh because she knew the importance of growing the local economy. She even makes her signature design based on a memory from her neighbors' garden.
"During the summer my family and I would go on walks and my neighbor always had lambs' ear in the garden and I loved touching it because I never knew a plant could be that soft!" said Roberie.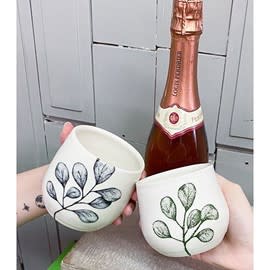 Photo credit: Shelby Roberie
She has a collection of Louisianan based pieces, such as Louisiana shaped necklaces with a heart drawn over Lake Charles, Fleur de leis, and our state flower magnolia designs to pay tribute to her home.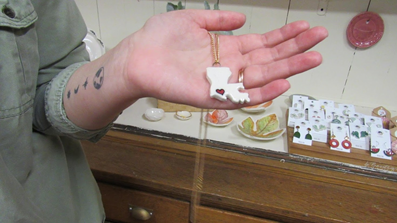 So next time you go to buy dinnerware, jewelry, or anything stop to think of a local shop near you! #shoplocal
Check out Shelby https://shelbyroberieceramics.com/, @shelby_roberie_ceramics on social media, or go to her store located at 205 S Adams St, Welsh, LA 70591 inside of Mercantile 54 Trading Company.