Bayou Blend - Coming to Downtown! 
Support the Spectrum for Autism Awareness Month
If you love Louisiana, good vibes and anything comfy to wear, you'll fall for Bayou Blend Apparel, and the story behind the brand. Kaysie Bolton, owner and founder, is truly one of my favorite people and such an inspiration! She does everything with 100% commitment and passion. I met her though working with the arts community years ago, and I was amazed at her attention to detail, bright smile and drive to get things done. Fast forward to today, she is still making positive waves with her Bayou Blend clothing brand that advocates for those with Sensory Processing Disorder, Autism and everything on the spectrum. With April being Autism Awareness Month, it's the perfect time to highlight this local brand and plans for a storefront this summer in downtown Lake Charles!
Everything leading up to Kaysie's Bayou Blend brand has been an organic journey, filled with serendipity, personal experiences and her professional background. With her children both working through SPD + ASD, she found that her education and professional experiences in the fashion industry along with her strong faith, led her to create a purposeful streetwear brand that gives back.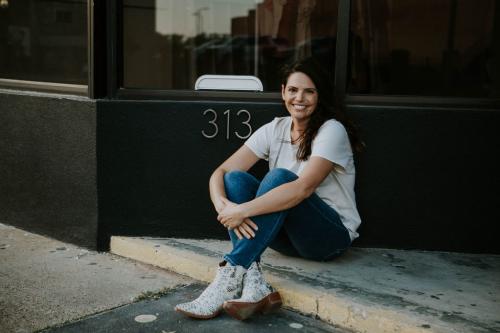 #NotJustAnotherGraphicTee
So, what's different about these tees? Bayou Blend's curated eco-friendly ink, premium fabrics, and label-free printed neck labels, makes Bayou Blend Apparel feel light, flowy, soft and – vintage. From tees to long sleeve shirts, sweatshirts and hoodies, the clothing not only feels good on your skin, it gives back to the Autism community. Kaysie created the Bayou Blend Gives Back campaign to give back to the community that embraced her family. When you buy a tee, she donates a tee to Autism Nonprofits internationally. Bonus points - you can proudly wear the positive messages and spread the love!
Bayou Blend Meets the Red Carpet! Celebrities and activists Ashton Kutcher and Mila Kunis wear Bayou Blend, and local celebs like Bethany Ashton Wolf and Rob Marciano have reached out to give their support. From movie stars to Saints players, Bayou Blend Apparel has gained attention inside and outside state lines.
"The tees legitimately fill a void in the fashion industry, but they are only a vehicle in reaching people. If my story can help others, and the tees allow me to contribute to the world, then I am living my purpose. Finding one's authentic self is freedom. It's freedom to live without fearing the judgment of others and without the fear of failure. When you live in authenticity and honesty, then integrity will follow." ~ Kaysie Bolton.
Where can you find them? Kaysie talked about how it's been a long journey with people encouraging her along the way, friends volunteering and pitching in to help build awareness and fill orders. Her goal is to create positive vibes only – and provide a space to inspire people and expand into other stores. She plans on opening a space at 313 Broad Street right next to Stellar Beans, and soon you can find Bayou Blend Apparel in the Coushatta Casino gift shops as well as online at www.shopbayoublend.com.
What's it like downtown? She said that the beauty of a place like Lake Charles is that even though it's growing, it's still a place where people care about supporting local businesses and the people who live in the community. People lean in heavily to supporting small businesses and local products.
Bayou Blend originally shared a space with Paper Smith and Olive & Indigo on Broad Street. Now, all three women-run businesses have their own space, growing and developing in downtown Lake Charles - all on the same street - which is a dream come true. (Literally, Kaysie had a dream that they would all have businesses on the same street one day!) Just down the way, Buffi's Peaux Boys, another woman run business by Paige Vidrine, recently reopened after the hurricanes in its new downtown location.
"The downtown business owners are welcoming, and we're truly a downtown business family. Everyone supports one another and reaches out." ~ Kaysie Bolton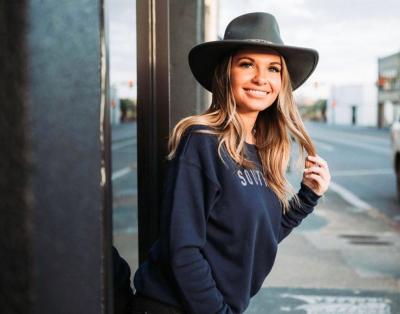 Hurricanes – Initially Delayed Opening Date
Kaysie had plans to open in August of 2020, but Mother Nature had other ideas with Hurricanes Laura and Delta devastating much of Southwest Louisiana.
"Once the hurricanes hit, I was excited more than ever to get more involved with my local customers and community. I started this business in my dining room in 2017, launched my e-commerce site in 2018, and now I am ready to have a sacred space for Bayou Blend. As a mother of three young children, it was getting harder to run a home business. I would be packing up an order, while helping assemble Legos or putting a Barbie's head back on its body!

I know that many start-ups are built upon the same experiences and foundation, but opening a studio/workspace, soon to be retail, will allow me to expand the company while advocating. When it comes down to it, the tees are a catalyst to connect with others. I tell people all the time, 'I am not a therapist, or a doctor, I am just a parent who is ready to listen to your story.' If my story can help another person, then my job is done, the clothing is lagniappe." ~ Kaysie Bolton
Connect with Kaysie! You can connect with Kaysie and Bayou Blend Apparel on Social Media platforms: Facebook at www.facebook.com/shopbayoublend, Instagram @shopbayoublend, YouTube or log onto www.shopbayoublend.com.
The Visit Lake Charles team will follow up with Kaysie on an exact opening date. So stay tuned for more news this summer!