Taking an art break over lunch one day, I decided to feed my soul on culture at the 1911 Historic City Hall Arts & Cultural Center. The intriguing idea of the new Black Heritage Gallery exhibit "A Pandemic Portfolio: Works Created in Isolation" was something that sparked my imagination. When the world stopped spinning so quickly a few months back, many of my artist and musician friends were busy creating works, recording songs and sharing online. I also got into the spirit with time to devote to hobbies that had been neglected due to scurrying here and there after work most days. I was really interested to see what the artists at the Black Heritage Gallery had worked on during that spell with "mad scientist" kinds of experimenting and artistic expression in full swing in the creative world during quarantine.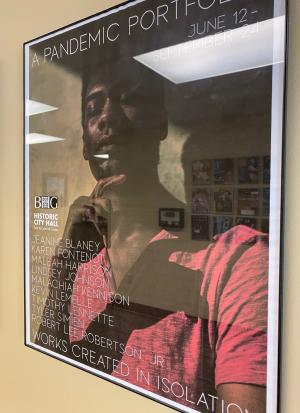 The entire 1911 building is packed with art exhibits. It's truly like a visual candy store for art-lovers and anyone who wants a break from the ordinary for a "through the looking glass" feeling. On the second floor, the Black Heritage Gallery is featuring A Pandemic Portfolio, which basically means that the artists had complete discretion on what to include with the works they created when time stood still. Most exhibits that are displayed in the Black Heritage Gallery are themed works or traveling exhibits, but with the pandemic underway, the exhibits were not able to be transported. Being creative, nimble and wanting to showcase local talent, Stella Brown Miller – Black Heritage Festival Director and Museum Curator was able to secure artists that had created works – ready to be on display.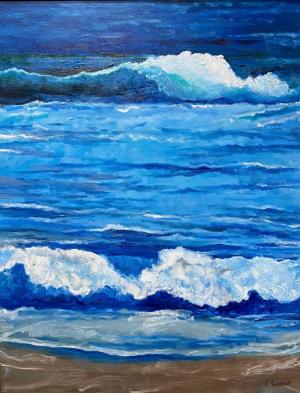 (Santa Monica Beach by Karen Fontenot)
There is something surprising, magical and intriguing about attending a show with no expectation of what will be featured. Each of the artists had their own interests, mediums and subject matter that they were able to bring to the public space. Karen Fontenot, one of the artists, had works that really caught my eye. I am always drawn to artwork that features water or bright colors, and she had a piece called Santa Monica Beach that I caught myself staring at and hearing the waves crashing around me – smelling the salty air and feeling the water swirl circles around my ankles.
"We really wanted to take this opportunity to highlight local talent and a variety of works that were created over quarantine. From professional to students who are gifted in the arts, this exhibit was the perfect way to keep the gallery filled with art during this time, and we invite everyone to experience it as well as attend the upcoming gallery talks," said Miller.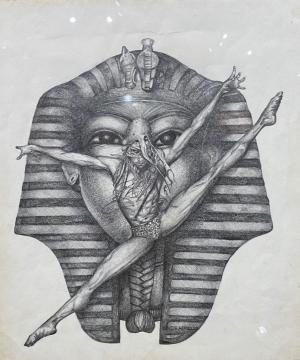 (I Am by Kevin Lemelle)
There were also content-rich pieces by digital photographer Tyler Simien, graphite works by Kevin Lemelle, and a variety of artforms by Jeanine Blaney, Maleah Harrison, Lindsey Johnson, Malachiah Kennison, Timothy Lennette and Robert Lee Robinson, Jr. Several of the artists have also given gallery talks. Two upcoming gallery talks will feature Tyler Simien at 2 p.m. on Saturday, Aug. 8, and Robert Lee Robertson, Jr. on Saturday, Aug. 22. Masks are required for all patrons and participants.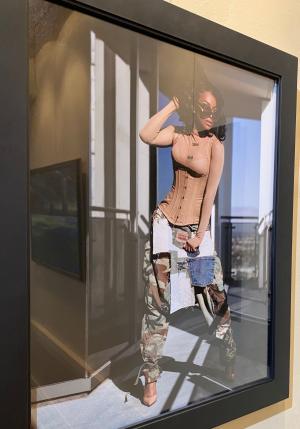 (Beyond Measure by Tyler Simien)
Later this fall, Oct. 2 – Nov. 25, Cultural Expressions will be on display. The goal of this exhibit will be to increase the understanding of the beauty and intricacies of life, featuring 15 Louisiana and Texas artists.
For more information on the Black Heritage Gallery, log onto www.blackheritagegallery.org.
Mission The mission of the Black Heritage Gallery is to lead a diverse audience in discovering African-American artist and to nurture artists at all stages of their careers.
History
The Black Heritage Gallery, a project of Black Heritage Festival of Louisiana, opened on June 28, 2001 with a grant from the Junior League of Lake Charles, Inc.  The opening exhibit honored the legends of the national Negro leagues and the hometown heroes of Southwest Louisiana.  Located in historic Central School, the gallery is among the 26 initial sites on Louisiana's African – American Heritage Trail that was announced by Lieutenant Governor Mitch Landrieu in February 2008.  
Since its inception, the gallery has showcased emerging and mid-career artist at its original location in Central School Arts & Humanities Center.  In December 2019, the Gallery is projected to move into its new location at Historic City Hall Arts & Cultural Center.  There are six exhibits a year that hang for 7 weeks. A vision of Stella Miller and Frankie Lane, the gallery is the only institution dedicated to the arts and culture of African -Americans in Southwest Louisiana.
Non-Profit Information
The Black Heritage Festival is an exempt nonprofit organization under section 501 (c) (3) of the Internal Revenue Code.  Black Heritage Gallery is a project of the Festival.