It's no secret that Louisiana is known for its delicious food. And Lake Charles has plenty of options to satisfy any appetite. Now, if you are like me, you wake up ready for a meal so I set out to put together some of the best places to enjoy breakfast and brunch right here in Louisiana's Playground.  Whether you are looking to enjoy an upscale brunch, or want to pop in for a casual bite to eat, I hope you will find one of my suggestions to be just what you are searching for. 
Brown Bag Cafe 
2251 Sam Houston Jones Pkwy., Lake Charles, LA 70611 Phone: (337) 244-1686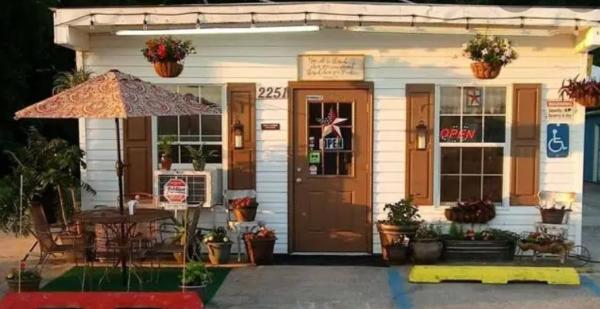 While Brown Bag is a little off the beaten path, it is worth it to go just a little out of your way to experience a quaint and cozy atmosphere and an absolutely delicious breakfast.
The Brown Bag Cafe is an intimate spot where you will truly feel like you are at a friend or relative's home and being spoiled with a fresh home-cooked meal.  You definitely want to get there early and make sure you get a spot, but even if you have to wait just a bit, you'll be glad you had time to work up a big appetite.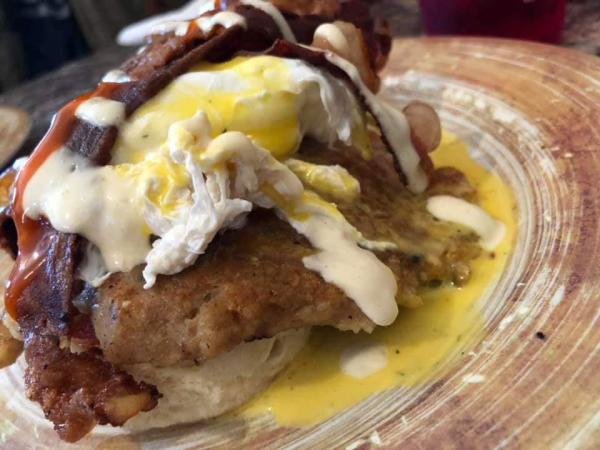 My personal favorite at Brown Bag, since I'm a sweet and savory kinda gal, is the out of this world classic French toast and some scrambled eggs on the side. Looking for something really decadent? Wait for it…they have CHOCOLATE CHIP COOKIE DOUGH FRENCH TOAST, just one of their new menu items.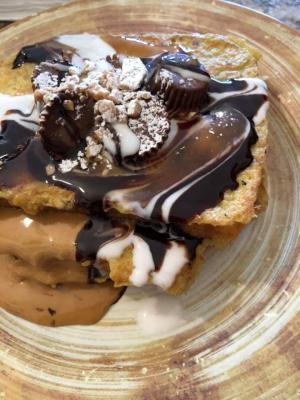 That is one thing I love about Brown Bag, they update their menu throughout the year. It's fun to look forward to new creations and even old favorites as the seasons' change. Right now, Crawfish Cornbread Benedict season is in full effect!! How amazing does that sound, crawfish lovers?
 Owners, Christopher Wise and Bonnie Richard invite you in for Brown Bag's 
"New menu, new food, and great fellowship!"
Stay tuned for my upcoming feature on Brown Bag Cafe!
---
Common Grounds
619 Ryan Street, Lake Charles, LA 70601 Phone: (337) 602-6094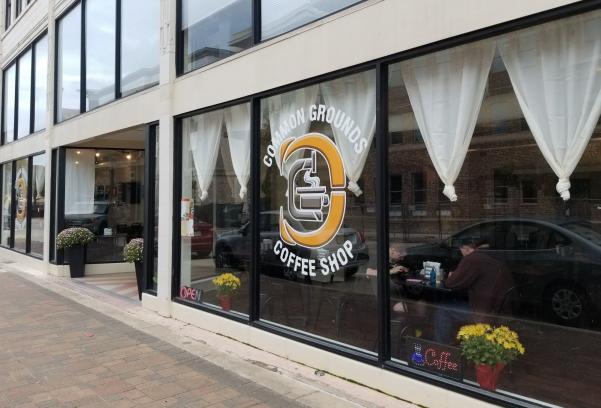 I love the food and coffee at Common Grounds, but just as satisfying is the warm and friendly atmosphere that consumes you as you come in. Common grounds gives you a perfect spot in downtown Lake Charles to start your day. The location is amazing and is just a short walk away from antiques, art, and other shopping! I know you want to hear about the food so let me share some of my favorites with you!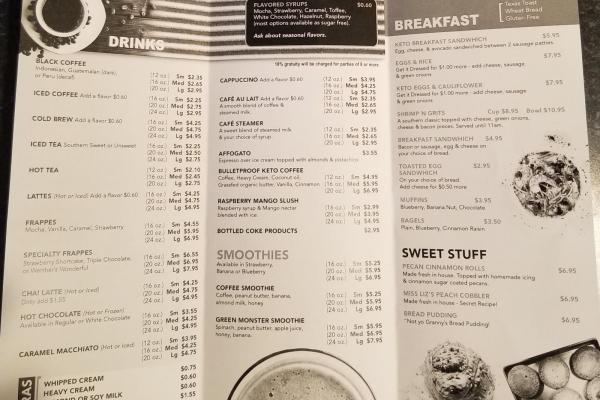 My personal "go-to" is a Medium Roast Brazilian coffee in a mug. They have the best mugs so don't cheat yourself with a to-go cup. You can always get that when you're done with your breakfast. My fave food item is the scrambled egg breakfast sandwich with bacon on Texas Toast when I'm really hungry or just a classic scrambled egg and cheese sandwich on wheat or maybe just a muffin (when I'm watching my figure 😄).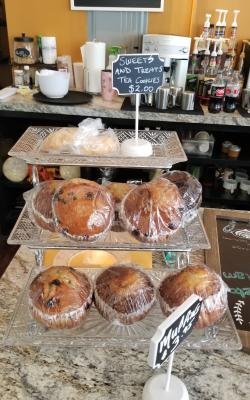 But seriously, if you are looking for low carb options, there are KETO items on the menu just for you! I also love the southern comfort food options available like the shrimp and grits. Want dessert for breakfast? The bread pudding at Common Grounds will satisfy your soul. As the owner, Michele, (pictured below) says, it is: 
"Not yo Granny's Bread Pudding "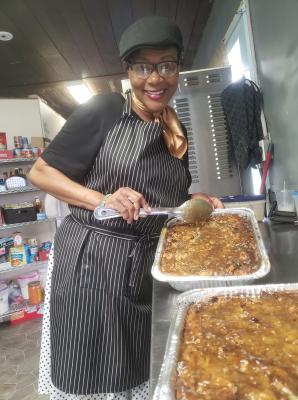 Another element that makes Common Grounds a little something special is the additional seating area available. Separate from the main dining, it's a wonderful place to sit with a friend and chat way too long. I have done this on a few occasions! It's comfortable, chic, and even a great place to sit quietly and check emails or get some work done!
📰 Related Story: Nothing Common About These Grounds
---
Stellar Beans
319 Broad Street, Lake Charles, LA 70601 Phone: (337) 602-8441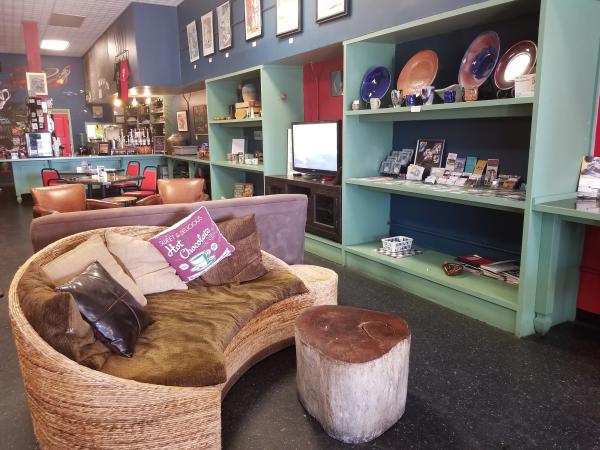 If you are looking for that "Central Perk" (Friends) kinda vibe, Stellar Beans has gotcha. Its artsy and comfortable and, oh yeah...the food is soooo good. 
I love the different options for seating. Whether you're there alone or with a handful of friends, you'll find the perfect spot for your breakfast. I've curled up on their couch with a perfectly toasted bagel and cream cheese, and I've enjoyed a full breakfast with family and friends at the dining tables. I also love the little book nook located in the back. of the coffee house.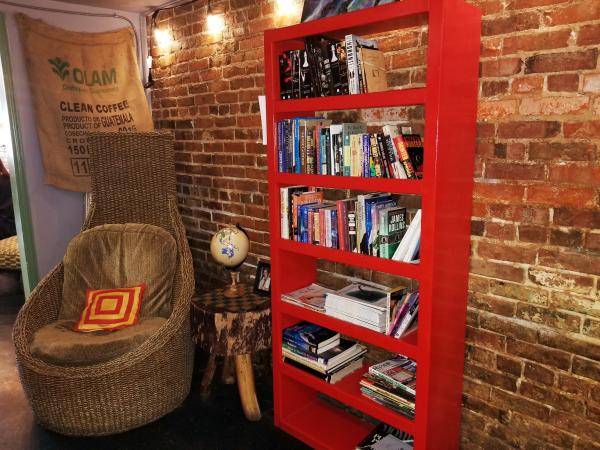 My favorite morning menu item is the breakfast casserole that really includes everything you need in one little dish...eggs, bacon, potatoes, cheese, and a side of fresh salsa that adds the perfect touch to every bite.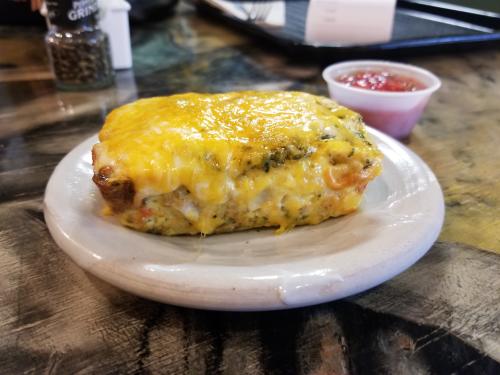 The fresh-baked muffins are perfect with a cup of coffee or one of the many specialty teas available as well. My favorite muffin is the chocolate chip and my favorite tea is called Blue Eyes, with rich flavor made up of rose hips, hibiscus, apple and orange pieces, cornflowers, and rhubarb. Check out this great menu of coffee and tea options: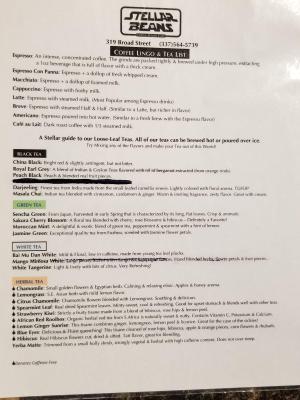 Be sure and grab one of the composition books from the shelf and leave your mark before you go….write a poem...draw a doodle...or just thumb through and enjoy others who have been there before you. And don't go before checking out the amazing artwork on display, which is also available for purchase! Stellar Beans features a new local artist each month. February's artist is Garrett Prunty.
📰 Related Story: Truly Stellar Beans
---
The Bekery
206 W. 11th St., Lake Charles, LA 70601 Phone: (337) 564-6132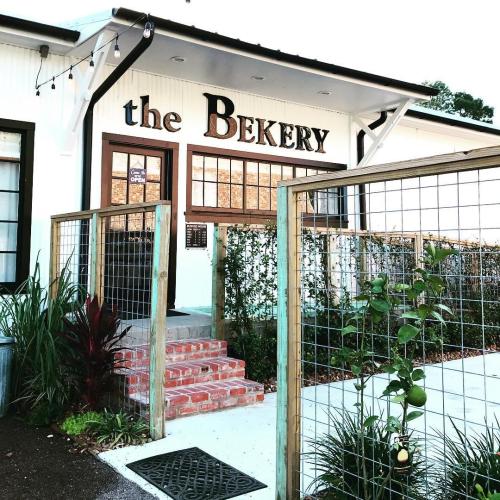 The Bekery will give you the feeling of stepping into a charming Parisian cafe with the adorable decor and seating, but I'm taking you straight to the food because I can hardly wait to share one of the best cinnamon rolls on the planet. The cream cheese icing is so light and almost frothy and perfectly sweet and complementary to the cinnamon. The roll itself is soft and fluffy with a perfect light crisp on the outside. It's perfect for two because of its size but, trust me, you won't want to share.  (Sorry, I had already started before I realized I hadn't take a picture for you, friends!) This is when I had the Quiche Lorraine & Cinnamon Roll.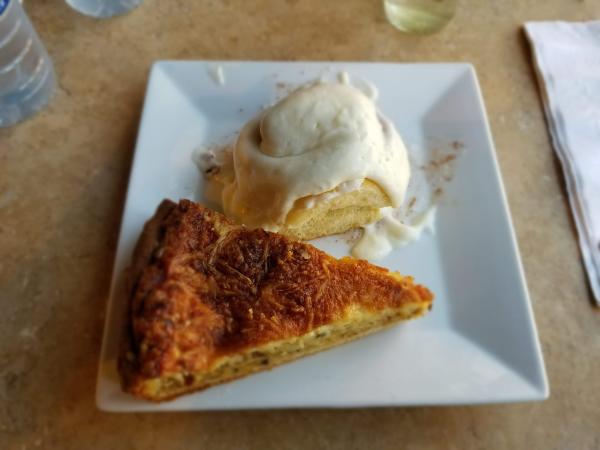 The Bekery offers a selection of Quiches that never disappoints. I love their classic Lorraine and their BOUDIN quiche as well. That's in all caps because I had never even thought of putting Boudin in quiche...brilliant. 
For my Louisiana cuisine newbies, Boudin is a pork-based sausage with a rice dressing filling and has been creatively infused by Cajuns into everything from Kolaches to King Cakes!! 
One of my other favorites at The Bekery is The Breakfast Croissant. Fresh and fluffy and full of the best parts of breakfast….bacon, eggs, and cheese.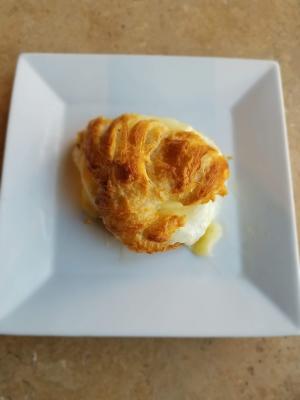 Take a look at the full menu here: https://www.facebook.com/pg/thebekeryllc/menu/?ref=page_internal
---
Sunday Funday!
Panorama Music House
331 Broad St., Lake Charles, LA 70601 Phone: (337) 602-6343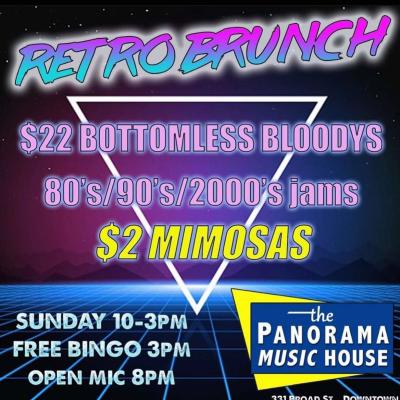 In the mood for some good music and maybe bottomless Bloody Mary's?! Head over to Panorama Music House ar 331 Broad St. Now, this is a weekend treat so be sure to plan accordingly. You can enjoy brunch and music and even stick around for afternoon Bingo, fun and free activity! One of the menu items that popped out at me was the MANmosa! They have cleverly added wheat beer to the champagne and OJ classic, adding a masculine twist. 
Oh, and there's food too! 😄 One menu favorite of mine is the Southern Classic, Chicken and Waffles!
Panorama plays an eclectic mix of music from the 80's, 90's, and 00's at their Brunch.
📰 Related Story: Panorama, Food, Music, & Moore
---
Rikenjaks Brewing Company
3716 Ryan St, Lake Charles, LA 70605 Phone: (337) 602-6635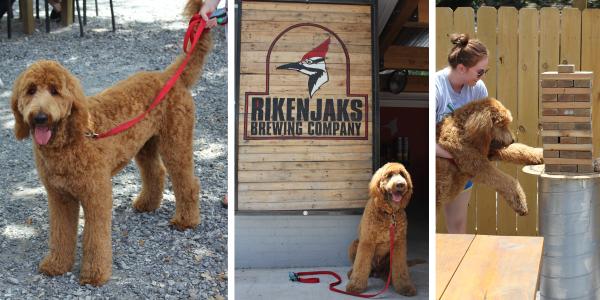 Looking for a place to brunch with your fur baby? Rikenjaks is your kind of place. There is ample outdoor seating to enjoy a beautiful day, great Zydeco music, $3 Mimosas, and great food, of course! There are also outdoor games that make for a fun and playful atmosphere, perfect when you are in the mood for a relaxed and casual place to pass a good time.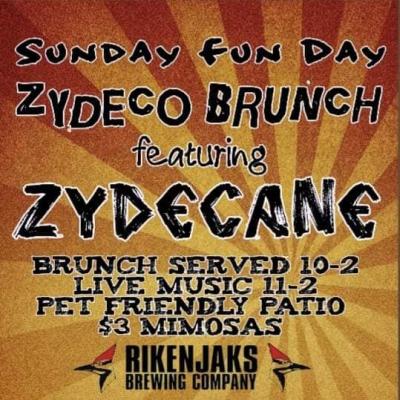 ---
Luna Bar & Grill
719 Ryan St., Lake Charles, LA 70601 Phone: 494-5862
Just awarded 1st Place for 2019's Top 20 Favorite Local Restaurants, Luna Bar and Grill offers an amazing variety of breakfast items at their weekly jazz brunch featuring the Streetside Jazz Band. Brunch begins at 10 am and the band goes on at 11 am and play until 2 pm. Check out these hot items...I dare you not to drool.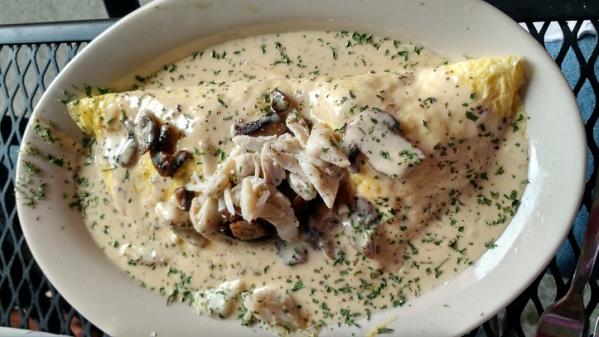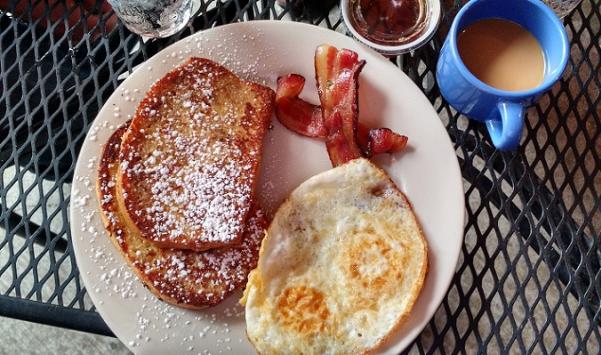 Owner and chef Dave Evans, musician and culinary artist has this philosophy:
"Food and music go hand in hand. It is all about enjoyment, entertainment, creativity, feel, and know how."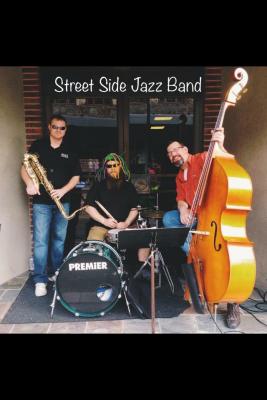 Visit https://lunabarandgrill.com/menu/#jazz-brunch to learn more! 
---
The Villa Harlequin
324 Pujo St., Lake Charles, LA 70601 Phone: (337) 436-6251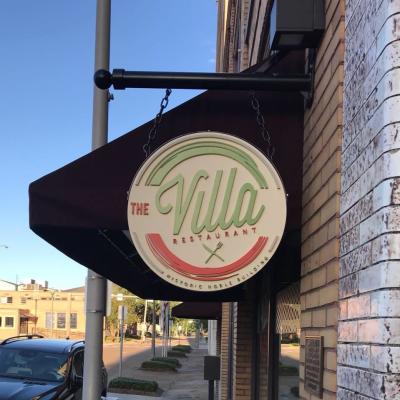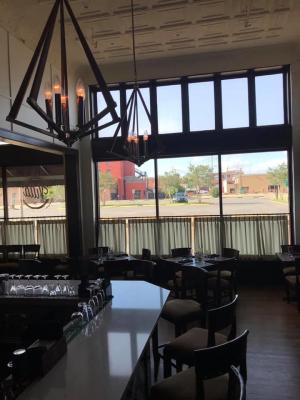 The Villa Harlequin is downtown and upscale! They host a magnificent brunch every Sunday from 10am-2pm. The photos below say it all. You can visit their website for a full menu and to find out more! https://thevillaharlequin.com/brunch/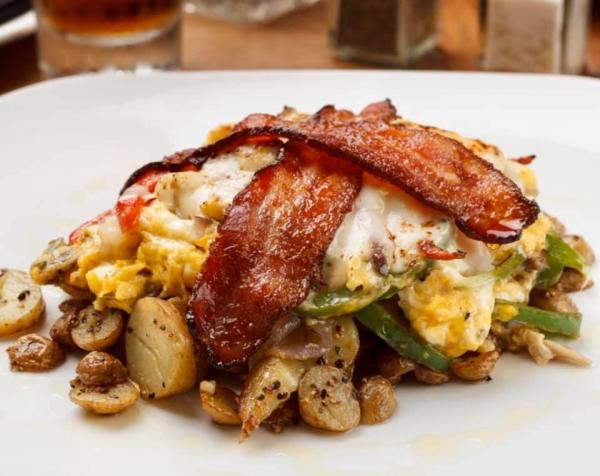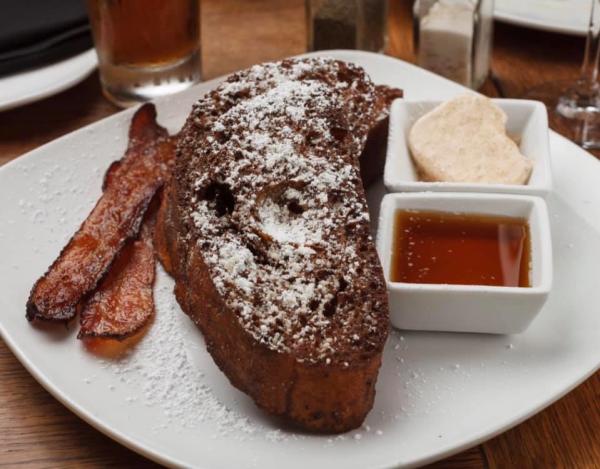 And how elegant and enticing is this delight?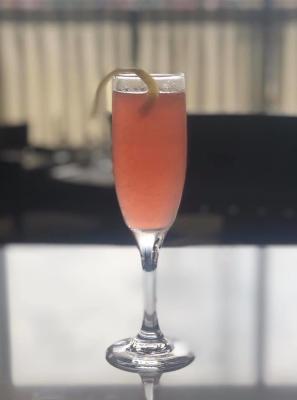 You can call The Villa at any time to make reservations for you and that special someone or if you are hosting a group!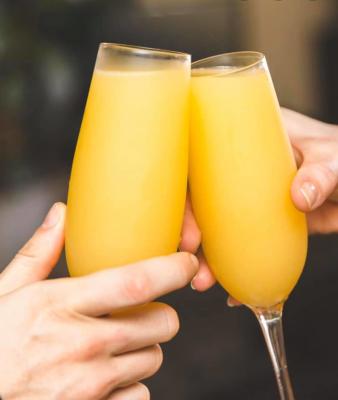 I hope I have managed to make you hungry and ready to explore some of the best breakfasts and brunches in and around Lake Charles. I can't wait to hear which one was your favorite! Be sure and share your experiences with www.visitlakecharles.org and #getDOWNtownLC!
And remember, there's ALWAYS something to do in Louisiana's Playground!