Spring Break is around the corner and maybe you want to take a road trip. Pile the family in the car and head to Southwest Louisiana! There is so much here to see and do – fun for kids and parents alike!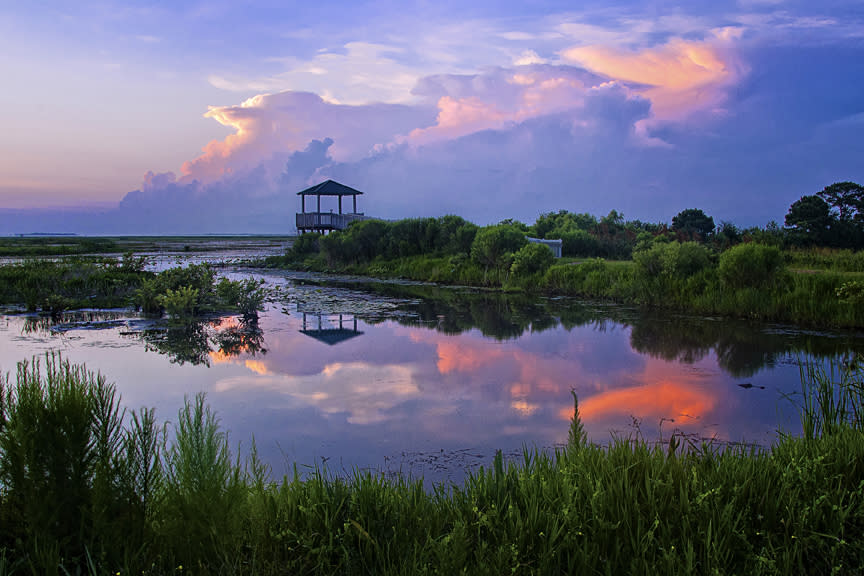 Travel through the marshes and along the coastline of Cameron Parish via the 180-mile Creole Nature Trail, a designated All-American Road. You'll find opportunities to fish, hunt for crabs, and observe alligators, 400 species of birds, and other wildlife. Stroll beside the surf at Holly Beach and look for shells and sea glass. Our "Louisiana Outback" promises a day full of adventure.
Adventure Point is the best place to launch your Creole Nature Trail journey. It is a visitor center especially geared to kids, with exciting activities to introduce the whole family to the culture of Southwest Louisiana. Listen to Cajun music and pretend you are part of the band. Imagine you're hidden in a duck blind, hunting ducks in the marsh. Smell the mouth-watering aromas of Cajun and Creole cooking. Explore the wildlife of Southwest Louisiana – alligators, nutria, and birds, to name a few.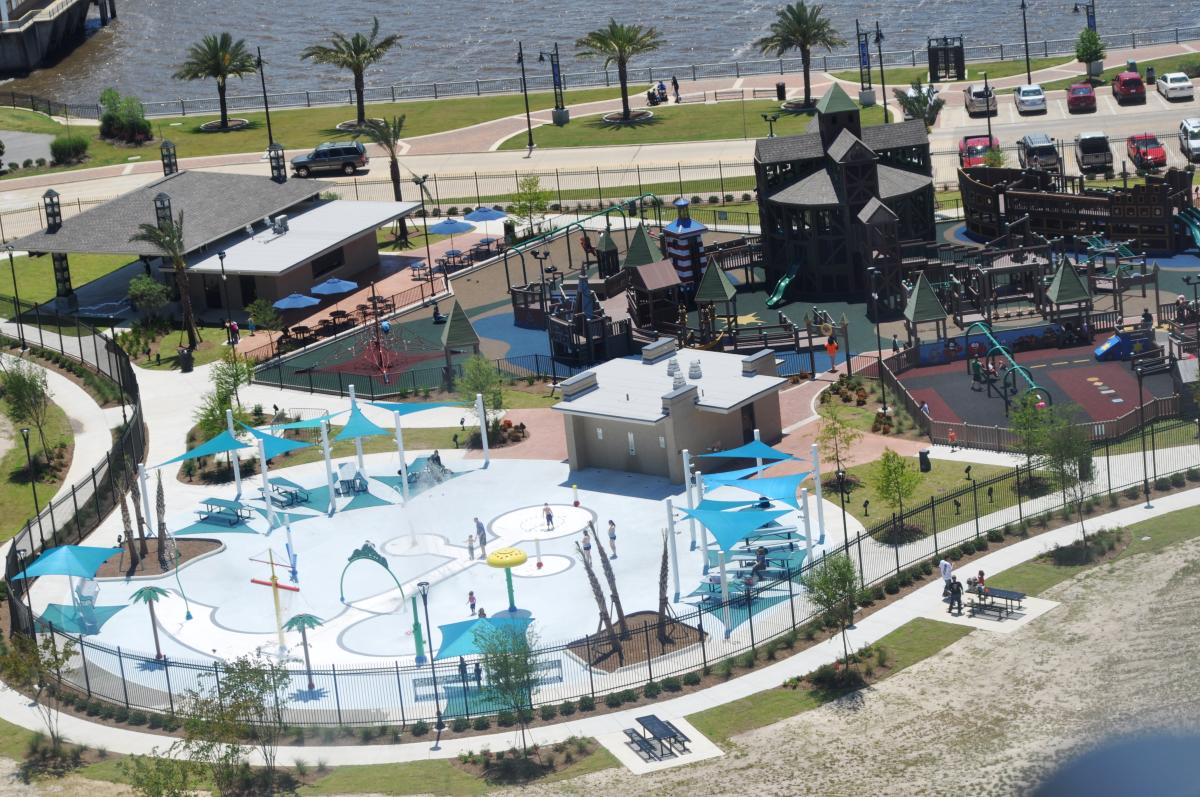 Bord du Lac Park and the Lakefront – The City of Lake Charles offers plenty to see and do along Bord du Lac Dr., otherwise known as the Lakefront. Start your visit at Bord du Lac Park, a mega-playground where kids can climb, spin, swing, run and jump. In the warmer months, there's a splash pad. Walk east along the seawall and stop at the 9/11 Memorial. Have a snack at one of many tables that offer a front row seat to watch spectacular sunsets. New to the Lakefront is a statue of Captain Daniel Goos, one of Lake Charles' forefathers. Veterans Memorial Park sits on the far east end of the Lakefront. See displays such as a tank from WWII and a Viet Nam War helicopter. Adjacent to the Lakefront, you'll find the city's Civic Center, a hub of community activity, with a variety of events and shows.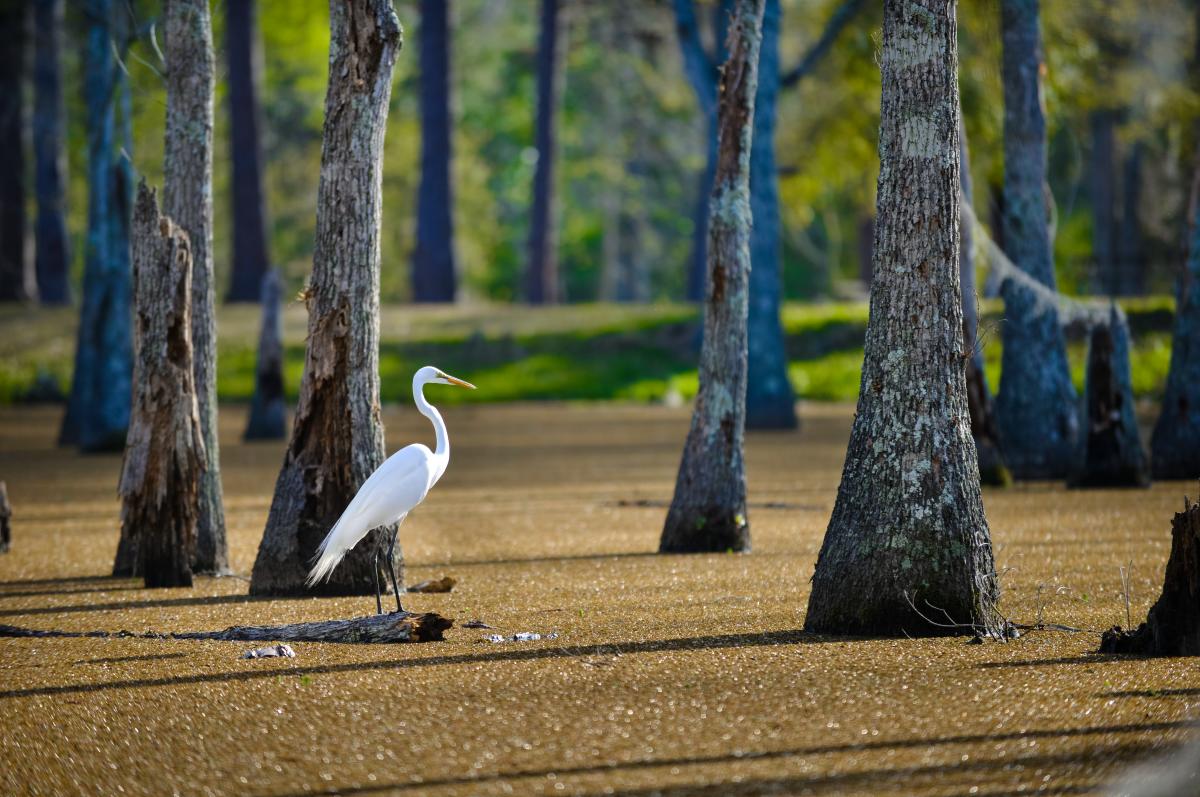 At Sam Houston Jones State Park, you'll find 1,087 acres of woodlands, lakes and rivers. There's a campground, several hiking trails, frisbee golf course, large pavilion, playground, and boat launch. An excellent place to spot Louisiana wildlife, including bald eagles.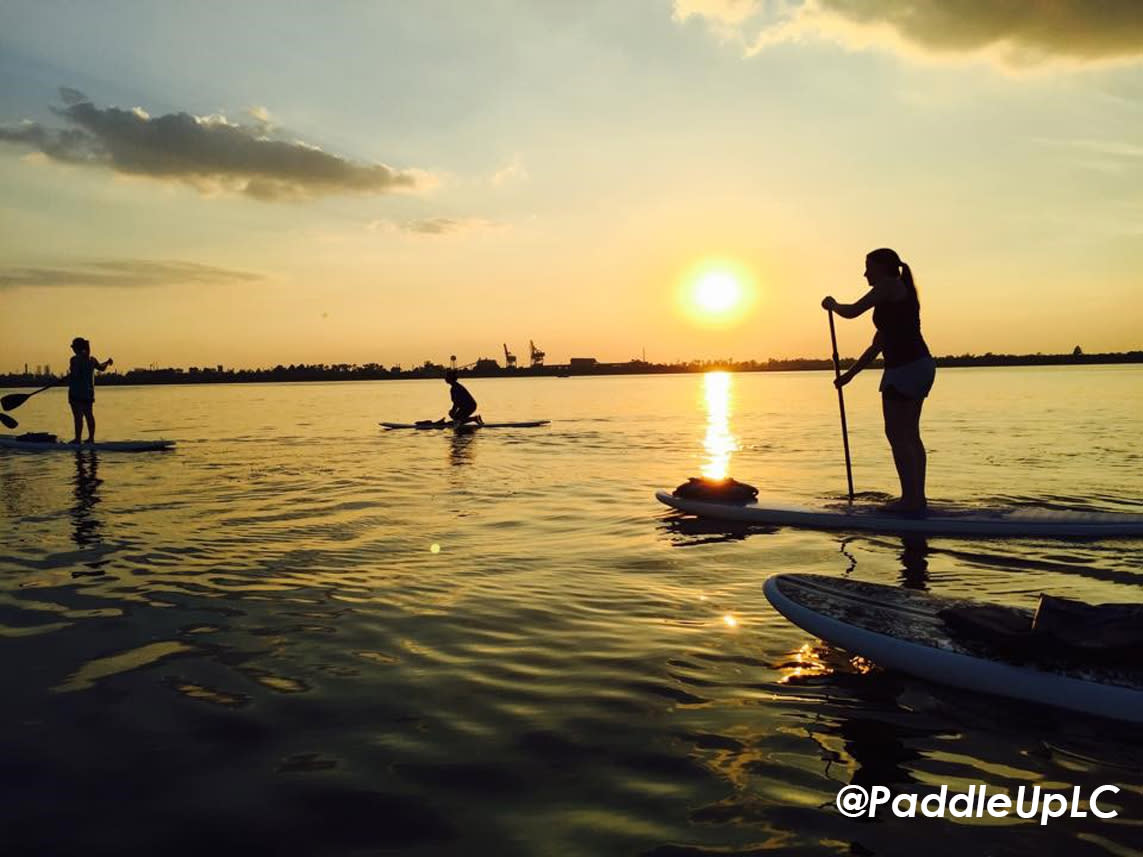 Looking for some fun on the water? The best way to explore the region's many rivers, lakes, and bayous is by canoe, kayak, or stand-up paddleboard. Dip your paddle into the brackish black water and glide peacefully through the quiet waterways of SWLA. It's an excellent way to see wildlife up close in their natural habitat, see beautiful scenery, and get a good work out, all while staying nice and cool. Rentals available at Sarge Rentals and Paddle Up Lake Charles.
Indoor Activities
Outdoors is where it's at in Southwest Louisiana, but if the weather doesn't cooperate, there are plenty of indoor activities to keep you busy and entertained.
Located in downtown Lake Charles, the Children's Museum offers three floors of interactive exhibits centered on science, art, and old-fashioned fun to delight children of all ages.  327 Broad St.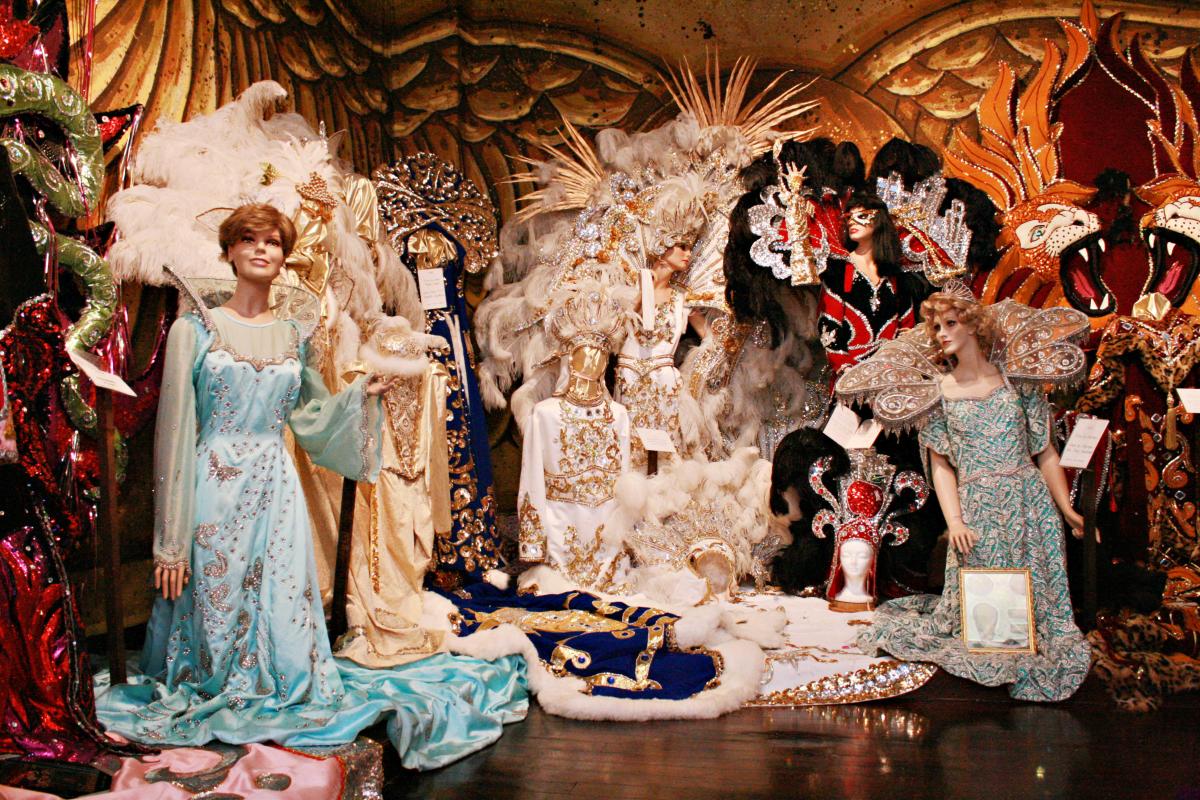 The Mardi Gras Museum of Imperial Calcasieu is located at Central School Arts and Humanities Center. Opened in 1998, you'll find room after room filled with Mardi Gras memorabilia from the earliest days of Southwest Louisiana's Mardi Gras to modern times. Be amazed by the extravagant court costumes, all previously worn by Lake Area krewe royalty and said to be the largest collection of Mardi Gras costumes in Louisiana.
Once the center of Lake Charles government, 1911 Historic City Hall is now a busy center for the arts. They host rotating shows from local, national, and international artists. 1001 Ryan St.
Imperial Calcasieu Museum features both art and history exhibits. 204 W. Sallier St.
At Cinemark Movie Bistro, enjoy new movie releases while eating upscale (by movie theater standards) food and beverages in big comfy reclining seats. 3416 Derek Dr.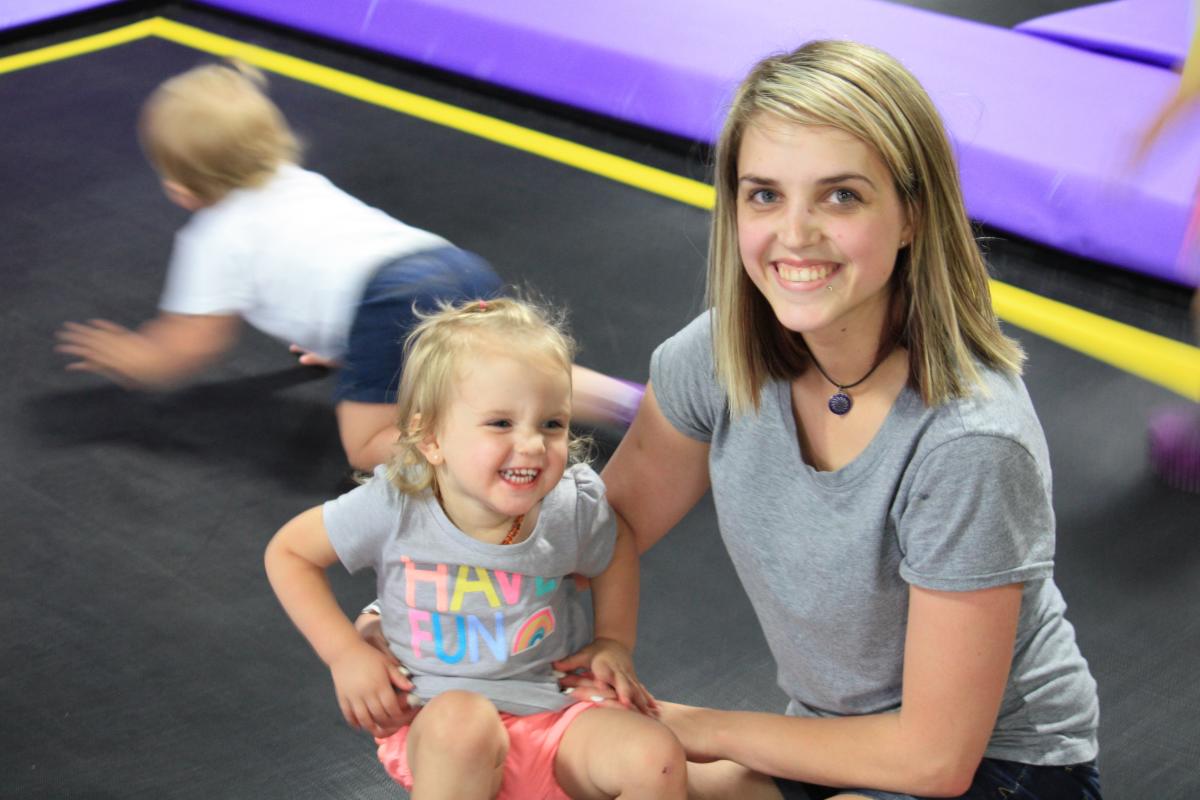 In addition to trampolines, Altitude Trampoline Park offers a trapeze swing, foam pits, dodge ball and basketball, and an area for smaller children. Located at 3009 Gerstner Memorial Hwy.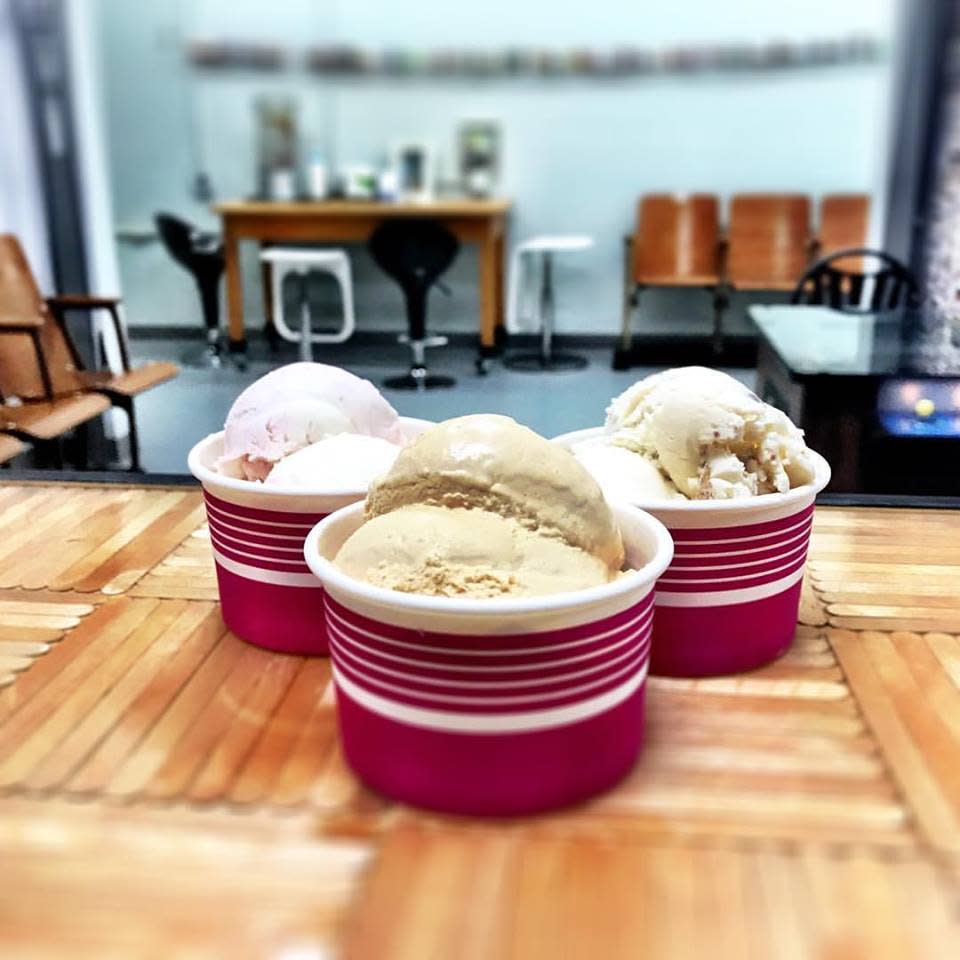 Pops and Rockets sells gourmet pops and handmade ice cream in flavors with names inspired by the 1980s. You'll find 80s-themed trivia and board games and free retro arcade games. Put this place on your itinerary! 104 W. Pujo St.