Brown Baggin' It!
The Brown Bag Cafe, located at 2251 Sam Houston Jones Parkway, right here in Lake Charles, is a classic hometown dining experience where you can enjoy great food and great fellowship. It is a one of a kind, warm your heart, fill your belly hotspot that has become popular among locals and visitors alike, myself included.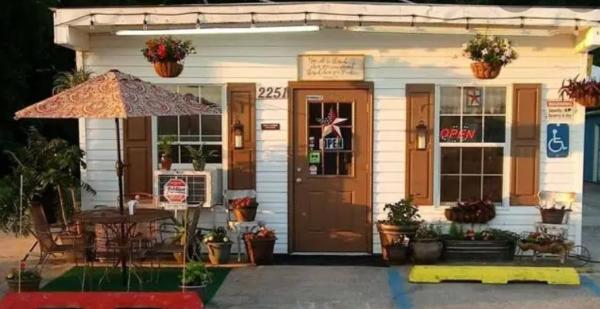 One Wise Chef!
The menu at The Brown Bag cafe is anything but typical and includes dishes you definitely can't find just anywhere. It is a fusion of simple favorites and fine cuisine. Chef and Owner, Chris Wise, opened the doors of The Brown Bag Cafe almost two years ago but has been in the business for 30 years. Originally from New York, Chris has had experience at some of the finest and most iconic restaurants in the country including; Tavern on the Green, The Gramercy Tavern, and The Rainbow Room (where he once got to see Frank Sinatra!). Chris is always coming up with something new and fabulous to add to the menu. He takes great pride in everything that is served and prepares 98% of everything that comes out of the kitchen. The brand new 2020 Menu was just recently released. Let's take a look together and decide what to order!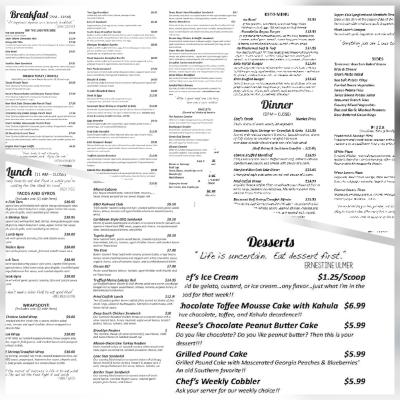 Starting the Day at the Cafe!
One thing that caught my eye recently was the announcement of pancakes for breakfast!! To be honest, I hadn't even noticed before that pancakes weren't available because I always find something delicious on the menu to start the day. Way to make me crave pancakes, Brown Bag!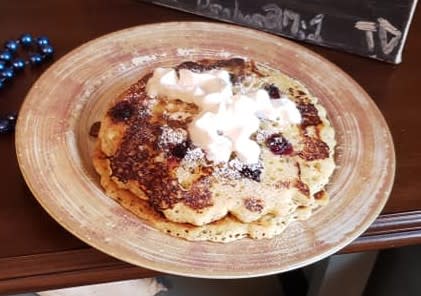 I have had the French toast for breakfast on more than one occasion and aside from the generous portion, it is always perfectly cooked and absolutely delicious. As if having super delicious French toast wasn't enough, they have just added Chocolate Chip Cookie Dough French Toast to the breakfast menu! Do I have your mouth watering yet? It's nice to treat yourself to a decadent dish once in a while!
This beauty is comprised of
"three slices of toast stuffed with chocolate chip cookie dough and topped with dark and white chocolate sauce, sea salt caramel sauce, and crumbled Heath bar"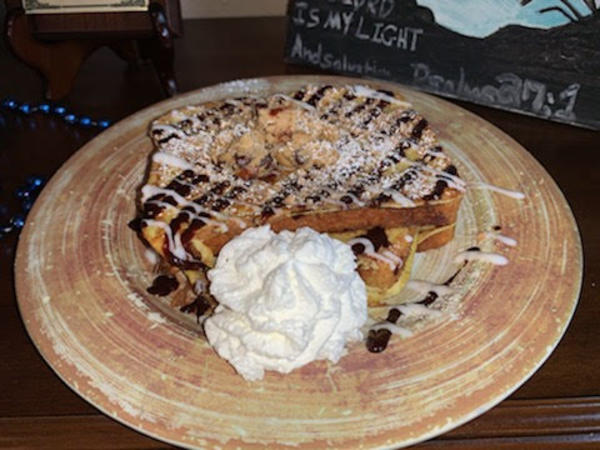 Now, if you are in the mood for a more savory dish to start your day, there are almost THIRTY selections to choose from. They have everything from eggs benedict, a local favorite, to the Steak Supreme Breakfast Burrito...YUM!
Now Let's Lunch! 
My favorite comfort food of all time is country fried steak smothered in white gravy. Bring a big appetite to try this one! You can pick two sides but I highly recommend one of your sides to be the mashed potatoes...is there any other way to eat a good country fried steak?!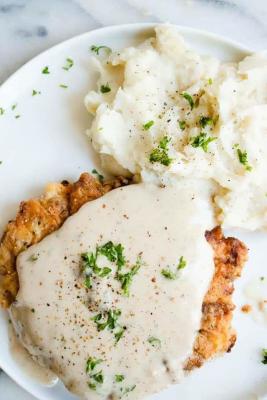 If it's not your "cheat day", don't worry, there are plenty of selections for you. They even have KETO options! Check out the Keto Blackened Surf & Turf...or how about the 50/50 Burger?! When asked about her favorite menu item, Karen Merrill of Lake Charles had this to say:
Keto Burger, Portabello Mushroom "buns". Amazing. 
Take a peek for yourself!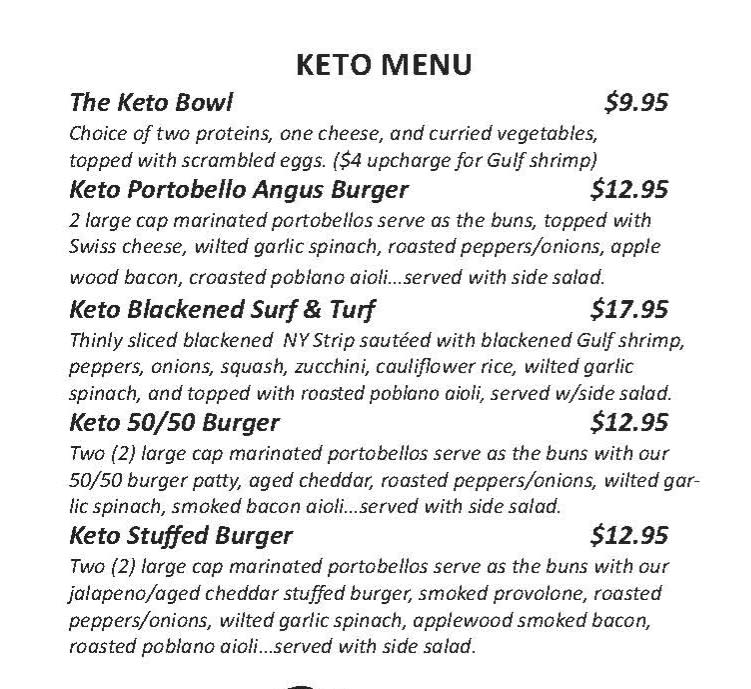 One of my other favorite things to have for lunch is the BLT. The Pecan wood bacon is bountiful, the L & T are super fresh, and it's served on perfectly toasted Texas Toast. The yummy addition to this classic is the aged cheddar and chipotle aioli...sooo good. I usually get the Greek Pasta salad for my side (LOVE it) but I also love their sweet potato fries and the bourbon baked beans. They make it very difficult to choose!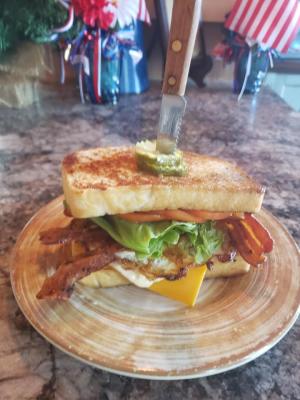 For Your Sweet Tooth
My personal favorite dessert is blackberry cobbler. If you want to pop in for an afternoon treat, this really hits the spot with a fresh cup of coffee. The cobbler is served with an orange sherbet, vanilla cream combo. I would never have thought of this! It gives a great complimentary burst of flavor to this traditional, heartwarming, sweet tooth pleasing treat. Don't let the two spoons fool you...though it is enough for two, I am pretty sure I finished most of this on my own.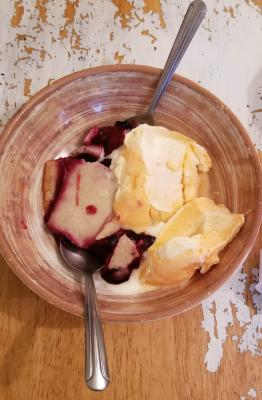 You will also fall in love with some of the new dessert items just added to the menu. One that I simply can't wait to try is the Reese's Peanut Butter chocolate cake and the Grilled Poundcake with your choice of fresh fruit or Chef's dessert sauce….WHAT?!? 😋
Suppertime!
When the end of the day is near and you are ready for a downhome dinner, you can't go wrong with the Cheese Stuffed Meatloaf! It is served with your choice of two sides. The garlic mashed potatoes and mixed vegetables go really well with the meatloaf, but I've also done the mac and cheese and it's superb!!!  
My other favorite is the Spaghetti and Meatball dinner that comes with a side salad and garlic baguettes. I know what you are thinking, this looks like some seriously fine cuisine...well, it is!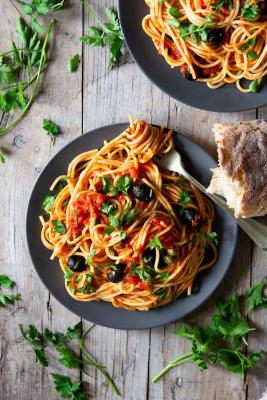 Is it pizza night at your place? All of the pizzas on the menu are KETO friendly! Sure you can stick to a classic pepperoni, but they have some incredibly creative pizzas, too. Take for instance "The White Pizza" - Smoked Chicken, Roasted peppers & onions, garlic spinach, tomatoes, extra virgin olive oil on a cauliflower crust with mozzarella cheese. GREAT, GUILT-FREE PIZZA!

Lenten Menu
Brown Bag has rolled out some very special menu items in observance of the Lenten Season. You can find entrees like Beer Battered Crawfish Bites with Remoulade, Crawfish Corn Soup, Crawfish Etouffee, and even a Captain's Platter including Catfish, Crawfish bites, Hushpuppies, Fries and slaw! You can check out the full Lenten Menu on their Facebook Page! https://www.facebook.com/TheBrownBagCafeMossBluff/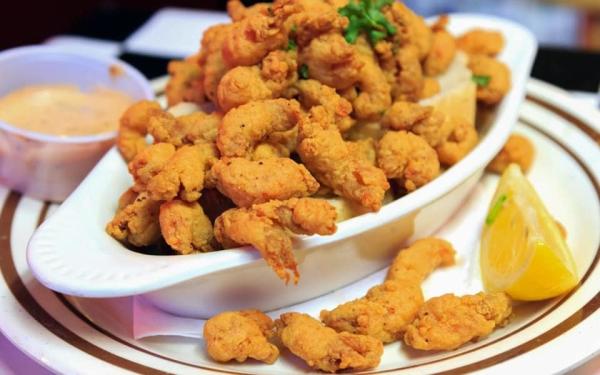 Brown Bag Cafe has you covered for Breakfast, Lunch, Dinner, and anywhere in between! On a busy day, or when you feel like staying in (but eating out), you can call in your order and they will have it ready at the drive-up window. Brown Bag even delivers, too!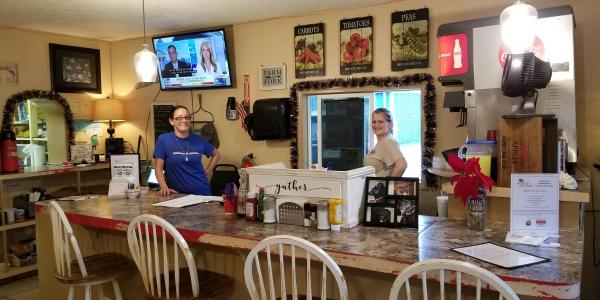 The Brown Bag Cafe has a printable menu available on their website! http://brownbagcafemossbluff.com/printable-menu/
Head over to the Bluff and tell them we sent you! Though you don't have to have connections to be treated like family here. I cannot speak highly enough about the staff. They are all so friendly, hospitable, and charitable.
Don't just take my word for it! Lake Charles local, Leia Fontenot shared,
Everything I have had there has been so good. The staff is amazing and the owners are so nice and are involved in the community.

Get to know the Owner & Chef!
If there are three words I could use to reflect Chris Wise they would be Faith, Community, & Patriotism. Chris is a retired veteran who served our country as an Army Ranger and then went on to graduate as a Green Beret. He was stationed in Fort Bragg and has served five tours in combat all over the world. He is an all-around great guy whose pride of country truly shines through when he speaks of his service and community. He is a great supporter of active military, veterans, and first responders. He truly exemplifies the American dream in his pride of ownership and the platform that it provides to give back to the people of Lake Charles.  Chris is passionate about giving a helping hand to the homeless. He partners with Waters Edge, a community outreach program, and donates food on a regular basis to those in need. Brown Bag is also part of the Wounded Warrior Project. Chris told me
"If there is ever a veteran that truly needs a meal, they just need to get here."
The Brown Bag Cafe also offers a 10% discount to Veterans, Active Military, Teachers and Educators, and First Responders.

Brown Bag Is On the Geaux!
Chris shared with me a big and exciting announcement for The Brown Bag Cafe and wanted me to share it with you! Brown Bag is 99% finished with the process of getting a FOOD TRUCK up and running!!! He hopes it won't be long before he can bring Brown Bag to more people throughout the area! Stay tuned for details and progress on this new venture.  
Be sure and share your favorite menu item with Visit Lake Charles and Brown Bag Cafe when you visit. Bon appetit! And, remember, there's always something to great to EAT in Louisiana's Playground! #visitlakecharles.