Back in the day, New Orleans' cooks created a butter and cream-based oyster soup that was so rich it was referred to as oyster stew. The creamy offering is really delicious, but being born and raised in SWLA—Lake Charles — I prefer an oyster stew that represents my SWLA roots, one prepared with a brown roux instead of heavy cream.
The history of oyster stew in Louisiana is very interesting. Oysters were a diet staple of Native American tribes on the Atlantic coast for thousands of years before European explorers arrived. French settlers, who in the late 1600s and early 1700s gained a fondness for oysters, harvested and introduced them to New Orleans public markets. Heading westward along what is now the Interstate-10 corridor, the Cajuns naturally adapted the dish to the Bayou-style of cooking by incorporating a dark brown roux and oyster "liquor" in place of the butter and cream. If you've never tasted a good Cajun oyster stew, you don't know what you're missing. The natural oyster flavor is quite strong, but it is nothing like eating a raw oyster. The fusion of the oyster liquor with the toasty nuttiness of the roux creates an absolutely wonderful flavor.  Rather than using fresh, shucked oysters, just get the packaged variety at your local grocery store.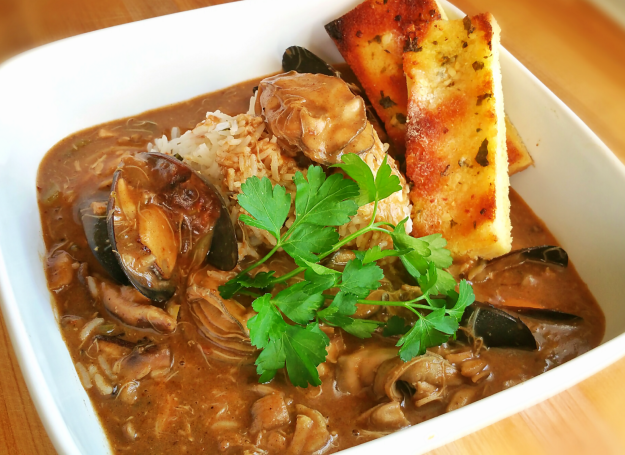 RECIPE (Inspired by Cajun Chef John Folse)
INGREDIENTS:
6 cup oysters (or 4ea. 8-ounce packaged containers), reserve liquid
1/2 cup butter
1/2 cup flour
1 cup onions, diced
1/2 cup celery, diced
1/4 cup bell peppers, diced
1/4 cup garlic, minced
1 1/2 quarts oyster liquid or chicken stock
1/4 cup green onions, sliced
1/4 cup parsley, chopped
salt and cracked black pepper to taste
PREPARATION:
In a heavy-bottomed pot or dutch oven, heat butter over medium-high heat. Add flour, and using a wire whisk, stir constantly until dark brown roux is achieved. Do not scorch. Add onions, celery, bell peppers and garlic. Sauté 3-5 minutes or until vegetables are wilted. Add 2 cups of oysters and oyster liquid from 2 containers. Add the oyster or chicken stock a little at a time to achieve a moderately thick stew-like consistency. Bring to a boil, reduce to simmer, and cook 25-30 minutes. Season with salt and pepper, or your preferred spices. Add green onions and parsley. Add remaining oysters and liquid, and adjust seasonings if necessary. At this point, you can toss in some frozen mussels just to provide another interesting layer of flavor, but that is completely optional. Cook an additional 5 minutes and serve over rice.
All I can say is...OH MY GOOD-GOOD-NESS! Amazingly delicious! BON APPÉTIT Y'ALL!