Growing up in Central Louisiana, my dinner plate didn't often showcase fresh seafood. Sure – there are great places to find seafood in that part of Louisiana, but it wasn't as easy as it is here in Cajun Country!
One dish I was always dying to try was Cajun Shrimp and Grits. I love grits. I love shrimp. It seemed like the perfect combination. That was until…I found the Golden Nugget's Calcasieu Crawfish and Grits recipe. Not only are the grits cheesy – they are also full of bacon and spicy green chilies. These, of course, pair beautifully with Louisiana crawfish tails. Don't believe me; try it for yourself. Download the recipe card.
*If you have a hard time finding crawfish tails, you can easily substitute shrimp for crawfish.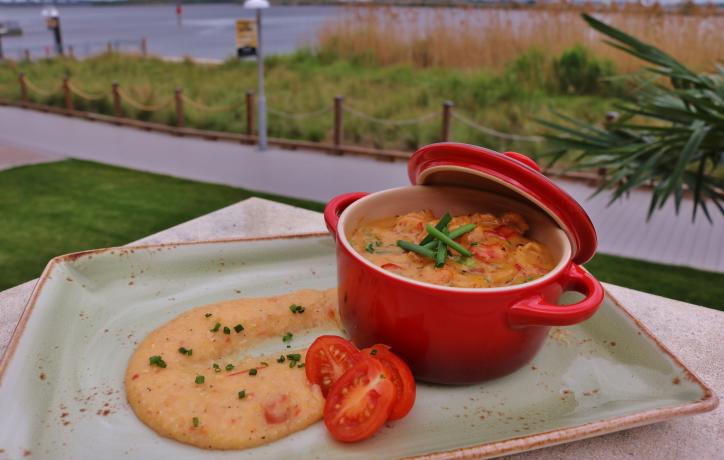 INGREDIENTS
Crawfish:
2 lbs Louisiana Crawfish Tails
½ cup butter
¼ cup minced red bell pepper
¼ cup minced yellow bell pepper
¼ cup minced green bell pepper
½ cup minced red onion
½ cup minced celery
1 tbsp minced garlic
¼ cup flour
4 cups Seafood stock
½ cup cream
¼ cup sliced green onions
salt and black pepper to taste
Grits:
1 cup stone ground grits
2 large ripe tomatoes, chopped.
½ cup bacon, chopped
¼ cup butter
¼ cup sliced garlic
3 cups water
½ cup heavy cream
1 teaspoon salt
2 tbsps canned chopped green chilies
¼ cup shredded mild cheddar cheese
DIRECTIONS
Crawfish:
In a large sauté pan, heat butter over medium-high heat. Add all vegetables and sauté 3-5 minutes, stirring occasionally. Add flour and stir 3-5 minutes or until slightly golden. Add seafood stock 1 cup at a time stirring until mixture achieves a sauce-like consistency. Blend in cream then bring to a low boil. Add green onions and crawfish tails. Cook 3-5 minutes until crawfish are warmed through and sauce is thick. Season with salt and pepper. Serve a generous portion of sauce and crawfish tails over each portion of grits.
Grits:
In a heavy-bottomed saucepan, cook bacon until crisp. Reserve drippings in pan. Add tomatoes, butter and garlic. Sauté until garlic is tender. Mix in water, cream, salt and chilies then bring to a boil. Gradually stir in grits, blending well. Reduce heat to medium-low. Cover and cook 15-20 minutes, stirring occasionally until thickened. Remove from the heat then blend in cheese until melted.