Ask anyone in my family and they'll tell you – this girl LOVES chicken and dumplings! It's one of those comfort food meals that gets me feeling all fuzzy and warm inside (that's the point of dumplings, right?)

If you love chicken and dumplings as much as me, you have to try this recipe from Flip My Food. It's right up there with Mama's.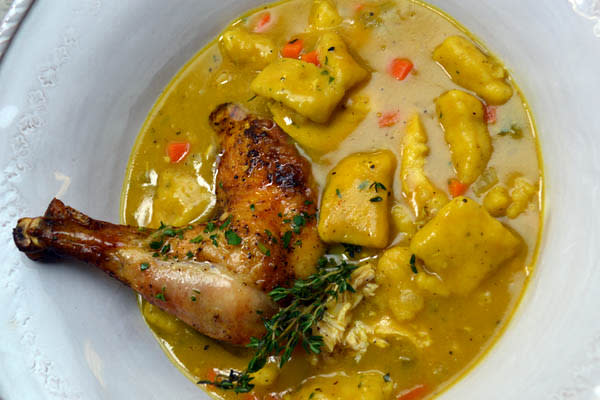 Ingredients:
2 tablespoons unsalted butter                                                  
1 medium yellow onion, peeled and diced
2 carrots, peeled and diced
2 stalks celery, diced
1 bay leaf
2 sprigs thyme
1 pinch turmeric
Kosher salt
Freshly ground black pepper
¼ cup all-purpose flour
4 cups low-sodium chicken stock
1 whole organic chicken, skin removed and fork pulled
1 ½ cups all-purpose flour
2 teaspoons baking powder
½ cup fine cornmeal
1 tablespoon sugar
1 teaspoon kosher salt
1 teaspoon fresh ground black pepper
1 tablespoon fresh thyme leaves, minced
1 ¾  cups buttermilk
3 sprigs fresh parsley
For The Chicken Soup:
1. In a cast iron Dutch pot on medium-high heat, melt the butter.
2. Add onions, carrots and celery to pot and cook for 2 to 3 minutes. Add bay leaf, thyme, turmeric, pinch of salt, and black pepper and cook for 1 to 2 minutes. Add flour and stir for an additional 2 minutes.
3. Stir in the chicken broth and simmer for 15 minutes. Adjust taste by adjusting your spices.
For Buttermilk-Cornmeal Dumplings:
1. In a large glass bowl, combine flour, baking powder, cornmeal, sugar, salt, pepper and thyme.
2. Stream in the buttermilk and mix until combined. Let dough rest for about 15 minutes.
Transfer to a floured work surface and roll dough ¼  inch thick with wooden rolling pin. Cut small squares of dough with a knife or pizza wheel.
3. Drop dumplings into simmering soup one at a time. Cover and cook for 15 to 20 minutes or until dumplings are firm and tender. Stir occasionally to permit dumplings from sticking. Garnish with fresh parsley and serve.
Chef Tips:
1. Don't over mix dough because it will become tough.
2. For quick dumplings, use store bought biscuits and season them with a touch of salt and pepper. Pinch off pieces of the biscuit dough and drop into soup.
Find more Cajun Recipes here.
Not feeling up to cooking dinner tonight? No worries! Save this recipe for later and visit one of our local restaurants for supper! Click here for a full list.