#GetDowntownLC for Holiday Cheer - the Brass Ensemble Concert on Dec. 12 & Delicious Food!
As a self-proclaimed arts & culture junkie, one of the most difficult things for me to adjust to this year has been the lack of cultural events for obvious reasons. However, the recent Art 6 Ft. Apart Series rekindled that spirit for 2020, allowing performing artists to reclaim the stage – even for just an evening or so. The final event in that series is set for this Saturday, Dec. 12, starting at 5 p.m. at the Transit Center Pavilion, 115 Ryan St. where you can hear the Brass Ensemble by the Lake Charles Community Band perform Christmas music and patriotic favorites. Last weekend, I was able to enjoy some of the series and – take a spin around downtown for more adventures.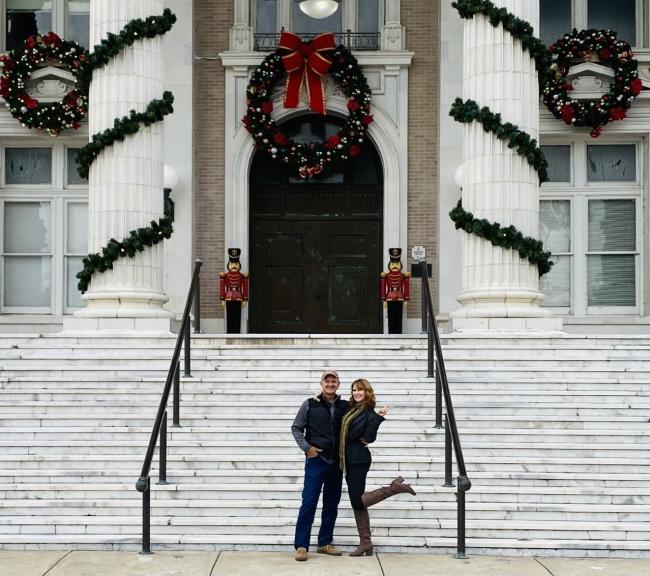 My family and I took a stroll downtown and enjoyed soaking in all the sights and Christmas décor. We were especially drawn to the majestic ambiance created by holiday decorations found on the Historic Courthouse and lawn. We immediately got inspired to snap some fun pictures. I recommend it for family photos, couples' photos or something fun for the kids – perfect for Christmas cards that also pay a little tribute to the Lake Charles area.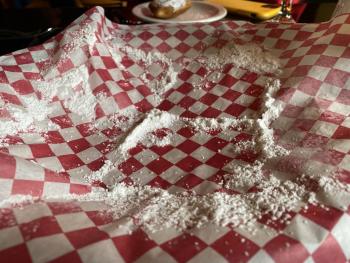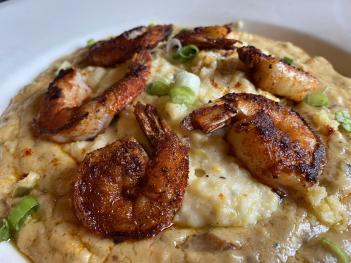 If you're hanging around downtown for brunch (like we were), a few places you can check out are Pujo St. Café or the Villa Harlequin. I took my family out to Pujo, and one of the questions that flew out of my kid's mouth was – "Can we get beignets?" He sat there with stars in his eyes just thinking about it. I said: "What kind of question is that? The answer is always, 'of course!'" I really tried to get a photo of the beignets when they came out, but you have to be fast. True confession, I took a bite of mine before I remembered that I probably should have taken a picture. The sinfully delicious dish that I ordered was the shrimp & grits. Five stars!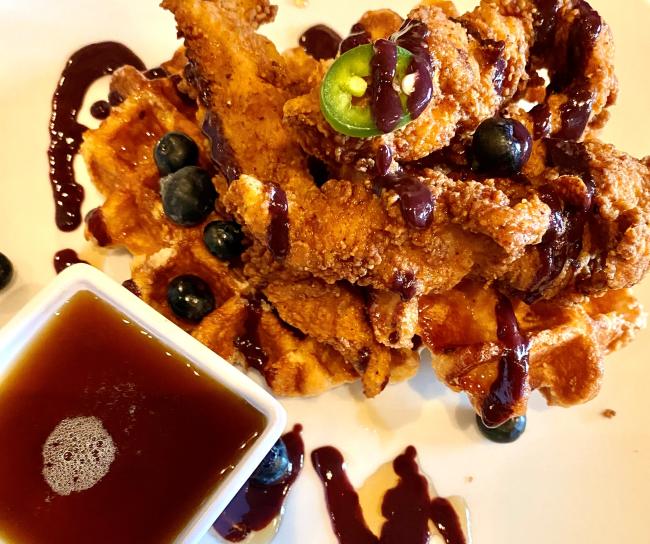 The Villa Harlequin is another option for show-stopping scrumptiousness. I mean, this chicken & waffles concoction is not only tasty, it will make anyone on your social media feed stop to figure out exactly what's going on! I like to say that the Chicken & Waffles is "an influencer." Chicken, waffles, blueberries, jalapenos – so good. Or, who could possibly resist the Villa Scramble – which features scrambled eggs and pecan wood smoked bacon – no less?! Of course, all of this can be washed down with a sweet mimosa or strong cup of "jeaux."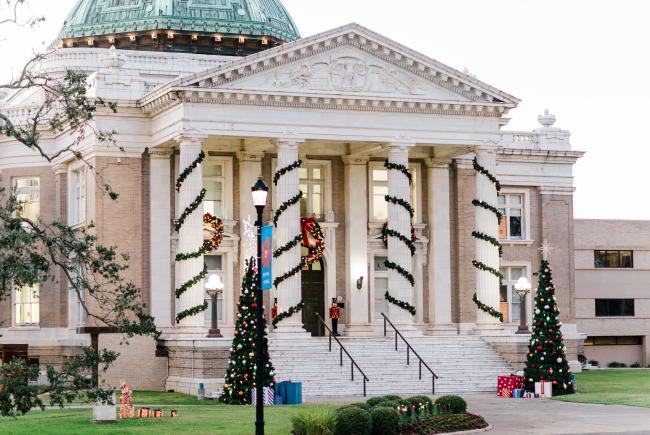 So, while there might not be as many festivals and events to check out this year, you can still make your own itinerary, enjoy the sights of the season and go home with a full, satisfied belly! For more information on places to eat in the Lake Charles area, visit www.visitlakecharles.org. Or, for information on the Art 6 Ft. Apart program, log on to www.facebook.com/historiccityhallartsandculture. Christmas light displays in the area can also be found here www.visitlakecharles.org/lights.
Photo credits: Angie Manning & Kathryn Shea Duncan (chicken & waffles / courthouse)