While we may be just a tad bit north of the border, that's never stopped us from joining in on all the Cinco de Mayo fun. Our affection for savory Mexican flare and salt-rimmed cocktails are second only to our love for our own world famous Cajun cuisine and Louisiana joie de vive. But just when we think life can't get any better, some of our most beloved downtown restaurants blow our minds by bringing the best of both culinary worlds together. For a truly amazing gastronomical adventure this Cinco de Mayo, head downtown and check out these Mexican favorites infused with a signature Southwest Louisiana twist!
What pairs perfectly with Blue Dog's luscious Crawfish Enchiladas covered in a cheesy cumin mornay sauce and served with a mint and citrus slaw? One of their bright grapefruit and tequila Palomas cocktails or spicy jalapeño-pineapple infused Margaritas, of course. For a refreshing mid-day pick-me-up, try their flowery traditional Mexican Agua de Jamaica shot or any of their Mexican import beers.
With over 140 beers in stock, choosing just the right beer to go with your grilled bacon-wrapped jalapeño peppers stuffed with sausage, AKA Blarney Stones, can be a bit overwhelming. May I suggest Bayou Teche's Cinco de Bayou? This Mexican-style lager only requires a slice of lime to round out your multiethnic culinary romp around the globe. If beer isn't what you're looking for then one of their sweet and spicy jalapeño blueberry margaritas will do the trick. *Bayou Teche's official Cinco de Bayou Pub Crawl starts at MacFarlane's at noon and makes it way through downtown. Click here for details.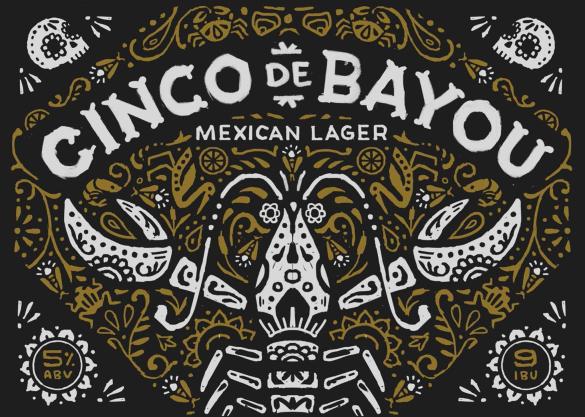 For a perfect fusion of Mexican and Cajun favorites, try Casa Mañana's creamy Crawfish Burritos topped with a tangy tomatillo sauce. Or belly up to their smokey Chipotle Catfish Courtbouillon with grilled crawfish and shrimp smothered with a creamy chipotle sauce. And of course, their award-winning house margarita's are half-price all day long.        
When it comes to stellar dishes in an out-of-this-world atmosphere, Luna's never disappoints. And their fried crawfish stuffed avocados drizzled with sweet chili pepper sauce hits all the right notes. And for an encore, reach for an icy cold Mexican import or tequila cocktail.
Whoever thought of taking smoked boudin, grilling it, then smothering it with gooey cheese inside buttery tortillas should receive an award. To top it off, Tia Juanita's serve up their boudin quesadillas with fresh guacamole, jalapeño ranch, pico de gallo and one of the best house margaritas in town.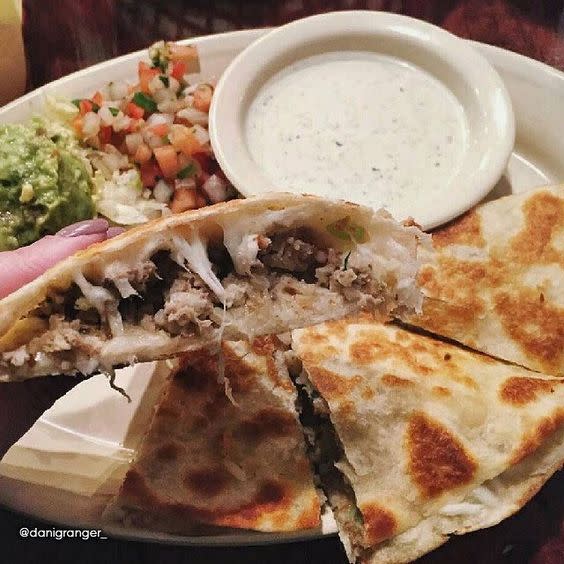 The only thing that can make Sloppy's Fresco & Pepper Fries, topped with queso fresco and fried poblano slices, any better is by adding one of their spicy jalapeño margaritas. If you're trying to keep it light then their Chipotle Shrimp Salad topped with fried poblano peppers, warm queso fresco, crisp purple onions, and cilantro ranch dressing goes just as well with their house margaritas or $3 Mexican beer specials.
For more Cinco de Mayo fun check out Golden Nugget Lake Charles for Blue Martini's party starting at 9 p.m. and featuring music guest FUSE. Make it a date with dinner at Cadillac Mexican Kitchen & Tequila. You've got to try the crab enchilada, crabmeat and shrimp sauteed with celery and onions, smothered with cilantro cream sauce and Monterey Jack cheese. Or stop by Jack Daniel's Bar & Grill at L'Auberge Casino Resort for beer and cocktails specials You can get $4 Dos Equis, Corona Light and Corona Extra or $10 margaritas (frozen or on the rocks).        
Share your favorite Lake Charles culinary fusion adventures with us at #EatSWLA and #VisitLakeCharles!