Unique. Rural. Authentic. Whatever you'd like to call it, the Iowa Chicken Run is one of the BEST Mardi Gras celebrations you could participate in!
Things kick off early – 8 a.m. early – with the smell of barbecue and gumbo spices in the air. Of course, the wash board and accordion music plays, and a few people have already started to dance. Everyone has on their best Mardi Gras attire of purple, green and gold. Even a few traditional courir costumes are dotted through the crowd. I've got mine plus my trusty chicken hat!

The capitaine announces that it is time to get started. Everyone climbs aboard their floats of trucks and trailers, four-wheelers (ATVs) or horses, and we start the parade. We stop throughout the community to beg for ingredients to make a gumbo.  It's a centuries-old tradition of begging where the revelers go from house to house dancing to live Zydeco music for the owners to lend them ingredients for the communal gumbo to be made later that evening. 
At each stop, the capitaine blows his whistle and releases the chicken. In Iowa, only the children are allowed to chase the chicken. That's fine with me, I enjoying watching the excitement, and I don't have to work up a sweat! There is a lot of whooping, hollering and dancing that takes place during the process! It's quite an honor to catch the chicken.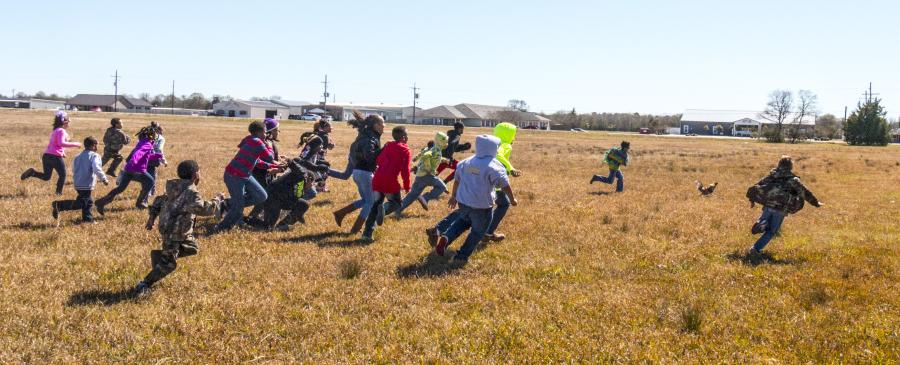 Photo Credit: Yvette Cardozo
Around lunch time, and once we've gathered enough ingredients, it's time for more dancing and a big bowl of gumbo. For me this is a true, Cajun Country Mardi Gras with laughter, festivity, and music that gets your heart pumping (and your feet groovin').
Experience a different kind of Mardi Gras magic at the 38th annual Iowa Chicken Run on Tuesday, Feb. 28 at the Knights of Columbus Hall, 503 E Highway 90, in the town of Iowa. Doors open at 8 a.m., the Mardi Gras floats start lining up at 9 a.m. and the parade rolls at 10 a.m. The entry fee is $10 at the door for adults. The entry fee for children 12 and under is $5. For more information, please contact Rodney Victorian at (337) 842-1875 or Kimmy Bellard at (337) 884-1403.