You might be thinking, isn't it a little warm for soup? When you've got the rich flavors of crab meat and fresh sweet corn cut from the cob you won't care what number the thermometer reads!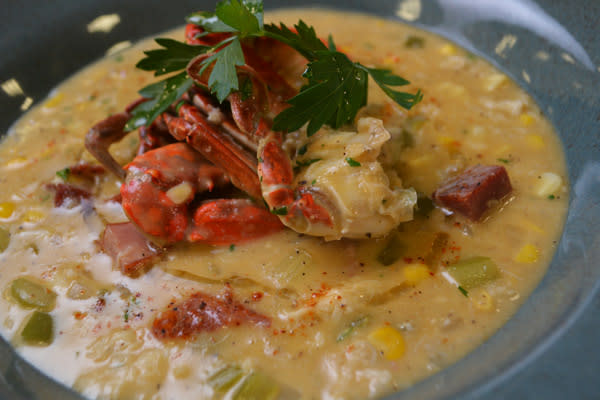 Ingredients:
2 tablespoons butter
 ½  cup tasso ham, diced
 1 cup celery, diced
 1 cup onions, diced
 ½  cup fresh corn
 1 tablespoon garlic, minced
 ¼ - ½  cup white wine
 ½  cup all-purpose flour
 2 cups clam juice
 2 cups chicken stock
 1 bay leaf
 1 tablespoon old bay seasoning
 2 cups heavy cream
 ¼  teaspoon dried thyme
 Kosher salt
 Black pepper
 1 pound lump crab meat, shell pieces removed
1. Melt butter in a cast-iron Dutch oven. Add ham, celery, onions, corn, and garlic and sauté for 3 to 4 minutes or until vegetables are tender. Add flour and stir over medium heat for 3 to 5 minutes. Add white wine and reduce by half.
2. Add clam juice, chicken stock, bay leaf and old bay seasoning. Bring to a boil. Reduce heat, and simmer 10 minutes or until mixture is slightly thick, stir frequently to avoid vegetables sticking at bottom of pot.
3. Add cream, thyme, salt and pepper to taste. Cook soup for about 4 to 5 more minutes, then fold in crab meat and cook for an additional 5 minutes on low simmer.
Want the crab dish without the fuss. You're in luck! Buy yourself (and maybe a friend or two) a ticket to this year's Arts & Crabs Fest. You'll get your fill of delicious crab plus local and regional beer pairings, live music and art vendors. Tickets are going fast, click here for details!
Find more Cajun Recipes here. To learn more about Flip My Food, visit www.flipmyfood.com.