Cheers, Y'all!
Crying Eagle is back – after Hurricane Laura ravaged Southwest Louisiana. It's been a rough year, no doubt, but the staff at Crying Eagle is ready to welcome you with open "wings!" There is something special about a locally owned company that allows it to be a little organic and breathe more in the creative space. That's what I love about Crying Eagle. Read below on details on what to expect when you go, and find out what they have planned to support the community on October 3!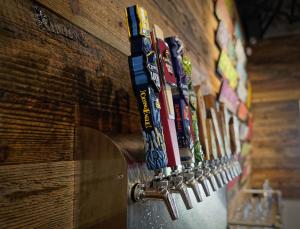 Photo Courtesy of Chad Moreno
Two Quirky hurricane highlights:

1. When Hurricane Laura was approaching, Krickett Racca, marketing director, was the savior of Tom Petty, the brewery's famous cat. She said that he was somewhat rambunctious as a house cat, and he could not wait to get back home to his stomping grounds at the brewery.

2. Trivia item number two is that maintenance supervisor, Jim Grindol, picked up a chainsaw about a week before the storm, and he was inspired to carve out an eagle into a nearby stump, prominently displayed on the property. Everyone was thankful that his art survived, even with trees all around it on the ground. Hmmm…even a few superstitious people could cling to the thought that maybe the carving served as a warning to Laura!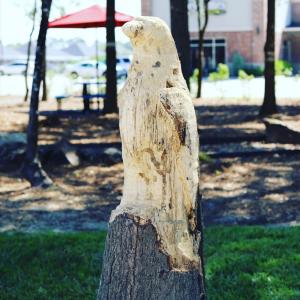 A few things to note about the reopening of Crying Eagle: 
The hours are 11 a.m. – 6 p.m. (as long as the curfew hours are in place) – Tuesday – Saturday. There is a full beer list but a limited menu at The Bistro. The pizza ovens are down … sooo … maybe Laura ate all the pizza? Beer, wine and spirits are available as well as Coke, Diet Coke and Sprite.  
Live music is on the rise again with a show Sept. 18-19 from 2 – 5 p.m. featuring Justin Martindale on Friday and Caleb & April on Saturday.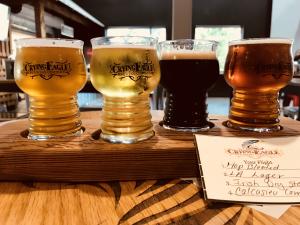 Upcoming Event Sneak Peek:
Crying Eagle Relief Concert - Oct. 3
The brewery has BIG plans for a benefit concert to take place on Oct. 3 from 11 a.m. – 11 p.m. Get this: 13 bands will play on 2 separate outdoor stages, and entry is free. Attendance numbers are limited with 250 being the maximum number at any given time. Local restaurants that were damaged by the storm as well as local bars that sustained damage will be invited to set up booths to participate in the event. The goal is to raise $25,000 to assist SWLA during this trying time for the community.
The following charities will receive all proceeds from a GoFundMe campaign as well as a silent auction:

The Cajun Navy, Second Harvest, United Way of SWLA, Room in the Inn and Lake Charles Pitbull Rescue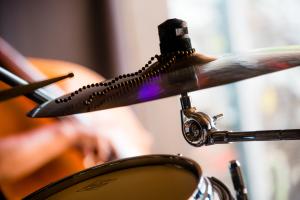 Photo Courtesy of Lindsey Janies
If you wish to donate a silent auction item, please contact Eric Avery at eric@cryingeagle.com. Stay tuned for more details on Crying Eagle's event as the date approaches! Visit Crying Eagle online at www.cryingeagle.com or follow them on social media!