Celebrating 5 Years on July 17!
I've written about Crying Eagle a few times before, and every time I visit, it's an entirely new experience. Crying Eagle's menu, beers, and events seem to be on a carousel; you just found your favorite, but it's quickly replaced by a new favorite that raises the bar higher than you thought possible. Crying Eagle is a living, breathing thing that changes as much as the wind, but the force behind Crying Eagle is always constant, always moving forward, whether it's baby steps or giant leaps.
"When the hurricanes hit, things weren't looking great, but that's when inspiration hit – it was time to go big," said owner Eric Avery.
When you speak to anyone at Crying Eagle, they speak with a hard-earned optimism that only comes from those who have seen real hardship. Crying Eagle's recovery from the last year and a half is exemplary for any organization. When the only option was to take a risk and pull out all the stops, Crying Eagle leapt into the great unknown, hoping to find its feet (or talons?) hitting the ground. Crying Eagle not only hit the ground, but it hit it running.
"We had to evolve quickly, and it's been a sensational success," added Avery. "Being a taproom wasn't enough; we needed to become a bigger brand that really mattered in the community." That's when music, food, and atmosphere came into play to generate the current manifestation of Crying Eagle.
The Beer
Let's face it, the standard craft beer isn't going away anytime soon, but Crying Eagle has fixed its eyes on the newest trend. People don't want flagship, good ol' beers anymore; they wanted innovation, authenticity, and anything new. Taking more risk with specialty beers became a survival tactic, and customers couldn't get enough. Crying Eagle may be focusing a lot of attention on their new specialty creations, but the local tried-and-true favorites won't be dismissed. "There's really no room for bad beer on our menu," said Avery. "We put a lot of our effort into a better quality beer that is as creative as our team."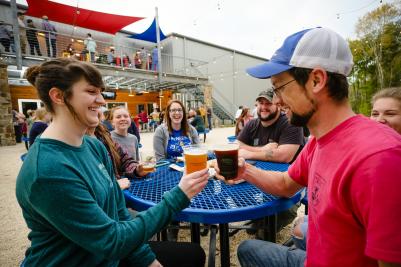 Crying Eagle's newest smash hits from brewmaster Ryan O'Donnell are picking up steam. We can't really talk about the new beers without talking about Crying Eagle's 5th Annual Birthday Bash, which will rock Lake Charles this Saturday, July 17th. A ton of new beers will be released, including the Front Porch Breakfast IPA, which is like a tall glass of fresh-squeezed citrus and tropical fruits. The hazy, juicy IPA is loaded with sweetness and the right amount of bitterness. You'll find notes of orange, lemon, grapefruit, mango, pineapple, melon, and stone fruit followed by the subtle earthiness of pine resin, dried roses, and sage.
Their Jalapeño Hefeweizen is a spicy twist to a classic German wheat beer, and the Peanut Butter Stout is a classic oatmeal stout made with peanuts. Another beer that will hit taste buds is the Cherry Saison. A saison – commonly called a farmhouse ale – is a fruity, dry, and refreshing ale, and Crying Eagle has added rare New Zealand hops with fresh cherry puree to create this new orchestra of flavors.
Try out the Happy Birthday Mr. President beer, which is a cream ale with notes of vanilla cake, vanilla bean, and cake icing, or the Blueberry Cheesecake Smoothie beer, which is conditioned with fresh blueberries, cream cheese, and vanilla. The list of beers to make their debut at the Birthday Bash is extensive, so remember to sample responsibly.
The Food
"The chefs have total creative freedom," said Avery. "It's what makes our kitchen so inventive."
Culinary trained chefs Matt Kaub and Nick Thibodeaux dream up a recipe from the memory palace of their food travels, drop it in the menu, test it on the customers, and either evolve it or let it slide off the menu before picking up a new dish to try out. It's an interactive, dynamic way to explore flavor profiles, and along the way, the chefs have discovered the hard-hitting dishes that have made Crying Eagle such a mainstay in the food culture of the Lake Area. Dishes like the Butcher Block pizza, nachos, Eagle Wings, Kobe beef burger, and, of course, the nuggies.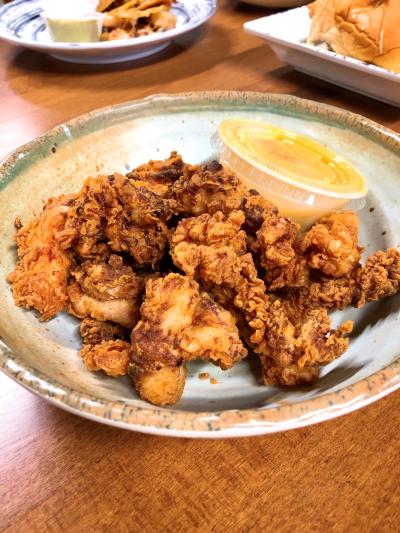 The. Chicken. Nuggies. You've seen this dish on the menu for a while but if you haven't had it lately, then you haven't had it at all. The chefs switched out the white meat chicken ("Which gets all tough and dried out," commented Avery) and now uses dark meat ("Which brings in the flavor big time"). I'm an absolute sucker for fried chicken. It was the only edible thing my mom could make when I was young (Sorry, Mom), and chicken nuggets are always a win for me. Avery says it's because I'm a kid at heart, but I think it's because fried chicken is notoriously hard to master and can easily become greasy, dried out, or flavorless. The sign of a good restaurant is whether or not their fried chicken is killer, and Crying Eagle killed it with the new recipe.
Let's not even pretend that their menu stops there. Avery will implore you to try the shrimp and andouille quesadillas; he lobbied for a while with the chefs to get these on the menu. A crisp corn tortilla embraces local shrimp, andouille sausage, and pepper jack cheese, and it's served with avocado mousse and lime crema. As far as quesadillas go, these feel fresher and more authentic than the typical Tex-Mex affair. Their warm farro grain and veggie bowl will both surprise and delight you with its light and satisfying appeal – corn, carrot, frisée, and shaved Parmesan cheese are drizzled with a vinaigrette made with their Broken Vows brew. If you miss a dish before it is retired to the great beyond, don't fret; new and even more exciting dishes are already being served.
Upcoming Events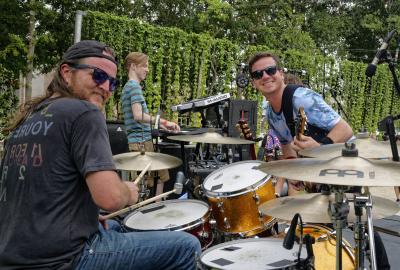 Crying Eagle could have easily rested as a popular brewery and restaurant, but their team wasn't ready to rest on any laurels and instead became a huge draw for local events. The permanent outdoor stage paired with an expanded patio makes it a haven for musicians to regularly perform. On their Facebook page, you'll find an extensive lineup of live music and special events every week. Crying Eagle brings in unknown musicians, popular bands, and everything in between to give their customers an artistic atmosphere. Whatever you're looking for at Crying Eagle, it's there.
This Saturday's Birthday Bash is a complete and utter celebration of Crying Eagle's history and its future ahead. LA Roxx will headline at 9 am, but the entire day will be full of the likes of Brad Brinkley Duo, Long Sunday Drive, Sarah Russo Trip, The Vibes, Infinite Bus, and Dead or Alive. Tickets are on sale at cryingeagle.com.
It's part of the 2021 Summer Concert Series, which – like its past summer series – has made a mark on the music scene, and you can get ready for acts like Cowboy Mouth (August 21st) and Three Thirty-Seven (September 11th) to hit the stage soon.
But music isn't the only thing Crying Eagle is pumping out. Special events like the Food Truck Nights, Family Fun Fest, karaoke nights, art nights, and Brunch After Parties are becoming the norm, but this fall, Crying Eagle's big events will take flight.
The annual Oktoberfest has become an event for the people. Traditionally a celebration of beer, food, and fun that lasts several weeks, Crying Eagle uses it as an opportunity to release specialty beers, host Oktoberfest games, and stage local live music. It normally happens in the fall, so keep an eye out on VisitLakeCharles.org. Last year, Crying Eagle hosted the Back in Flight relief concert for those affected by hurricane damage, and we can expect to see the second annual Back in Flight concert later this year. And let's not forget the best Halloween Party in town!
Lakefront Update
We all know where we were when Crying Eagle announced its ambitious second location on the lakefront. Imagining the lakefront turning into a tourism hub with a brand like Crying Eagle gives me full-body chills, but we are all wondering what's the latest now that the hurricanes have forced SWLA to live a new normal.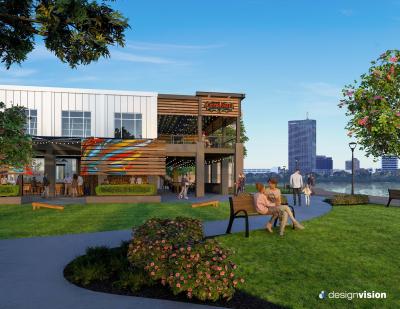 "The lakefront project will be unlike anything Lake Charles currently has," said Avery. "It'll be an experience every time you walk on-site, and we want it to become an attraction for our area."
Listening to Avery talk about the project is like listening to a writer nearly finished with their novel or a musician about to go on stage at Jazz Fest. He is proud of the journey it has taken to get here, and his staff reflects this enthusiasm.
The project brings together multisensory layers of experience that will – to be honest – blow your mind. It connects architecture and greenspace with elevated gastronomy and unique beers. Avery wants everywhere you look to be an experience. The lakefront project will be a new iteration of Crying Eagle – not a second location but a new step forward for Lake Area culture.
Don't get left in the dust – stay ahead of the game and stay connected with Crying Eagle on social media to see their new dishes, beers, and events, or visit CryingEagle.com.