Summer and shrimp just go together. One recipe that I feel head over heels in love with was Jack Daniel's Bar & Grill's Abita & Cane Syrup Glazed Shrimp. Don't let the ingredients throw you off. I love cane syrup, and leave it to L'Auberge Casino Resort's award-winning chef Lyle Brossard to pair it with a little beer and shrimp for the perfect marriage of flavor. There's even a little kick with a sprinkle of cayenne.  And if you have the right utensils, this recipe could easily be prepared outdoors on a hot grill with a skillet.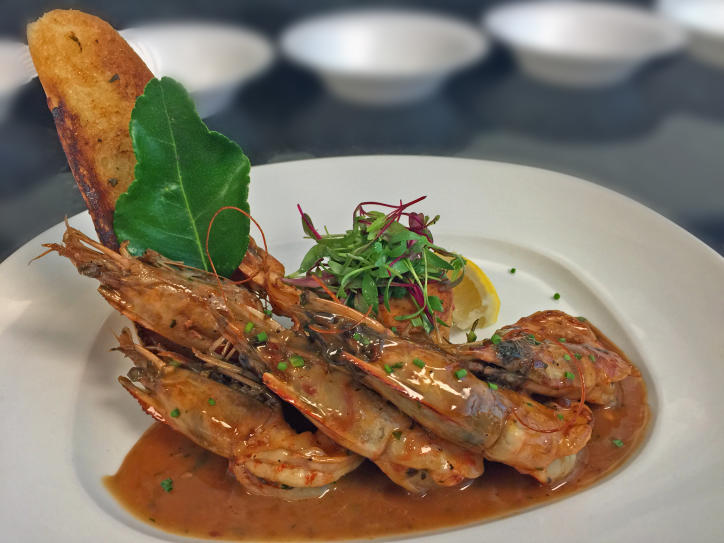 Click the image above for recipe card.
INGREDIENTS
3 each, head on shrimp
½ bottle Abita Amber
1 sprig each, rosemary & thyme
4 oz. butter
1 tbsp. cane syrup
1/4 tsp. cayenne pepper
1 tsp. minced garlic
1 tsp. minced shallots
½ lemon
¼ cup Worcestershire
½ tsp. salt & pepper
DIRECTIONS
Peel middle of head on shrimp, leaving the heads and tails attached.
In a medium skillet over a medium heat, add ½ of butter and sauté shrimp.
Add the minced garlic and shallots and stir.
Add the beer, syrup & Worcestershire sauce and turn fire on high.
Cook until liquid is reduced by half. Season with salt and pepper, rosemary and thyme.
Cut off the skillet and stir in the rest of the butter until the sauce smooths out.
For more recipes, visit www.visitlakecharles.org/recipes.