Throughout Louisiana, Red Beans and Rice is a treasured Monday tradition, where the aroma of red beans can be smelled drifting through the neighborhoods. Every family has their own secret list of ingredients and method for cooking the beans.
Our friends at Flip My Food shared their recipe when they visited Creole Nature Trail Adventure Point a few weeks ago. With the addition of ham shanks, this dish is sure to deliver a deep, full Homestyle flavor that will have your dinner guests coming back for seconds! Enjoy!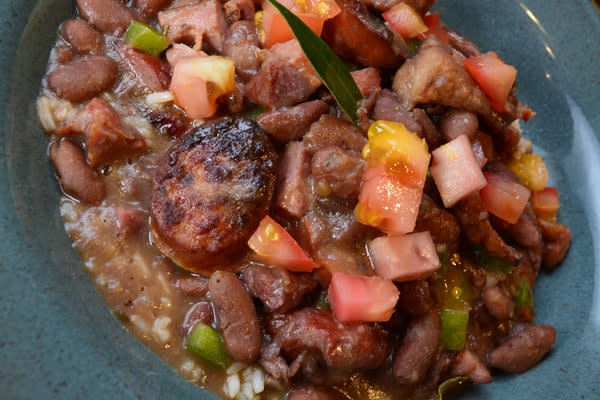 Red Beans & Rice
WHAT YOU NEED
1 pound dry small Camilla red beans
1 ½  tablespoons of butter
1 large onion, chopped
1 ½ cups celery, chopped
1 cup green bell pepper, seeded and chopped 4 cloves garlic, sliced
4 to 6 cups ham shank stock
1 bay leaf
1 tablespoon Worcestershire sauce
Creole seasoning to taste
Crystal hot sauce to taste
Kosher salt
Ground pepper
2 cups cooked white rice
WHAT TO DO
1. Place dried beans in a large bowl and cover them with cold water by a couple of inches. Let soak for 8 hours or overnight.
2. Drain water off soaked beans and set aside. In a large pot, add butter, onions, celery, bell pepper and garlic. Cook for 3-5 minutes or until vegetables become soft.
3. Add beans, ham shank stock and bay leaf to pot. Bring to a boil. Reduce to a simmer and cover. Simmer for 1 ½  hours or until bean very tender.
4. Remove ham shanks from pot and set aside. Allow meat to cool slightly, then shred with a fork. Return meat back to pot and add Worcestershire sauce and creole seasonings to taste. Cover and cook for another hour or until the mixture gets thick and creamy. Season with hot sauce, salt and pepper. Serve over rice.
Chefs Tip:
1. Quick soak red beans by putting them in a bowl and pouring boiling water over them, covering them by 2 inches, then letting them soak for two hours.
2. For creamy beans, cooking liquid should barely be above the beans.
Braised Ham Shanks
WHAT YOU NEED
2 pounds smoked ham hocks

½  medium Spanish onion, halved
3 small celery stalks, roughly chopped
½  medium carrot, peeled, roughly chopped
6 fresh garlic cloves
1 fresh bay leaf
1 sprig fresh thyme
6 black peppercorns
8 cups low sodium chicken stock
WHAT TO DO
1. Combine all ingredients in a medium stockpot. Bring meat to a boil over high heat. Reduce heat to low and cover with a lid. Cook meat at a steady simmer until tender about 4 to 5 hours.
2. Remove hocks with a slotted spoon and put them in a large bowl. Strain the cooking liquid and discard vegetables and herbs. Let hocks cool in braising liquid.
3. After hocks cool, fork pull meat off bone into bite-sized chunks. Discard bones and most of the fat, also reserve shank stock for beans. Use pulled hock meat to turn a soup into a hearty meal.
Find more Cajun Recipes here. To learn more about Flip My Food, visit www.flipmyfood.com.