There's just something about Southwest Louisiana that seems to bring out the creative spirit in people. As a result, the region is thriving with artistic expression. And you don't want to miss it! This list is a good place to begin your own personal art journey through Lake Charles.
Gallery by the Lake – This art space is home to the Associated Louisiana Artists. The Gallery affords a venue for the artists to display and sell their work. The back of the building is a large studio where they paint and offer various art classes and workshops to the community.  
Candice Alexander Art Studio – Prominent Lake Charles artist Candice Alexander is well-known for her larger-than-life paintings, mixed media creations, and her iconic Fleur de Lis collection with over 800 different designs. Her studio feels like a kaleidoscope of color to browse through.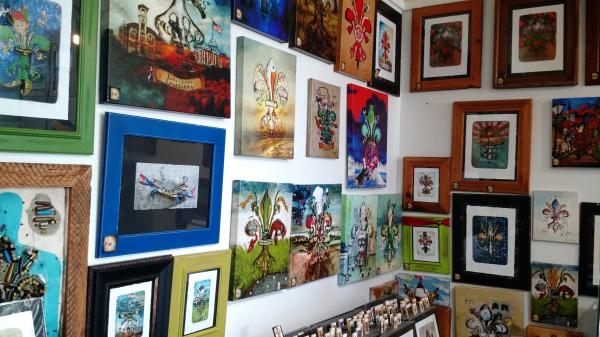 1911 Historic City Hall – This historic building opened as a center for arts and culture in 2004. They showcase traveling and local art shows on three floors, rotating exhibits about every three months.
Central School Arts and Humanities Center – Central School serves as the epicenter for the arts community in the Lake Area. This re-purposed vintage 1912 school building is home to the Arts Council of SWLA, the Ben Mount Theatre, the Mardi Gras Museum, and several arts organizations such as the Lake Charles Symphony and the Children's Theatre Company. The Art Associates and Black History galleries showcase local, national, and international artists. 
Frame House and Gallery – Features contemporary and classic art, photography, and memorabilia.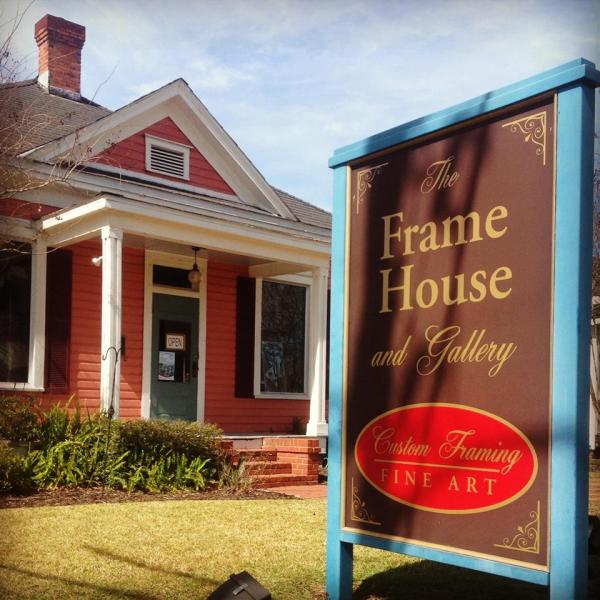 Imperial Calcasieu Museum – Hosts rotating art shows and has a permanent local history exhibit. Don't miss the impressive Sallier Oak in the back.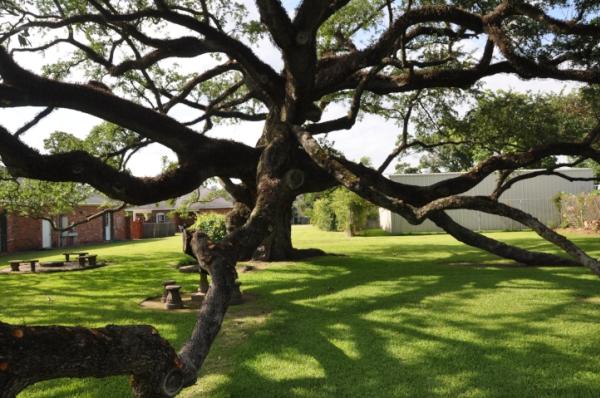 The Corner Gallery – An interesting hodgepodge of art, antiques, collectibles, and vintage furniture. 
Several local establishments in the downtown area feature eclectic art and local artists. Blue Dog Café displays the famous work of George Rodrigue. Stellar Beans, Pujo St. Café and Sloppy's Downtown regularly highlight regional artists. Luna Bar and Grill and Tia Juanita's Fish Camp display interesting artwork on their original red brick walls.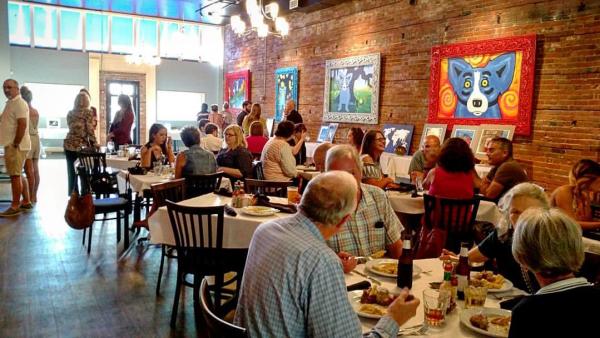 Lake Charles offers several festivals each year that celebrate local art and artists. The Spring Art Walk, Gallery Promenade, and Chuck Fest in the fall are but a few events where you can discover the artwork and culture of Southwest Louisiana. Check visitlakecharles.org for dates and details.
Unique artwork can also be found on indoor and outdoor murals throughout the region.
Whether you are visiting Lake Charles or have lived here your whole life, to fully experience the colorful culture of Southwest Louisiana, take some time to discover and appreciate its wide range of visual arts.
Share your artistic vision. Tag your Lake Charles photos with #VisitLakeCharles.