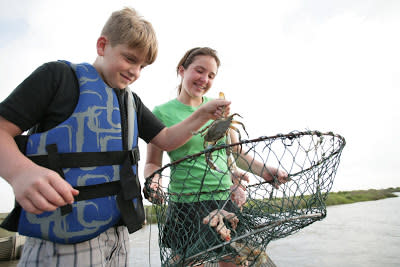 Sometimes, it's easy to feel pressure.
Not necessarily pressure caused by stress, but just the pressure that people, cars, the general noise of the city can cause. Bringing about that enclosed feeling, like being boxed in your house, in your neighborhood, in the city type of feeling.
When I get that way, it's time to take a breather
in a calmer place in the great outdoors. Everyone has "things" that we have to take care of, and
every now and then, it's good to let those "things" wait a sec.
They can wait, right?
On a sunny day, it's good to just grab a few snacks, find a wide brimmed hat, dig out the old sun block and sport a huge pair of sunglasses in hopes of discovering something beautiful and natural along the
Creole Nature Trail All-American Road
. Spring and summer are stunning in Louisiana's Outback. Butterflies, flora and fauna are at their peak, and
alligators
love sunning themselves along the banks.
So, once you get your car gassed up and supplies/snacks in the ice chest, you can hit the road. Take Exit 20 off Interstate 10 and follow Hwy. 27 south toward the
Gulf of Mexico
. If you want to do a little crabbing, now is your big chance! It's loads of fun, and kids can really get into it too. What blue crabs lack in good looks and temperament, they make up for in taste. Nothing can compare to fresh blue crab! They're easy to catch, and the whole family can join in the fun. May to September is prime
*crabbing time
.
Stop at any one of the bridges crossing the canals or make a beeline to one of the
Sabine National Wildlife Refuge
locations: Northline Recreation Area, Hog Island Gully Recreation Area, Blue Crab Recreation Area (formerly 1A/1B), or the West Cove Recreation Area. Bring your own or stop at any of the local stores to purchase some thick string and good crab bait — turkey or chicken necks, cut fish, or meat chunks are the best — a dip net and a pail or ice chest. Tie your bait to the end of the string, toss it in the water and wait for a slight pull. Slowly pull the line in and have your net at the ready to scoop up your crab before he gets wise and lets go!
Hitting the trail, you can see several wildlife refuges and attractions, including the Wetland Walkway at the Sabine National Wildlife Refuge or the newly refurbished
Cameron Prairie National Wildlife Refuge
. Along the
Wetland Walkway
, you can actually walk out onto a raised platform walking trail that takes you right into the marsh where you can see alligators and other wildlife. Cameron Prairie has interactive exhibits including two shows where animated characters give a brief and interesting history of the Cajun/Creole people and the importance of preserving the wetlands. The
Pintail Wildlife Drive
is perfect for taking in the view of nature's beauty right from your car window!
The Creole Nature Trail's 26 miles of
natural beaches
are easily accessible offering a wide range of water activities. You can
swim
,
tube
,
surf fish
,
observe shore birds
,
sunbathe
and go
shelling
. They are particularly excellent for shelling. Some of the most complete and perfect shells can be found along Gulf beaches in Louisiana's Outback, and parts of the beaches are even made of tiny wee shells. Located west of the Mississippi Delta, they are constantly replenished by the "muddy river's" southeast tidal flow which carries rich deposits of driftwood and a wide variety of shells including whelks, cockles, angelwings, cateyes, olives, wentletraps, coquinas and periwinkles.
For more information on the Creole Nature Trail All-American Road, visit
http://www.creolenaturetrail.org/
. For accommodations, other attractions and restaurants near the Creole Nature Trail, visit
http://www.visitlakecharles.org/
.
*Crabbing:
Individual crabbing for recreational purposes are not required to possess a basic recreational fishing license. However, persons using crab nets or crab lines on wildlife management areas or refuges must possess a basic and saltwater recreational fishing license or a Wild Louisiana Stamp. Please visit the Louisiana Department of Wildlife & Fisheries website.