By guest blogger, Angie Dilmore
You're coming off the eighteenth hole and you're famished. No problem. General Manager Kelly McDevitt and her stellar staff know how to take care of you. "We think the Country Club at Golden Nugget is a hidden gem in Lake Charles," she says.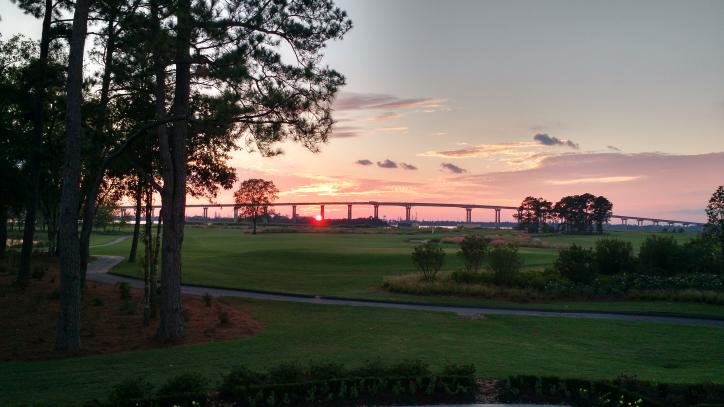 Though their grand opening was just this past October, word is quickly getting around town. The Country Club is the place for both diners and golfers to go for excellent food, tempting cocktails, and a sweeping view overlooking the serene golf course and graceful I-210 bridge.  The fire pits on the verandah are perfect for cozying up on a date night overlooking the Calcasieu River and Country Club Golf Course.
Award-winning Head Chef Charles Reed manages the Country Club's menu and kitchen staff. Last month, Reed competed in Landry's Iron Chef Competition in Galveston and won prizes for Best Overall Dish and Best Dessert (a chocolate butterscotch cake). For fall, Reed has added several enticing items to their already fabulous menu. On a recent visit to the Country Club, my husband and I dined on succulent Mediterranean rack of lamb accompanied by a pear-shaped potato croquette, seasoned grilled tomato, and fresh asparagus. Perfection!
Chef Charles makes this lamb dish they way he was taught 30 years ago by an Iranian mentor. He says, "I was introduced to Persian cooking from a nineteen-year-old kid from Tehran. He was probably one of the best chefs I've ever met. To him, haute meant fresh, light, and well-balanced. When he made rack of lamb, he squeezed two full lemons on it, basted it in butter, and seasoned it with salt, pepper, and fragrant sumac."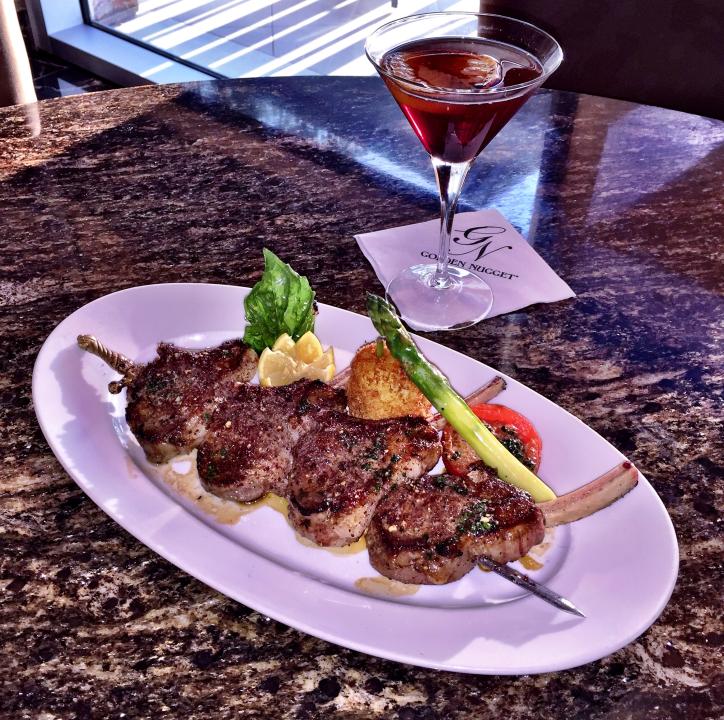 While awaiting the main course, Chef Charles serves patrons a unique fresh made pimento cheese spread and crackers baked in-house. It's a nice change of pace from the usual bread basket and butter.
To complement such a robust meal, head bartender Garrett Steech served us one of the Country Club's signature drinks – the Manhattan. Steech hand-crafts this cocktail with Garrison Brothers Bourbon from Texas, Carpano Antica Vermouth, Angostura Bitters, a black cherry, and caramelized orange brulee.  At first sip, you taste the heat of the bourbon. Then the sweetness of vermouth and the citrusy tang of the orange tickles your tongue with a pop of flavor. "It's a boozy throw back classic cocktail for the cooler weather," says McDevitt.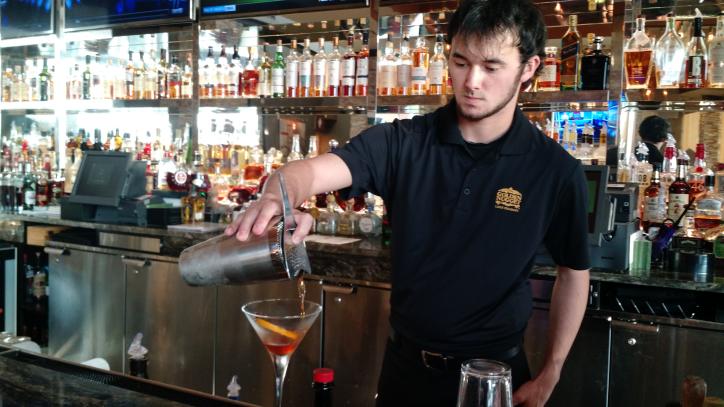 Saving room for dessert is highly recommended at the Country Club! Upon the chef's suggestion, we enjoyed a delectable apple and goat cheese cobbler with an almond crumb topping and garnished with a French white apple dipped in chocolate. Words cannot describe the goodness.
If you're so inclined, the Country Club is one of the few restaurants in the area that offers a full cigar menu.
Visit the Country Club at Golden Nugget Hotel and Casino.  Hours are as follows: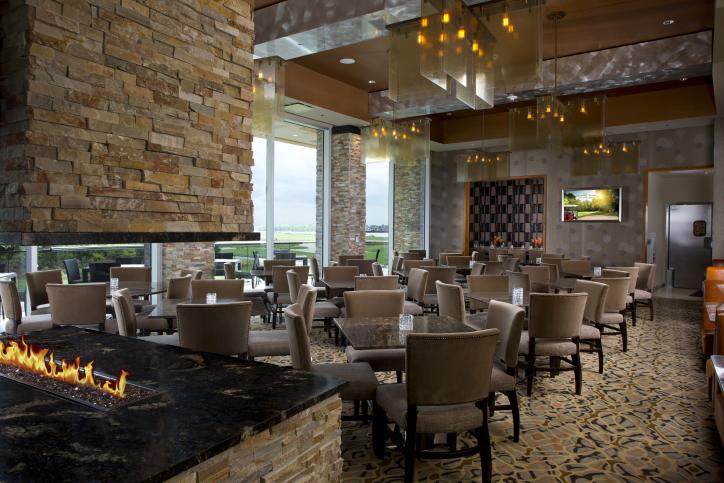 Main Dining:
Wednesday & Thursday 5- 9 p.m.
Friday 5– 10 p.m.
Saturday 11 a.m. – 10 p.m.
Sunday 10 a.m. – 3 p.m.
Bar:
7:30 a.m. Daily
Happy Hour 4– 7 p.m. Monday - Friday
Happy Hour Food 4– 7 p.m. Wednesday - Friday
Golf Grill:
7:30 a.m. - Twilight / Dusk Daily
The Country Club at the Golden Nugget will also accommodate private events on days and hours when closed for normal business.