Feeling the Love at Farmer's Markets
Farmer's markets are designed with a lot of love; they bring out a community's best offerings and place them on a gingham tablecloth for your enjoyment. Lake Charles touts its two popular farmer's markets – the Charlestown Farmer's Market on Saturdays and the Cash & Carry Farmer's Market on Tuesdays. Here, you can find local food products, handmade art, live music and so much more because you get to connect with locals and learn about what makes them passionate about their products and Southwest Louisiana. Now let's go shopping!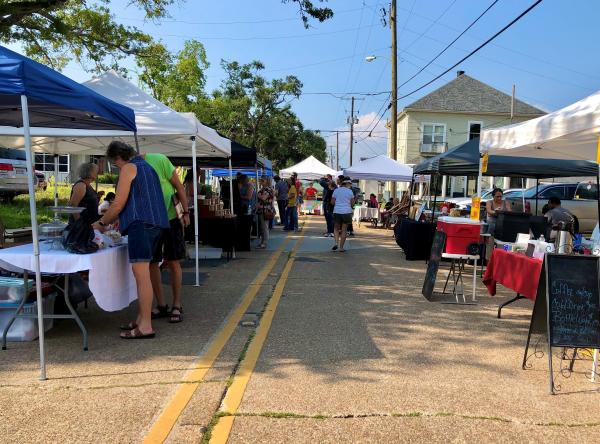 The Charlestown Farmers Market
Location: Behind Historic City Hall Arts & Cultural Center, 1001 Ryan Street
When: Saturdays from 8 a.m. to 12 p.m., rain or shine
My dog Piper and I decided to visit the Charlestown Farmers Market on a hot, sunny Saturday. The street behind Historic City Hall was brimming with vendors, visitors, and pups. Immediately you hear live music and get a waft of homemade tamales and ready-made lunches. Director Carolyn Smith greeted me behind her wall of jams, jellies, and soaps stacked like a rainbow of every flavor and scent you can conceive of. She's been managing the farmers market, and she's proud of it. As she spoke to me, she kept an eye on her vendors like a mother hen to ensure the day was going smoothly. Each vendor's success is the market's success, and she's always ready to point out a new vendor or a different handcrafted item.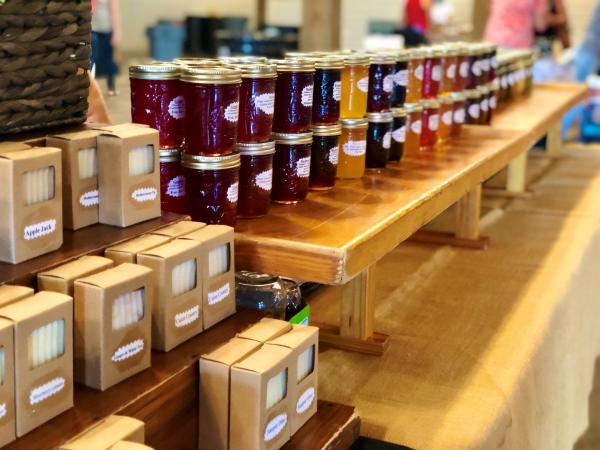 Piper caught wind of Paws Up Gourmet Pet Boutique and nearly broke my arm trying to get to their stall. The table was full of homemade dog treats and enrichment toys. Fellow dog lover Katherine Pierce with Paws Up makes 12 tasty varieties of treats, each with very clear and healthy ingredients. She creates special orders for repeat customers – like a dog charcuterie board – as well as treats to help dogs with allergies (like mine). Piper happily devoured their blueberry chicken jerky, and we took home some bacon and cheddar baked treats and dried sweet potato slices. The best part is the treats are all $1 each.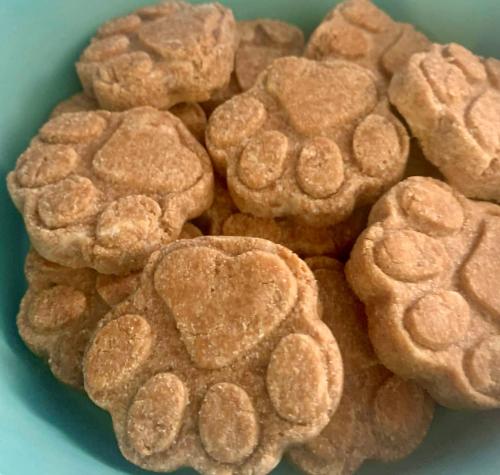 I meandered over to Pam Cofield's stall where she was selling original artwork. It was her first time as a vendor at the market, and she was ready to show the world her work. Her official business name is Pam's Fluidity – named for her acrylic poured abstract paintings. Her table was full of affordable work that each had a totally unique color palette, texture, and personality. She represented farmer's market's embrace of local art as another way to attract people to the market.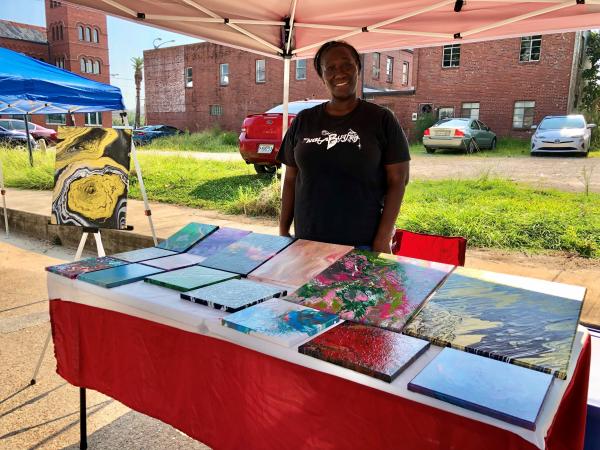 My last stop that day was at La Mariposa Tamales. Christina Villarreal Langley is from Angleton, Texas, and moved to Lake Charles 38 years ago. For her, food is about invoking memory and carrying traditions passed down through the generations. Her mother taught her how to make tamales, and Langley spoke of her like we all would like to be spoken of – the tap root in the family tree that lives on in the legacy of her cooking. Langley turns this legacy into tamales – and damn good ones – that represent her ties to her heritage and family. Her brisket tamales were not only incredible (I took home a dozen) but they also won first place in beef tamales at the Tamale Festival in Houston. If you see Mariposa Tamales around town, don't pass them up.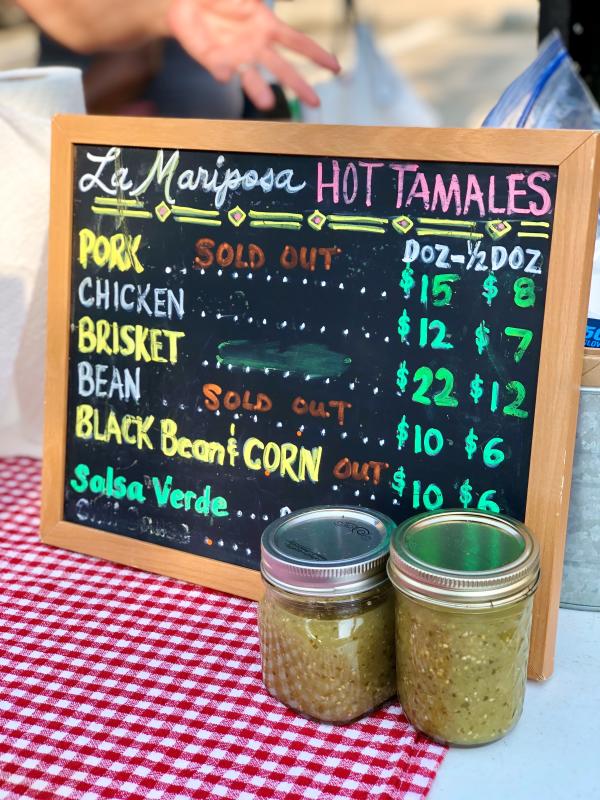 *New to the Charlestown Farmers Market is "Meet Me at the Market" Event Series!
Historic City Hall Arts and Cultural Center is launching a new event series as an expansion of the Charlestown Farmers Market. On the first Saturday of the month beginning October 2, art vendors will join forces with the farmers market vendors at Historic City Hall. You'll find food trucks and live music, arts and crafts under the oaks with the Children's Museum, an art market on the front plaza, and the farmers market on Bilbo Street directly behind Historic City Hall. Please call Marjorie Latigue at 491-9147 for more information.
Cash & Carry Farmers Market
Location: Cash and Carry Building, 801 Enterprise Boulevard
When: Tuesdays from 4 p.m. to 6 p.m., rain or shine
If you casually arrive at the Cash & Carry Farmer's Market at 5:30 p.m. after work, then it's clear you're a rookie who's arrived too late to the party. The only way to shop Cash & Carry is to get there as early as possible. Even when I walked in at 3:50pm, visitors were already walking out with bags laden with locally sourced goods. The Cash & Carry Farmer's Market is a heavy hitter in fresh, local produce, artisanal items, and go-to meals. The large space brings together local businesses with live music and community pride.
Here, vendors mingle with each other to show off their latest designs or produce, and the regulars line up at stands to pick up orders placed the week prior. You soon find yourself with a sense of urgency to buy what you can before the crowd devours all available wares. The best strategy is to head to the first vendor you make eye contact with and just jump in.
I headed to Thrive Kitchen's stand and spoke with owner Alan Maddox about his ready-made organic meals. Thrive Kitchen began a few years ago as a way to introduce a sustainable organic meal service to the Lake Area, and they've got a serious thing for local ingredients. Maddox brings his nursing background to his business to show that food is medicine. Their menu changes each week depending on what's available and where inspiration takes them. That day they made vegan fajita taco salads with Spanish fried rice, grilled vegetables, and red beans. They specialize in nearly every type of food from Buddha bowls, family vegetable trays, healthy low carb bowls, and handmade spices and salsas, which have taken off on their own. Those living the keto life will love their online ordering system.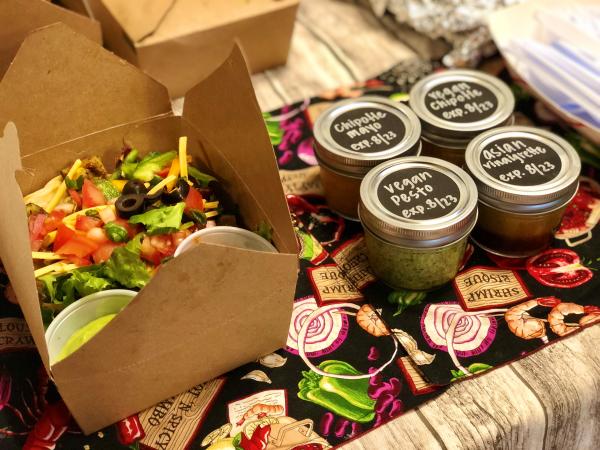 Maytte Cart's table of intricate clay baked jewelry may stop you in your tracks as you wander through the market. Her business, Maya Designs, offers lovely earrings that are made by hand with a special attention to detail. She's only been at it for six months, but her work is top-notch and great for gift ideas. She's had great success at the market, and each week she brings new designs to dazzle the public.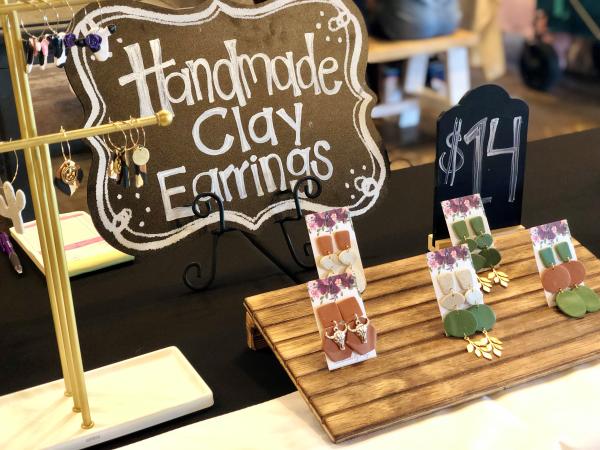 Buckner's Botanica's table is a homage to healthy living, and owners Nancy and Donald Buckner are passionate about helping you live your best life. They create a myriad of tinctures that help ease everything from anxiety and sleep loss to low energy and mood swings. Each bottle is hand crafted with local herbs and ingredients to give you the all-natural supplement you've been missing in your daily routine. Additionally, they sell salves and lip balms as well as artistically designed succulent and cactus pots (I had to snag an 8" shallow pot filled with baby succulents for only $15). 
I didn't have dinner for the evening, so I dropped by Grace YuM's table and was overwhelmed by the smells and sights of her delectable Korean fusion dishes. The owner (who goes by Gil) was incredibly excited to share her food with me and the line of people behind me. Every customer is a new opportunity for her to teach them about Korean culture and food, and I was all ears. She's been attending the market for several months, and each week showcases a new dish or a new bottled sauce. On the table that day was sweet potato noodles, homemade kimchi, air fried chicken wings with a killer sauce, and her signature Nutella treats pressed into a cute fish shape. Then there were the tacos. Her assistant Nicolae David-Trouard was serving up restaurant-quality Korean beef and chicken tacos. They are drenched in at least two sweet and spicy sauces, red onions, shredded carrot, cilantro, and lots of love. As I'm writing this, I'm eating the two tacos I had leftover and have been thinking about all day. Gil loves sharing her food as much as I love eating it.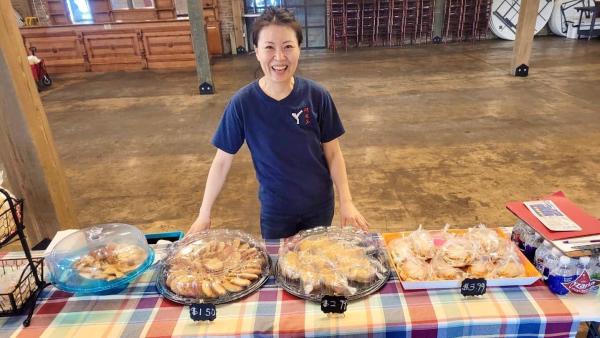 So next time you need to go to the grocery store, the pet food store, a drive-thru for dinner, an art gallery, a holistic health shop, and a jewelry store, just stop by our local farmer's markets and support everything local. Many vendors come back week to week and you may find them at both markets, but each week these vendors bring you new art, food, and gifts as well as a new sense of your community.