A staple of The Season and a much-loved tradition, King Cake is as much a part of Mardi Gras as the parties and parades. The people of SWLA have very passionate opinions about where to find and what makes up the best King Cakes to indulge in. I recently set out to find out the local favorites. To my delight, I was introduced to literally dozens! From the best of the traditional to the most unique twists on the classic King Cake, residents were quick to brag about their favorites and invite me to try them all! Since I am very disciplined about my new year's resolution regarding sweets..."NEVER turn them down"...I was super excited to set out on a quest for the best. Allow me to share my findings and hopefully entice you to do your own research!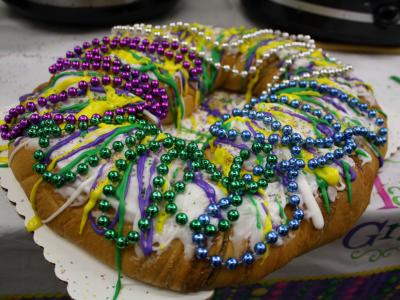 And the Winners Are
Based on my survey of approximately 120 citizens of Lake Charles, the #1 Bakers are as follows: (drumroll.....)
Rouse's - Moss Bluff
Misse's - Sulphur
Delicious Donuts - South Lake Charles

Now, I could have taken their word for it, but I wanted to visit each and see what makes these King Cakes so special! Now, let's eat some cake!  
Rouse's Moss Bluff
Phone: (337) 502-0120 Located at 1351 Sam Houston Jones Parkway.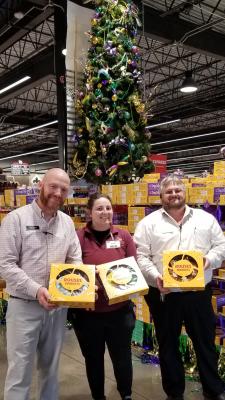 Bakery Manager, Karlie Lebato; Store Director, Chad Seales; and Assistant Store Director, Greg Duhon were amazing hosts and invited me to taste some of the top-selling favorites.
The Gentilly
First, I was served up a slice of the Gentilly King Cake. I am a SUPERFAN of Gentilly and was intrigued by the fusion of two Louisiana classics. It was absolutely amazing! I can see why this is a favorite among their flavors. It is everything you imagine in a Gentilly cake, with the light and creamy filling and the fresh fruits nestled inside of the traditional King Cake dough. It's a perfect combination!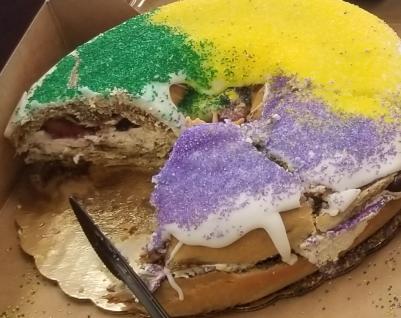 Classic Strawberry Cream Cheese
This strawberry filled favorite was perfection. The dough was super soft and moist, the filling was just the right amount of sweetness, the flavors were rich and full without being overpowering. Knowing I had more to try, I had to stop myself from eating the entire piece.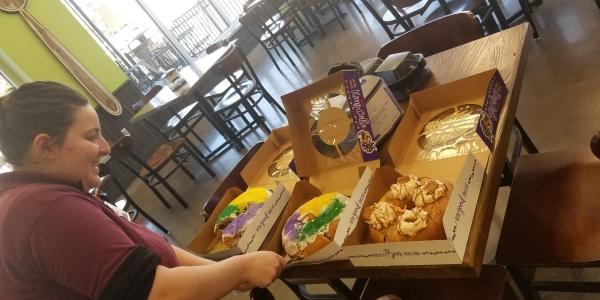 Cookie Butter
Oh, how I loved this King Cake! One bite of the light and fluffy cookie butter topping brought me back to my Mom's kitchen and reminded me of licking the beaters as she whipped up a homemade delight. Coupled with the crunch and flavor of the Biscoff cookies situated atop of the cake and drizzled with just the perfect amount of caramel topping, made this an experience I would not soon forget! It was one of those desserts you can't wait to tell your friends about!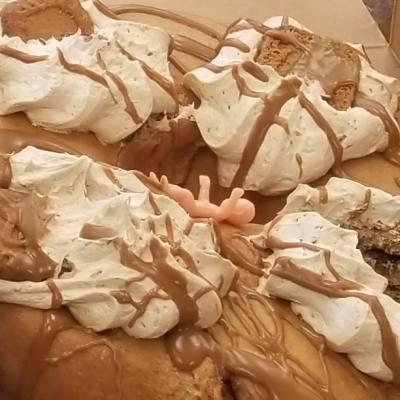 Chad, Carlie, and Greg were so hospitable and I truly enjoyed my visit with them. Greg Duhon, Assistant Store Director, truly believes that,
We have the best King Cake crew in the company!
They bake fresh cakes three times daily. There are so many flavors to choose from and there is a new flavor introduced every Wednesday! One of the best things about Rouse's is that they will ship anywhere in the Continental United States. Rouse's truly offers a gourmet experience at an affordable price.
Rouse's is proud to give back to the community and they have generously treated 32 local businesses to King Cakes to celebrate the season, including the Fire Department as well the teachers and staff at Gillis Elementary in appreciation for all that they do. They also wanted to treat one lucky person to a King Cake. The name of each person that participated in the Facebook King Cake inquiry was put in a drawing and chosen at random. Thank you all for your feedback!
AND THE WINNER IS 
Chelsea Overhage!
CONGRATULATIONS!
Thank you again to the staff of Rouse's Moss for your true Southern hospitality!
---
Delicious Donuts
(337) 479-2986 Located at 2283 Country Club Road
My next visit was to the next  "King of King Cakes" in Calcasieu! Delicious Donuts, where one of the favorite specialty king cakes you will find...the top seller as a matter of fact...is described below by Lake Charles local, Jen Nagem. She says,
They have an amazing Pecan Pralines and Cream King cake and it is the most generous filling I have ever experienced.
This top-seller has a unique twist! Rather than regular icing, this decadent delight is topped with maple and pecans! Each bite of this King Cake was a southern flavor explosion. The flavors were sweet and rich and fresh. And yes, the filling was plentiful and perfect.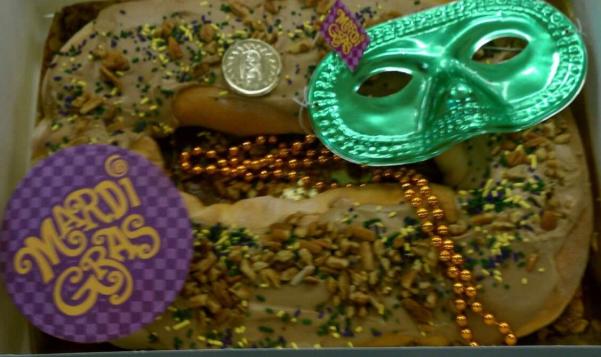 Delicious Donuts is also known for two of their "One of a Kind" flavors built for the ultimate sweet and savory lover! First is their Boudin King Cake...yes, Boudin lovers, you heard me right! The second sounds like the stuff of legends. The "Blend of the Bayou" King Cake is filled with shrimp, crawfish, imitation crabmeat, and to spice it up, jalapenos! It is topped with bacon crumbles and served up with Steen's pure and natural syrup.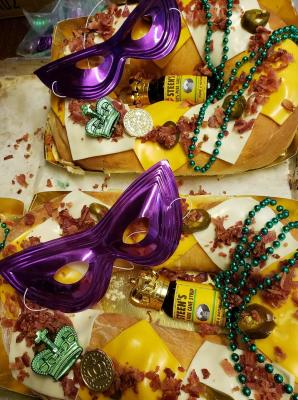 The last King Cake I want to share with you from Delicious Donuts was served fresh out of the oven and was something truly unique and yummy. They call it "Scrap Cake". It is made from the scraps of cakes that have just been freshly baked which are chopped up and added to "lots more goodies" like pecans and brown sugar to create a deliciously crunchy and flavorful cake. Up until recently, this was available only to employees and now, you too can enjoy it!!! Mini Scrap King Cakes, like the one you see here, are available at Delicious Donuts.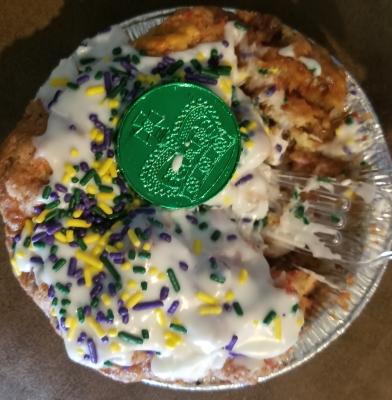 Lucas Verret and his sister Paula Steves, owners of this landmark of Lake Charles, have been in business for 25 years and pride themselves on bringing new creations and flavors to the people of Calcasieu and all who visit. They currently have around 30 flavors of King Cakes and continue to add more each year. When I asked Mr. Verret why the King Cakes at Delicious Donuts are so good he simply said,
We like to eat 'em! We want to make them so that everyone has the same experience and enjoyment that we expect.
---
Misse's Grocery
(337) 527-6924 Located at 106 E. Lincoln Street
Now on to my next and final stop! I was very excited to visit Misse's Grocery. Misse's was the top pick for King Cake in the Sulphur area. Jennifer Levron, the Bakery Manager and Owner David Misse were amazing hosts and gave me a taste of some of their most popular King Cakes. Allow me to tempt you with a few.
Announcing the Queen
This was my very first experience with a "Queen Cake". This royal beauty is similar to classic Chantilly cake in that it has a delectable mascarpone cream, strawberry filling, and is adorned with fresh strawberries and blueberries resting in a bed of more mascarpone cream. This is a delightful twist on a cake for Carnival and gives just another option for serving a festive dessert this season.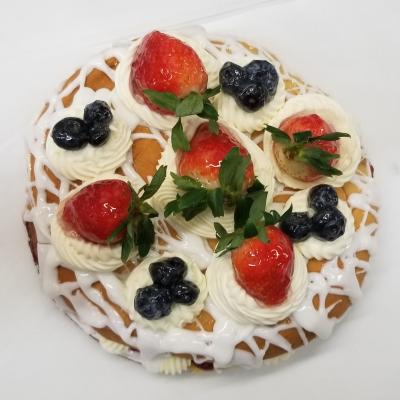 German Chocolate
Another unique flavor of King cake that I had never experienced before is German Chocolate! It has all of the best elements of a classic German Chocolate cake and is filled with chocolate pudding.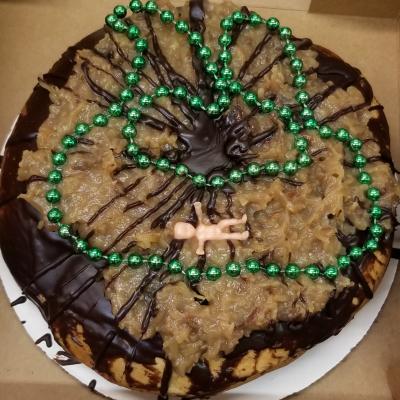 The Turtle
Grab an extra glass of milk and get ready to enjoy this amazing Pecan Praline Cream.The thing that struck me about my first taste I took is the light crunch of the sugar as you bite into it. This is a family recipe belonging to Bakery Manager, Jennifer.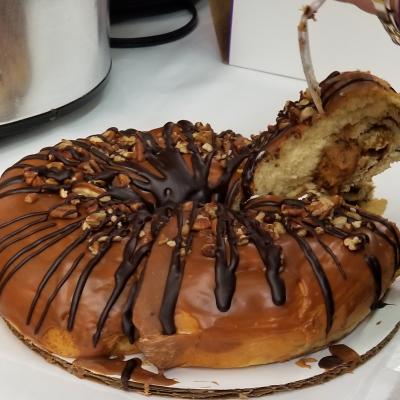 Hang on to that glass of milk, because it's the perfect beverage to pair with Misse's Top Seller - The Peanut Butter and Cream Cheese. You can see the creamy peanut butter chips sprinkled generously on the chocolate icing and the cream cheese filling is perfection! It is light and creamy and will definitely leave you wanting more.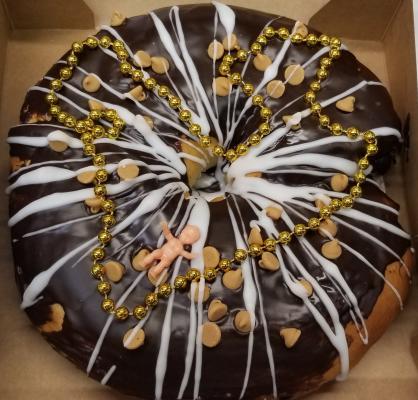 How it Began
The very first King Cake created by Misse's Grocery was actually at the request of a loyal customer, Mrs. Bercy Le Fleur. Based on the well known Krewe of Zulu in New Orleans, she asked them to recreate a cake from her childhood. You see, the Krewe of Zulu is known for throwing coconuts to the crowd at their Mardi Gras parade. and she had enjoyed what was known as a "Zulu Cake", filled with coconut filling and covered in chocolate icing. The baker at Misse's really had nothing to go on but her description and when they were done she was thrilled with it. Now, thirty years later, the Coconut filled King Cake with Chocolate icing and Bavarian cream atop and accompanied by fresh pecans has become an absolute favorite in SWLA.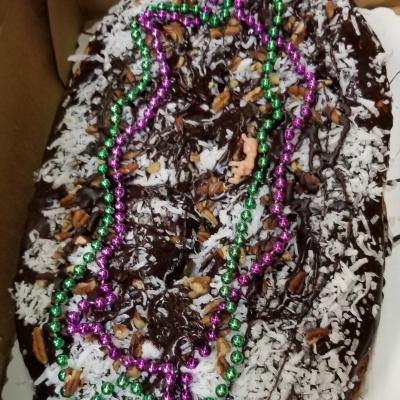 Jennifer shared with me that when they participated in Sulphur's King Cake contest they won 5 out of 6 categories, including Best Overall...and they have the trophies to prove it! They fill every King Cake with not only the best of the best fillings but with tons of pride and love as well! They will even customize your King Cake to include up to 3 different flavors so you don't have to choose just one!
Misse's Wanted to share some King Cake with her biggest fans and participated in a drawing for 3 King Cakes!
Here are the Winners:
Veronica Miller
Dee Degeyter
Rachelle Schexneider
CONGRATULATIONS!!!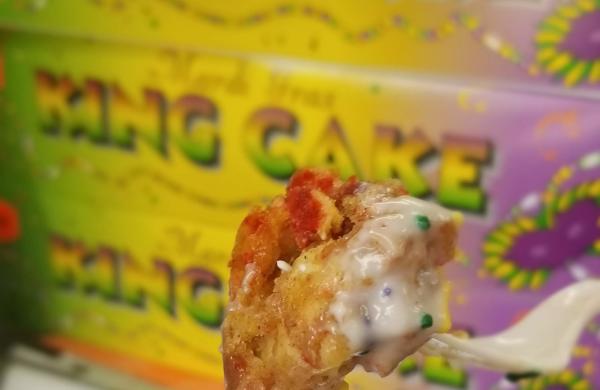 I truly enjoyed tasting some of the favorite King Cakes in the Region. No matter which part of Calcasieu you land in this time of year, you will find an amazing King Cake to satisfy your craving. In all fairness to the contributions of the "Voters", I have listed some other great places to enjoy King Cakes in Calcasieu.
I loved the idea that Lake Charles resident, Janet Pirano, suggested:
Have a King Cake party! Ask your family and friends to come over and bring a King Cake from  different businesses. Taste each one and get a vote!
Be sure and check out the other "People's Choice" bakeries I have listed below! Be sure to share your favorite King Cake experiences with Visitlakecharles.com. Happy Mardi Gras!
Lagniappe - A little Somethin' Extra
Be sure and check out these other favorites among Lake Charles locals!
Pronia's - Strawberry Cream Cheese was the top seller for years, but this year the blueberry cream cheese is catching up. They also have a phenomenal Lemon Cream Cheese that has from scratch icing that makes is super special! - Phone: (337) 478-0785 Address: 3021 Kirkman St, Lake Charles, LA 70601
Sweet Chic - Most well known for their King Cake Cheesecake! Phone: (337) 496-7471 Address: 909 Sam Houston Jones Pkwy, Lake Charles, LA 70611
Cypi's Cake Box - Known for a very moist King Cake dough. They amke very popular King Cake cupcakes as well as a Cheesecake King Cake - Phone: (337) 478-0269 Address: 520 W McNeese St, Lake Charles, LA 70605
The Bekery -  Phone: (337) 564-6132 Address: 206 W 11th St, Lake Charles, LA 70601
Great Harvest Bread Company - Two of the favorites here are the Cinnamon Twist and The Turtle Phone: (337) 477-3033 Address: 4112 Lake St #100, Lake Charles, LA 70605