Flea Fest returns to Burton Coliseum Complex this weekend. Over 300 vendors will sell everything from antique automobiles to zebra-striped purses. You never know what you'll find at this giant flea market.
Flea Fest is a biannual event -- spring and fall – and is held at Burton Coliseum's Ag Barn. I had a booth last November and sold antiques and garage sale items. I'm not a "regular" vendor. I just needed to get rid of some stuff; all part of our downsizing efforts last year. During the slower times at the event, my husband and I took turns giving each other a break to go out and explore, get a bite to eat, and stretch our legs. In that way, we had the advantage of participating in Flea Fest as both sellers and shoppers.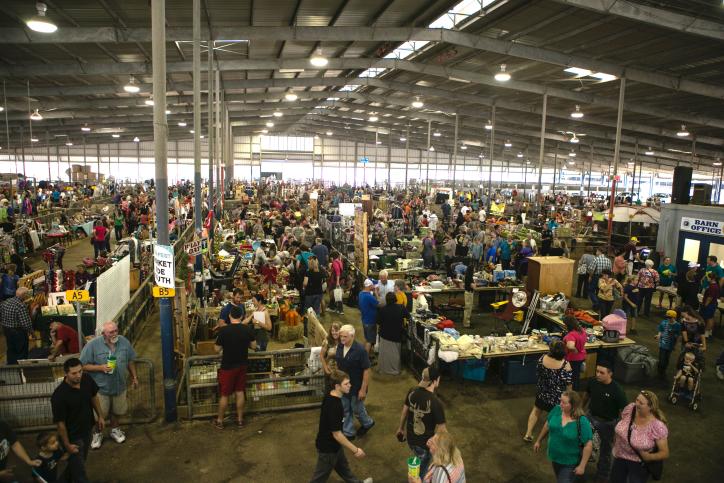 As a vendor, the event is fun. It's a lot of work to prepare for, but if you sell what people want to buy, it's a great gig. Approximately 12,000 people stroll through the aisles, looking for unique gifts and bargains. There's a camaraderie between vendors, who chat with each other while not attending to customers.
As a shopper, you can buy just about anything at Flea Fest. Crafts of all kinds, lots and lots of antiques and vintage items, spicy pickles, health and beauty products, handmade jewelry, local honey, pepper jellies, and other farmers' market wares. I saw live chickens, rabbits, and greyhounds. Lots of holiday decorations. Sports apparel and other clothing items. 
Re-purposers create useful merchandise from old wine bottles, vintage typewriter keys, wooden pallets, cypress knees and more. It's a hodgepodge of sensory overload. A DJ plays lively music and keeps the crowd entertained and informed.
Vendor booths delight your eyes with textures, color, and curiosity, while the irresistible aromas of jambalaya, gyros, gumbo, boudin, and fully-loaded french fries waft through the air from the food trucks. The kettle corn booth was particularly popular.
Mark your calendar and make a date to attend this year's Spring Flea Fest! For future dates and more information, see their website, http://www.fleafest.com.
To read more of Angie's adventures, check out her blog, angiekaydilmore.blogspot.com.