Do you and your family have a free long weekend and you're wondering what to do? Consider a mini-vacation to southwest Louisiana for the perfect family getaway! Whether you and the kids love history, science, art, or the great outdoors, the lake area has something for everyone.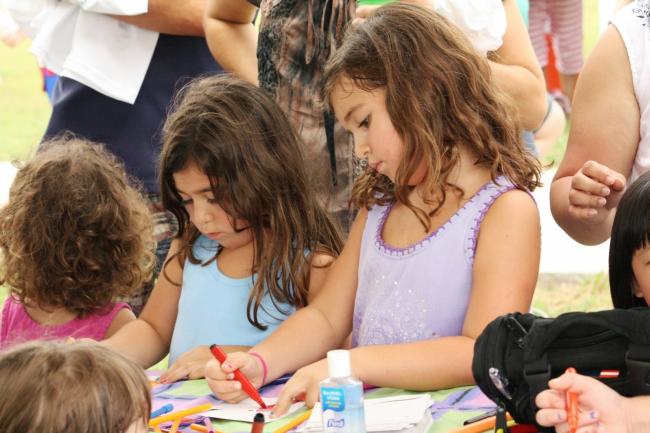 If there's one thing southwest Louisiana has plenty of, it's water. And where there is water, there are water sports. Calcasieu and Cameron Parishes are prime destinations for fishing, boating, crabbing and alligator watching. Bring your canoe or kayak and your fishing poles and explore the many rivers, lakes and bayous. Or rent a pontoon boat, kayak or standup paddle board when you get there!
Air Boat or Swamp Tours
Experience the mystery of marsh grass swamps from an airboat or eco-tour. Call Airboats & Alligators in Grand Chenier, 337-274-2395 or Grosse Savanne Eco-Tours, 337-310-4260.
is one of America's oldest scenic byways. This 180-mile driving tour traverses both Cameron and Calcasieu Parishes. Through marsh grass and wildlife sanctuaries to the Gulf of Mexico and back again, this unique loop offers fishing, crabbing, hunting, boating, and nature photography. It's an excellent place to look for alligators and bird watch, especially during migration season.  There's a free app for your smartphone that's like having a tour guide with you in the car! You can also visit Creole Nature Trail Adventure Point to practice your crabbing skills and plan your trip along the trail.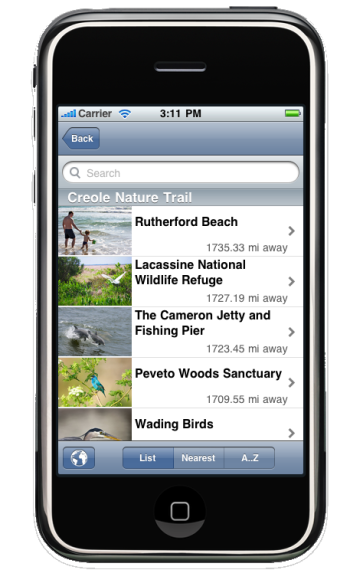 Search "Creole" to download the
Creole Nature Trail tour app.
Sam Houston Jones State Park
This popular state park offers 78 camp sites for both tents and RVs. There are also eight cozy cabins. Numerous hiking/biking trails are available, depending on your fitness level. Boat or fish along the West Fork of the Calcasieu River. The park is well-known for bird watching. Bald eagles have recently been spotted there.
Bord du Lac Park and other Area Parks
Southwest Louisiana boasts many parks and recreation centers, but the grandest of them all is Bord du Lac Park on the
lakefront
near the Lake Charles Civic Center. Completed in 2013 after the original Millennium Park burned down, this creatively-designed playground allows children to romp, climb, swing, slide, spin and splash.
Speaking of splashing, in the warmer months, kids love parks with water features. In addition to Bord du Lac Park, several other area parks, such as Prien Lake Park and Pinederosa Park in Westlake, also have so-called "splash zones." The most impressive southwest Louisiana water park is at the Sulphur Parks and Recreation (SPAR) facility.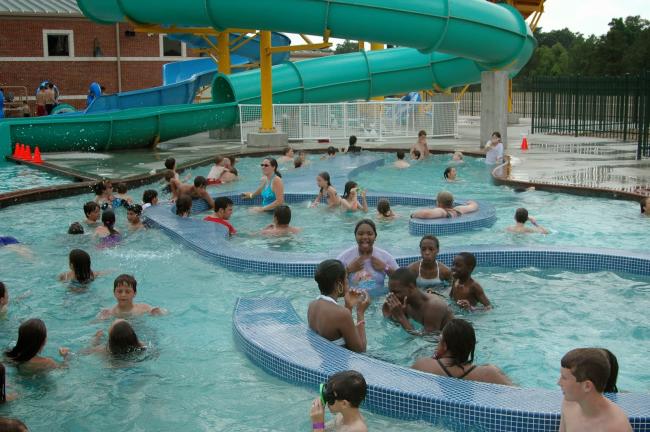 The SPAR Waterpark is open in the summertime
for kids of all ages!
Festivals
Southwest Louisiana is known as the Festival Capital of the state, and with good reason. Over 75 festivals throughout the year celebrate all varieties of food, music genres, wildlife, and more. Check out
www.visitlakecharles.org
for the
Events Calendar
.
If the weather doesn't cooperate for outdoor activities, don't worry. There are plenty of indoor activities to entertain children of all ages.
Children's Museum
The Children's Museum, at 327 Broad St., offers numerous exhibits and activities that will delight your young ones.  Open Monday-Saturday, 10 a.m.-5 p.m.
USS Orleck
The naval destroyer USS Orleck served in the Korean and Vietnam Wars. She now serves as a historic naval museum. Located at the north end of Enterprise Blvd. Open Monday-Friday 10 a.m. – 3 p.m., Saturdays  10 a.m. – 4 p.m.
Imperial Calcasieu Museum
If you are interested in Southwest Louisiana history, visit the Imperial Calcasieu Museum. They also feature the work of Louisiana artists. 204 W. Sallier St., Lake Charles. Open 10:00 – 5:00 Tuesday – Saturday.
1911 Historic City Hall
Affectionately called Old City Hall, this art gallery showcases traveling art exhibitions from around the world, as well as a permanent exhibit on the Great Fire of 1910. 1001 Ryan St. Monday – Friday 10 a.m. – 5 p.m., Saturday 10 a.m. – 2 p.m.
Sulphur Museums
The Henning Cultural Center features contemporary and local artists. The Brimstone Museum, located in the restored train station next door, highlights the history of Sulphur. 923 Ruth St. Open Monday – Friday 10 a.m. – noon and 1 – 5 p.m.
DeQuincy Railroad Museum
Kids love the caboose, steam engine and passenger car on display at the DeQuincy Railroad Museum. And while you're there, don't miss the DeQuincy Town Hall Museum nearby.  400 Lake Charles Ave., DeQuincy. Open Tuesday - Saturday 10 a.m. - 5 p.m.
Mardi Gras Museum
The Mardi Gras Museum is always a great one to visit to lift your spirits and prepare for the Carnival Season!  809 Kirby St., Lake Charles.  Open Tuesday - Friday 1-5 p.m.
Bowling
Bowl a few games at Petro Bowl, 630 Petro Point Dr., Lake Charles.
Whether you have three days to spend or a whole week, there's plenty here to entertain you. No one can say there's nothing to do in Lake Charles!
To read more of Angie's adventures, check out her blog, angiekaydilmore.blogspot.com.