Let's Geaux Y'all!
Boudin is not just "a dish". It is a staple of Cajun culture. It is an art. It is personal. There is no "liking" Boudin….if you're a fan, you're all in and you love it! I am definitely a fan and I believe I have stumbled upon some of the best Boudin in Louisiana! Yes, I said it. It's not just delicious, y'all….it's INSANE!
There is no "liking" Boudin….if you're a fan, you're all in and you love it!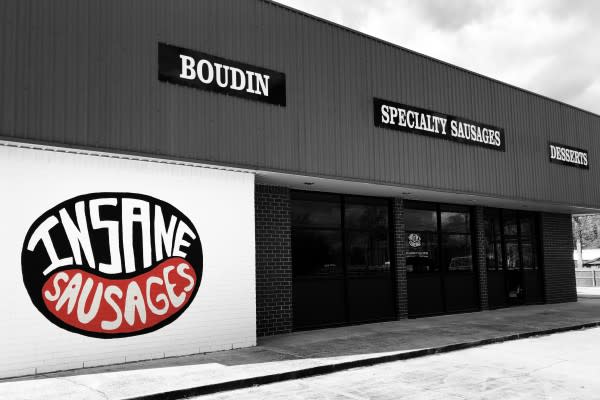 Insane Sausages is just a short drive away from Lake Charles, located at 2255 LA-109, Vinton, LA 70668. It's a small town with a big heart and I found some of the biggest hearts working hard and cooking up some of the best boudin I've ever had.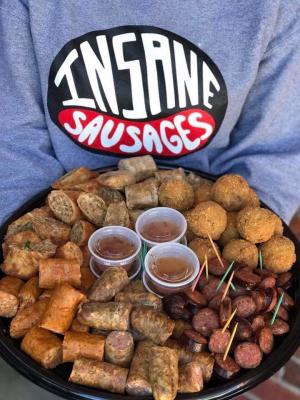 Let me first take you behind the scenes and tell you a little bit about how the boudin is created. There are two basic routes to take with Boudin, Smoked and Unsmoked. I love either but I will say there is something about that smokey aroma that gets my mouth watering. Owner, Derek Gaspard, took me on a tour of the production area and seeing the large smoke room was amazing. Each batch is smoked for approximately five to eight hours, depending on the type of sausage. The flavors that emerge are smoking hot, juicy, and something you won't forget! Allow me to entice you with a few suggestions from their menu.
Taste The Insanity!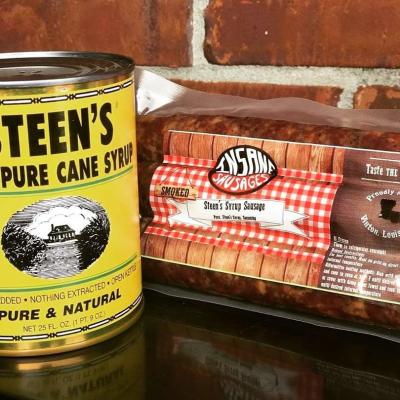 The first Sausage I got to taste was the Steens Syrup Sausage. He loads it up with such a generous portion of syrup that it's almost dripping as it's being stuffed into the casing. The result is a perfectly balanced flavor of sweetness and savory spices. As you bite into the perfectly crisp outer layer, you are greeted with mouth-watering flavors. I used to love to drench my breakfast sausage in syrup as a kid, and this sausage definitely took me back to a place of comfort... comfort food, that is. Though I definitely used to overdo it, the guys at Insane Sausage have perfected the flavor combination so neither the sweet nor the spice overwhelms you. Rather, they have married both into two wonderfully combined flavors. 
Great Balls of Boudin, what's in that fryer?!
You have to try it to believe it, but next I tried the most delicious fusion of Mexican and Cajun favorites you could ever dream up! A PORK ENCHILADA BOUDIN BALL! All of the flavors and textures of a pork enchilada are combined with the traditional technique of frying up a classic Boudin Ball and like magic...two worlds collide! You can taste the corn tortillas, the enchilada sauce, the cheese. It is served with their special Insanity Sauce. Once you dip it and bite into the perfectly crunchy fried outer layer, you'll be hooked.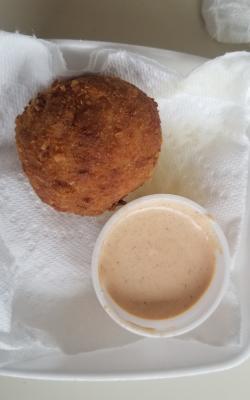 The next insane menu item that I was presented with stole my heart. I am a chili cheese dog lover, but I sometimes pass on this favorite because of the mess. Well, the geniuses at Insane Sausages have solved this problem! They have managed to put the elements and flavors of this all American favorite and stuff them into one the most unique sausages I've ever eaten. They serve it up on fresh bread and when you bite into it, you'll want to hug the chef. And it's good for the environment because you won't need all those napkins! 😄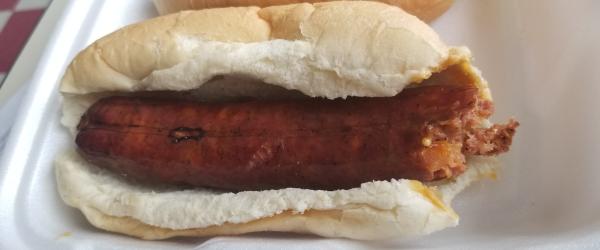 So just when I thought it couldn't get any better, I tried the next Insane Sausage which is actually one of their bestsellers...the Jalapeno Pepper Jack Pork Sausage. The pepper jack cheese accompanies every bite perfectly and the jalapeno flavor is amazing. Spicy hot, but not so much that you can't taste all of the flavors. Don't get me wrong, you'll want your sweet tea nearby, but you won't be on fire 🔥🔥.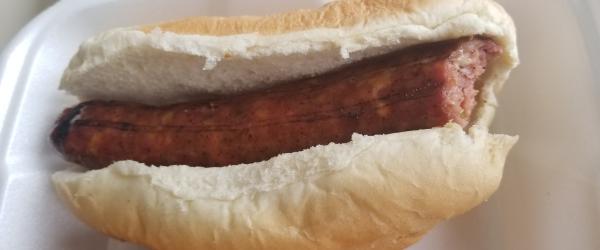 What you see pictured below is not an eggroll. It is a "boudin rollup", served with Insanity Sauce for dipping and it is DEElicious. A little cajun asian fusion...a CASIAN!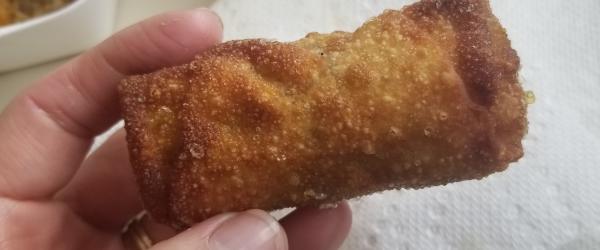 This is a yummy little slider that has big flavors! It is a boudin patty on a sweet roll with a cream cheese pepper jelly. How sweet it is (and savory)...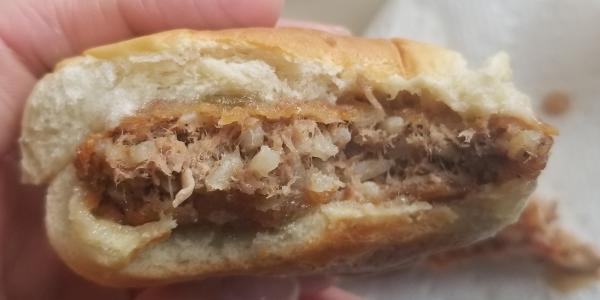 So I had a little more room to try one last thing…but definitely not least. The Cajun fries. Crispy fries topped with boudin, a 5 cheese blend, Insanity Sauce, ranch, and green onions. Picture yourself saying you're full but literally not being able to stop eating them until they're gone. SO good...and so addicting.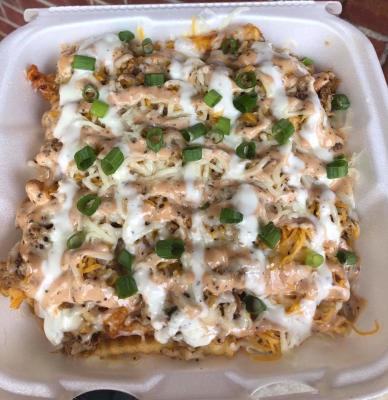 During my visit, I also got to try a top-secret recipe that hasn't even been released. I'm not allowed to give you details, but I will give you a hint. Let's just say if you like a little sweet and a little heat, you'll want to stay tuned.
Cooking Up an Idea
Derek, a Louisiana native and creator of Insane Sausages, used to make sausage with his Dad. (They confessed to me that they are still in constant competition with one another to make the best). By his late twenties, he had settled into a lucrative career working at a plant and living in Houston, but his true passion was making Boudin and coming up with "weird, odd flavors", as he describes it. He would work his thirteen-day shift at the plant and on his day off he would come home to Vinton, make 100 POUNDS of Boudin, and take it back to his friends and coworkers to enjoy. They started making requests for particular favorites and he knew he was on to something. In 2015, Derek began thinking seriously about taking the advice of those who had fallen in love with his Boudin and decided to start his own business. Derek shared that the name "Insane Sausages" just came to him and that was it. He never toyed with other names and he knew it was meant to be. 
One day, Derek and his Dad drove past the building that is now Insane Sausages. It had been empty for quite some time and was in great disrepair. They decided to pull in and check it out…and the rest is history! It took a year and a half to make repairs and get the building ready for use. Finally, the doors opened almost one year ago, in March of 2019, and it has grown and continued to thrive since then.  
Derek's passion for cooking comes through in all of the food that is prepared. The staff of Insane Sausages is more like a tight-knit family that takes great pride in what they do. Derek shared that he strives for
"FRIENDLINESS, CLEANLINESS, AND GREAT FOOD."
One last bite…
I want to give you one final menu suggestion that I thought was fun and creative and only happened by chance. Derek doesn't like wasting any food, and one evening he put together some of the extra sausage, boudin balls, etc… and threw it together to make a sandwich. It was so good that he made it for a few coworkers and friends on a few other occasions, leftovers permitting, and they enjoyed it so much that they suggested putting it on the menu. He came up with the funny and memorable names and now both have become favorites that people literally order by the dozen to feed their own families and friends. One is called the Cajun Hangover. It is made with two boudin "Rollups" with a crumbled boudin ball, insanity sauce and ranch and served on a warm bun. The other one is the Mexican Hangover which features two pork enchilada roll-ups with a pork enchilada ball crumbled over the top with chipotle aioli and ranch. MMMmmm.
This is one hangover you'll actually look forward to having! 
As I mentioned, Vinton is just a short distance away from Lake Charles and definitely worth going for a little drive. It's more of an experience than a meal! The crew at Insane Sausages works tirelessly Monday through Thursday creating between 18 and 25 flavors each and every week. They look forward to the weekends to watch patrons come in and enjoy their labor of love. You can enjoy Insane Sausages Friday-Sunday from 10 am - 8 pm each week. They have refrigerators full of fresh boudin that you can take home to enjoy until your next visit!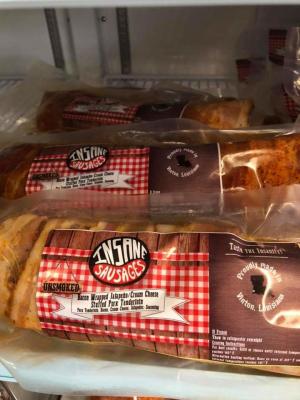 I'll leave you with one more reason to visit Insane Sausages, a few things that Derek shared with me about what drives his passion:
"My enjoyment comes from creating food and watching how much people enjoy what we've prepared. I haven't "worked" a day since opening Insane Sausages. I left a successful career to do what I love and to share it with others. If I can get someone in here, I've made a customer for life."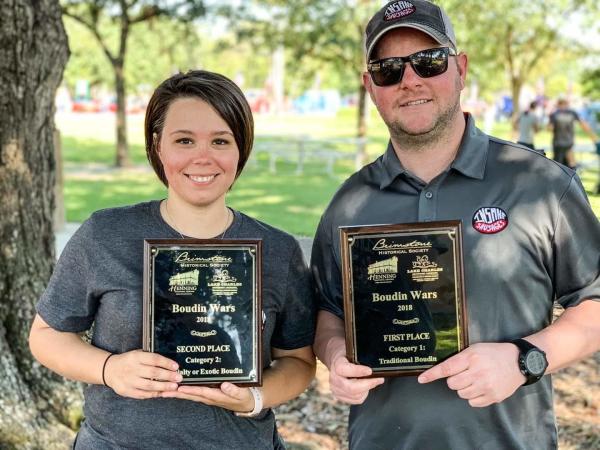 Derek, his wife, his dad, and the entire staff definitely treated me more like a friend than a customer. The friendly, down-home atmosphere is a feeling you won't soon forget when you visit.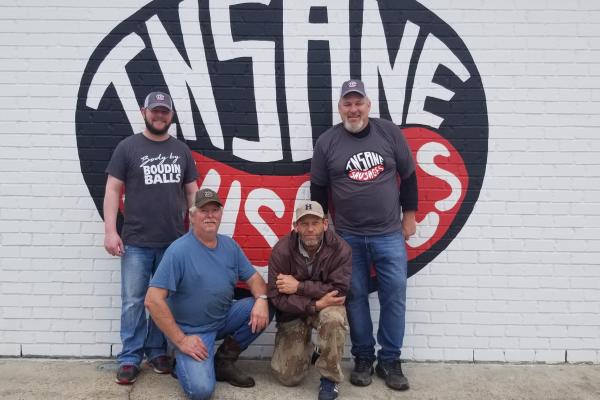 From left to right; Derek, Kenny, Scotty, and Ron
ENJOY your visit and be sure and share what you try at Insane Sausages. Even better, post a pic and tag @insanesausages and @visitlakecharles on Instagram: https://www.instagram.com/insanesausages/ and Facebook: https://www.facebook.com/insanesausages/ and check back often to www.visitlakecharles.com for more ideas of where to go and what to do in SWLA. Remember, there's ALWAYS something to do in Louisiana's Playground!