If you're from Louisiana, then more than likely you grew up pretty much living off snocones as a kid. Especially during our hot summer months, which is almost year-round. No matter what you call them—snowballs, snocones, or just shaved ice— this Louisiana treat is a must!
The new kids in town, Lulu's Specialty Snocones and More, is taking snocones to an entirely new level. These Insta-worthy, magnificent creations are taking social media by storm. On their opening day, lines were up to four hours long. But no worries! Lulu's owner and staff have been working diligently to shave those lines down. How do they do it, you ask? They begin nearly 1.5 hours before opening to prep the extravagant toppings. These toppings can include an entire slice of cheesecake, cotton candy, ice cream, cake, brownies, gummy worms, lollipops, pickles, whipped cream, marshmallows, rainbow belts, snow caps, nerds, sour patch kids, and even sour spray!
They are most known for their specialty flavors, including Sour Power, Gimme S' more Chocolate, Sherbert Delight, #DoItForTheGram, Berry Cheesecake, Rainbow Brite (pictured here), Shark Attack, Mangonada, Strawberry Jubilee, and Cotton Candy Sweet as Gold. These snocones listed are adorned in their own variation of candy, cake, fruit, ice cream, etc. combinations. When I asked why they decided to create such masterpieces, co-owner Ashley Frantz said it was upon their travels as a family across the country that they realized Lake Charles needed some kind of outrageous and fun treat, which would stand out among the rest. She has begun to incorporate these artistic inspirations into the décor, such as the angel wings wall, and has plans to expand Lulu's offerings in the off-season.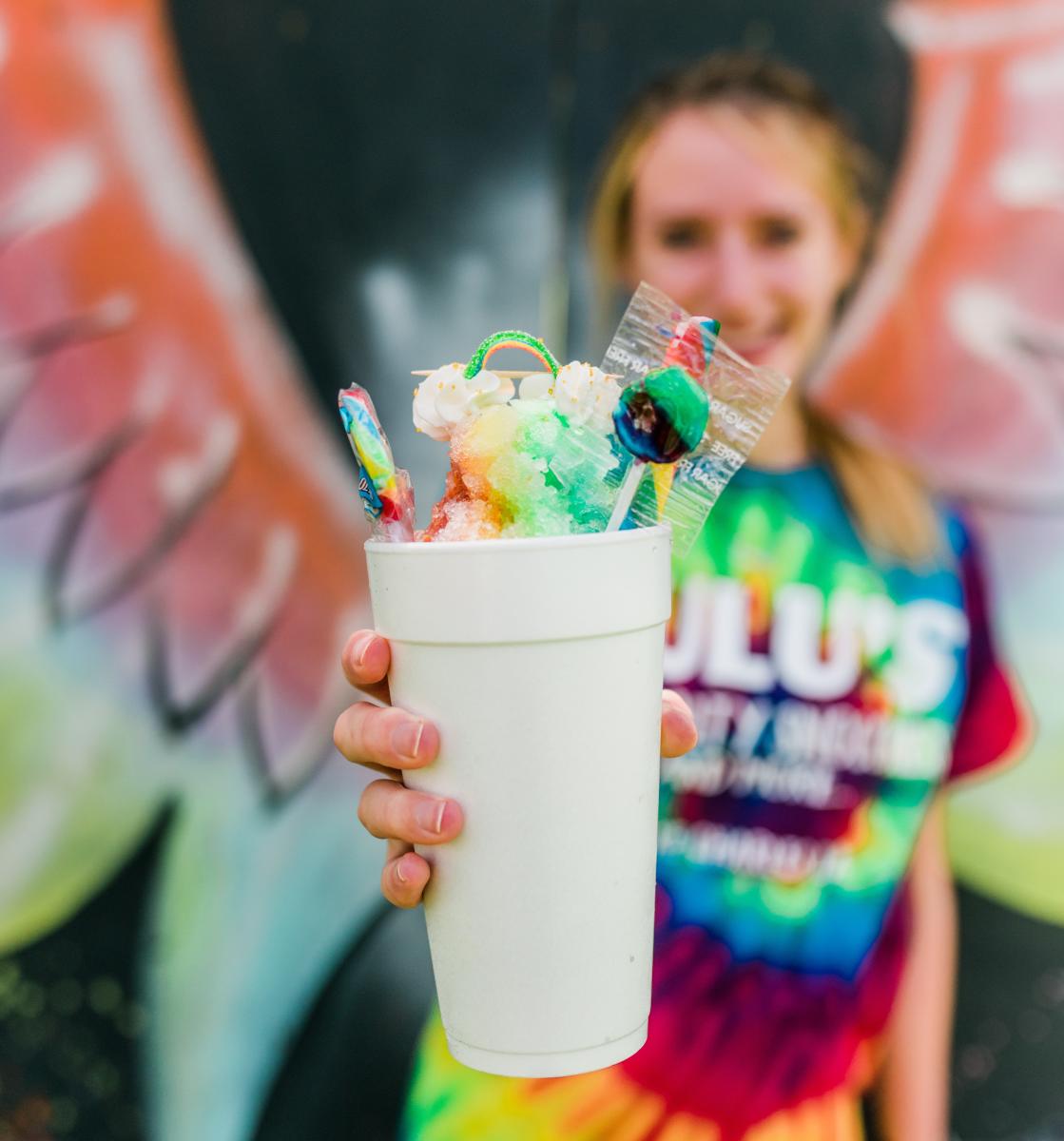 The Frantz family never expected to own a snocone stand, but when the building's previous owners Carol and Dan Elliott decided to retire and not open Elliott's Cajun Snowballs up this summer, the Frantz's knew what they had to do. Coupled with their dreams of owning a small business and the passion for giving residents and tourists of Lake Charles a little something different, the Frantz's opened up Lulu's Specialty Snocones and More on August 1st. Lulu is the nickname that they gave their daughter, Paisley, growing up. If you have the chance to patron Lulu's, you'll more than likely be greeted by Lulu herself with water or treats while waiting in line to order.
In addition to the specialty snocones, you can order any combination of flavor and toppings to create your own masterpiece. You can order them in your usual styrofoam cup, or a souvenir flower cup, or kiddie pouch. Lulu's has various food items such as nachos, chicken and waffles, waffle pops, ice cream floats, hot Cheetos and cheese, and candy kabobs. If you bring your doggy along, they have a treat for them, too! Pupcones are only $2, and you can choose from chicken, beef or veggie with a doggy treat from Great Harvest Bread Co. on top!
When I asked what their most popular snocone is, Ashley replied, "The Berry Cheesecake because there's an entire slice of cheesecake on top!"
With nearly 50 different flavors and over 20 different toppings, the options are endless at Lulu's!
Be sure to follow them on Facebook and Instagram to keep up with their new specialty snocones and other news and events! They are currently open Tuesday through Sunday from 1-5 PM at 2735 Country Club Rd, Lake Charles, LA 70605.