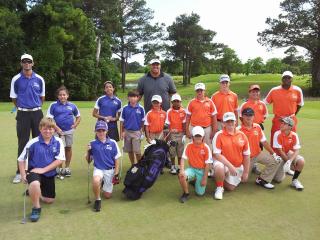 Nate Livings featured at a Little League Match at Mallard Cove
Have you ever wanted to golf with celebrities? Well, here's your chance! T
he
Nate Livings Foundation/SWLA Junior Golf Association is holding a celebrity charity golf tournament Saturday, June 28 at Mallard Cove Golf Course. The charity provides programs to help serve the underprivileged youth and allow physical education coaches to incorporate a 3 week golf curriculum in elementary and middle schools.  
Grab your clubs and golf with featured celebrities like Marcus Spears, Early Doucet, Ben Wilkerson, Justin Vincent and Nate Livings, all on the 2003 LSU National Championship Team. Other celebrities include Damarcus Ware, Andrew Whitworth, Jason Hatcher, Kevin Guidry, David LaFleur and Isabelle Harrison.
Not only will you have the opportunity to meet a celebrity, but there will be a variety of thrilling contests to test your skills from closest-to-pins par 3's, long drive to hole in one prizes and winning a chance to play a hole with an elite team member.
Registration is $500 for a four person team and $100 for a single sponsor.  The first 25 teams will play at 8 a.m. and the second 25 teams will play at 1 p.m.  All entries must be dropped off or mailed to Mallard Cove Golf Course, PO Box 900, Lake Charles, La. 70602. The deadline is June 13. For an entry form, contact Chase White at 337-274-2127 or
chasewhite@kw.com
or Derek Smith, PGA Professional for Mallard Cove, at
dsmith@cityoflc.us
.