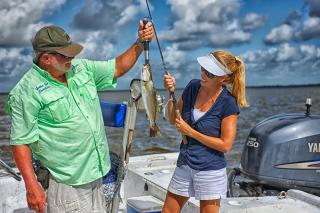 Capt. Sammie Faulk with Gotta Go Charters
It was 30 years ago when Sammie Faulk decided to leave his day job and become a fishing guide.  He never looked back!  Capt. Sammie Faulk's Gotta Go Charters started out on Lake Calcasieu (locally known as Big Lake) when there were only a handful of guides at the time.  Since then, the area has really gained a lot of notoriety and has attracted anglers from across the country.
Whether you are looking for fresh water species such as bass, crappie and catfish or saltwater fish like red drum (redfish) and speckled trout, you will find it in Southwest Louisiana. The Calcasieu and Sabine Rivers are great locations for freshwater fishing.  For inland saltwater fishing, Calcasieu Lake is known for its trophy sized speckled trout, numerous redfish and flounder – a.k.a. The Cajun Grand Slam.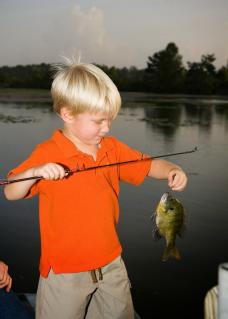 www.monsoursphotography.net
I spoke with Faulk recently to get a few tips and tricks of the trade.  My husband is interested in taking up recreational fishing since it is a good family activity we can do together and begin teaching our son.
Best Bait for Beginners
For the novice fisherman, Faulk recommends a Berkley Gulp Soft Plastic in chartreuse. "There's nothing that looks like that in the wild, but the Gulf has shrimp pieces in it so it's almost as good as using shrimp and fish will pick it up," said Faulk.     
He praised open faced spinning reels, preferably the light action 7 foot Ugly Stick and Shakespeare spinning reel that are affordable for beginners to get a feel for the sport.  "For the little children, Zebco's are fine but when they get a little older they can handle a 5.5 foot rod with a spinning reel.  You'll be surprised how quickly they'll learn," said Faulk.
Best Bait for the Advanced
Faulk says he advises advanced fishermen to use a top water bait in Southwest Louisiana because it is pretty simple to use and gets a ferocious strike.  "Under the right conditions, you can get a heart stopping strike," said Faulk.
Buying Bait
In Southwest Louisiana, Faulk said
Academy
has a large bait supply.  For a more personal touch, he likes
Lake Charles Tackle
, which has a new location on Common Street.  Cajun Tackle, on Country Club Road, is a smaller shop but it has new tackle.  For live bait/shrimp, he likes Calcasieu Point Marina and Spicer Bait in Hackberry.
Professional fishing guides are plentiful in Southwest Louisiana.  Learn more about guide services here.