Traditionally, there is the annual World Famous Cajun Extravaganza and Gumbo Cook-off where krewes and teams from around the area get together to compete for who makes the best gumbo while the public wanders from group to group sampling and filling up on savory bowls of delicious gumbo. With 2021's Mardi Gras being a virtual experience, we want you to be able to bring the competition home and delight your family and friends with your best version of gumbo. To start you off, Gumbeaux Gator has generously provided you with his personal favorite recipe below!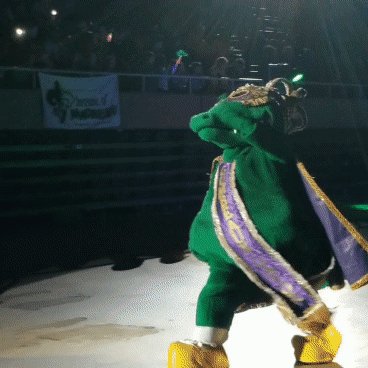 ---
Serves approximately 8 people (or 4 Cajuns!)
Ingredients:
1 large pre-cooked rotisserie chicken (not lemon pepper) (Don't tell Mama, cher!)
2-3 lbs smoked sausage
Small jar of dark roux (Trappey's or Savoie's)
3 bell peppers, fresh (orange, yellow, green)
1 vidalia sweet onion (Can use regular, white onion)
1 yellow onion
1 bunch of green onions
1 bunch of celery
Tony's seasoning
Garlic powder & filé
 
Instructions:
Fill a large stock pot half full. Bring water to a boil, add a tablespoon more roux than what jar instructions indicate. While water is heating to a boil, brown cut-up smoked sausage and add to cast iron skillet. Then, remove skin and bones from rotisserie chicken. Add sausage into the boiling water, and pour excess grease in safe container, leaving a light layer in skillet. Add chicken to skillet, browning it quickly. Add browned chicken to the stock pot.
Skin both onions, and then, use an apple corer to take out the hearts of the onions. And, either hand chop or use a food processer to coarse-grind the onions. Cut off ends of celery stalks and green onions, and chop them both into approximately 1/8 inch slices. Remove ends off the 3 bell peppers, using tablespoon, scrape out seeds and white insides of the peppers and discard. Chop or use a food processer to slice the cleaned-out peppers into small pieces. Add all vegetables to remaining grease in skillet and heat and stir until the onions turn clear. Then, add all ingredients to the pot & cover with lid.
Season with Tony's Creole seasoning, filé and garlic powder, to taste. Bring everything in the stock pot to a rolling boil until chicken starts to fall apart.
*Can add chicken stock if desired.
Key: Let gumbo cool on stove. While the gumbo is cooling, fill sink ½ way (or so) with ice water and salt (salt helps with the heat transfer from the pot into the ice water). This is a time-saving trick! Carefully place the stock pot into the ice water, while keeping the ice water from getting into the pot. Stir inside of pot, carefully. Let ice melt on the outside of the pot, and then, drain the water and repeat ice/water/salt mixture. Let set – do not stir gumbo. Once gumbo is cold, use ladle to remove any grease that floats to the top. Dispose of the grease properly. Now, gumbo can go into refrigerator overnight to be reheated the next day.
READY TO SERVE: Reheat (heat the gumbo but do not bring it to a rolling boil). Serve over rice and amaze your friends and family!