Living History Cemetery Tour, Oct 25
Early last year, my close friend and I were driving in his car going somewhere unimportant. We were near the lakeshore when he turned to me and said, "I want to show you something." Over the last ten years, I've learned to recognize when Matt had a great idea growing in his mind and to let him take the wheel. He drove us down Lakeshore Drive and turned onto a dusty gravel drive on the lakefront. We stopped unexpectedly at Bilbo Cemetery. Like many people, I almost forgot it was even there. It was overgrown with weeds covering rows of warped iron fencing. Matt gave me a tour of the graves; he would stop, brush off the leaves, and tell me about that person's role in the early Lake Charles. He moved enthusiastically from tombstone to tombstone before pausing at the feet of the giant Millennium Statue of Jesus. I remember the look on his face when he said, "I want to help make this place important and beautiful again."

That day, the Living History Cemetery Tour was born. Local historian Trent Gremillion quickly came on board and is the driving force behind the countless hours of research needed to bring these figures to life. Trent simply is the heart of the tour. Between the three of us and over a hundred volunteers, we created something big. The tour is a way to bring the public into historic cemeteries across Lake Charles and teach them about the history of its citizens. Last year the tour saw its first success with over 600 people wandering through these sites and listening to actors portray larger-than-life figures like Toni Jo Henry, John Jacob Ryan, and Professor JEL Hoskins.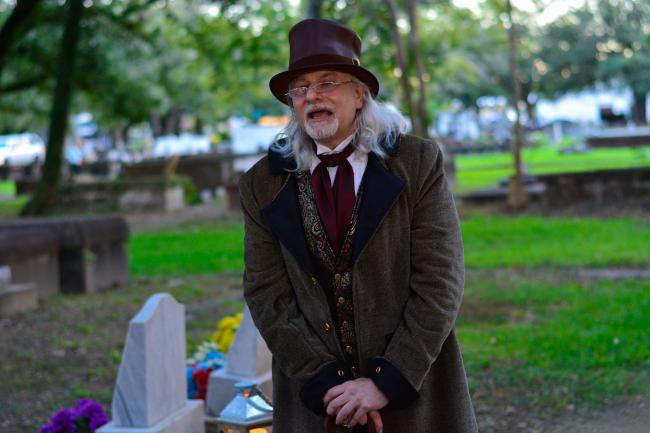 I remember watching a KPLC story about the tour and how one mother was able to show her son the incredible contributions of African Americans to the city. That's when I realized this event had turned into something bigger.
With the community behind us, we are bringing the tour back this year on Friday, October 25, from 5 pm to 8 pm. We're highlighting four cemeteries in town – Sallier Cemetery on Dr. Michael DeBakey Drive, Catholic Cemetery on Common Street, Combre Memorial Park on Opelousas Street, and (of course) Bilbo Cemetery on Veterans Memorial Boulevard.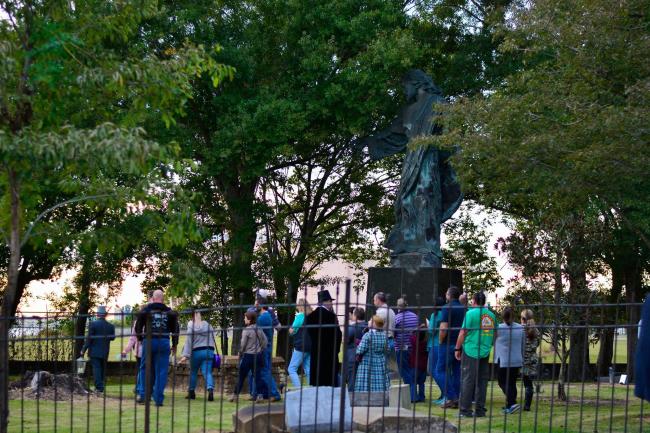 Local actors will dress in period attire and portray Lake Charles citizens who packed a punch and brought significant and historic changes to the area. Citizens like civil rights activist Doretha Combre, who served on the national board for the NAACP and helped desegregate Lake Charles. Legends like pioneer Lastie Reon, who was rumored to have found Jean Lafitte's treasure. Leaders like Charles Michael McCormick, who was the first editor of what would become the American Press.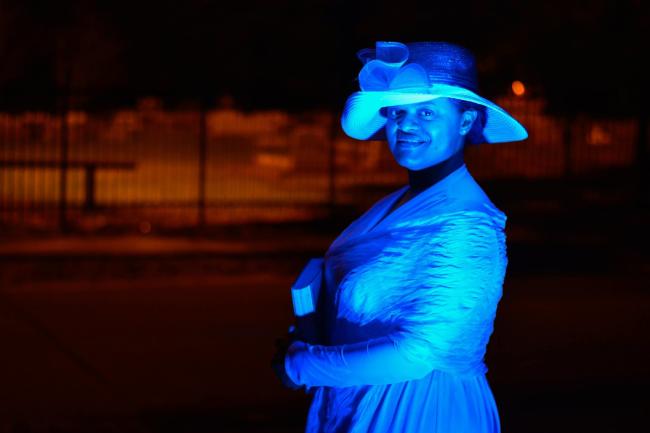 This year the tour will include Wandering Spirits who will be figures whose gravesites are unknown or who are simply passing through. Legendary jazz singer Nellie Lutcher will visit Combre Memorial Park where her parents are buried. Nellie is a perfect representation of how one life can create waves of impact decades later. Born in Lake Charles in 1912, Nellie was a supremely talented and successful jazz and R&B singer who quickly gained national recognition during the 1940s and 1950s. She began singing at the New Sunlight Baptist Church in Lake Charles, and she is a shining jewel in our city's crown. Her legacy lives on today with the Nellie Lutcher Cultural District, which spans Enterprise Boulevard from Broad Street to I-10. The neighborhood is on the cusp of being a cultural hotspot for the area, and with the efforts of the Better Block Initiative, Nellie's memory will breathe life back into her old neighborhood.
Better Block is a demonstration that empowers communities to reshape and reactivate their environment to promote growth of vibrant and healthy neighborhoods. The Nellie Lutcher Cultural District is a prime example of a neighborhood that can be reimagined through creative placemaking, green spaces, arts and culture, and economic opportunities. The demonstration will take place Oct. 25 and 26, and we know Nellie would be proud.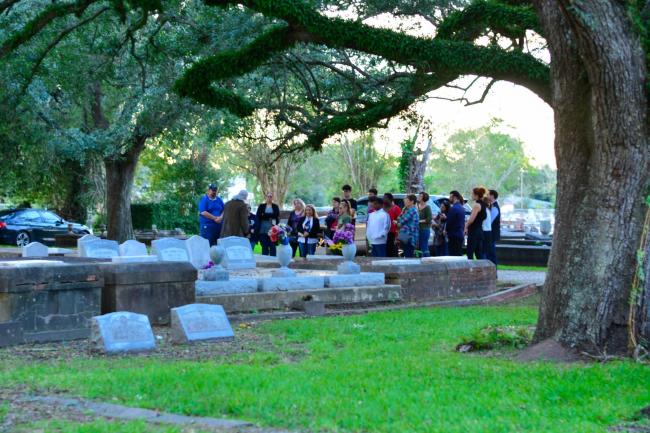 When we are in the middle of planning the Cemetery Tour, we do our best not to forget the significance of celebrating these figures whose names may not have been remembered for decades or longer. We don't know the last time someone mourned some of these figures, but it is always incredible to see their present-day descendants attend the tour to learn about their ancestors. It shows that even if their name has been forgotten, the lives they helped create still live on and continue to grow Lake Charles.  
How to Enjoy the Tour
Guests will have the freedom to drive from cemetery to cemetery at their own pace. Tickets are $20 for adults, $15 for seniors 65 and older, and free for children 12 and under (must be accompanied by a ticket-holding adult), and can be purchased at www.cemeterytourlc2019.eventbrite.com or at the Arts Council office at Central School. Tickets will not be available the day of the event. The event is sponsored by First Federal Bank of Louisiana, CSE Federal Credit Union, Thrive Magazine, Redfish Rentals, and supported by a SWLA Convention & Visitors Bureau Tourism Marketing Grant from the Lake Charles/SWLA Convention & Visitors Bureau. Proceeds benefit the Arts Council of SWLA, which provides needed programs and events to support the arts in the region.
For more information, please email CemeteryTourLC@gmail.com or call the Arts Council of SWLA at (337) 439-2787.