It's not hard to find beauty in Lake Charles, particularly if you are interested in history or architecture. Just take a stroll through the Garden District, down Kirby or Pujo to see classic examples of Southern architecture, such as The Arthur L. Gayle House, with its symmetrical windows and colossal Doric fluted columns, complete with balustered balcony.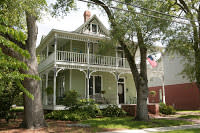 A beautiful home in the
Historic District of Lake Charles.
Many of the structures and magnificent homes were actually built by carpenters during the lumber boom when the "Michigan Men" came to the area during 1800s. They brought with them the tall and angular style of construction that mirrored the Victorian tastes popular in most of America at the time. This style contrasted with the existing gallery cottages popular in the rest of the State, and it coined the term, "Lake Charles Architecture," landing the Charpentier Historic District on the National Register of Historic Places.
While in the area, you may also want to visit the Historic Central School, now serving as home to the Arts and Humanities Council of Southwest Louisiana, Art Associates Gallery, the Mardi Gras Museum of Imperial Calcasieu, the Lake Charles Symphony, the Children's Theatre and the Black Heritage Gallery.
While we enjoy the amazingly beautiful places of that era, what will be left for future generations to attribute to our time? We don't need to venture far from these exquisite dwellings to experience the revitalization of the downtown district. With layers of patterned brickwork and iron streetlamps, not to mention a lively atmosphere with many businesses such as Pujo Street Café, Stellar Beans and Luna Bar & Grill featuring local art on the walls or live music.
The City of Lake Charles wishes to preserve the historical atmosphere of the downtown area, encouraging businesses to restore historic structures and construct new structures that complement the existing architecture.  Examples of this focus on historic preservation include the Charpentier Historic District, 1911 City Hall, and Central School, which serve as artistic and cultural centers for the community.
This seems to present the perfect mesh of old and new, creating a perfect setting for locals and visitors alike.
Quote from: http://www.cityoflakecharles.com/department/?fDD=7-0