Let's face it, the Christmas season pretty much began in August, but it's almost socially acceptable to get in the holiday spirit without your friends groaning when you play Christmas music. One of the first events to kick off the Christmas season is now around the corner: Holiday Art Walk! The Arts & Humanities Council's previous art market has been a mainstay of locally sourced holiday gifts for years. While it used to be held at Central School, the popular event is now taking over downtown Lake Charles as a large open-air art market with pop-up exhibits and performances that is guaranteed to help you tackle your holiday gift list.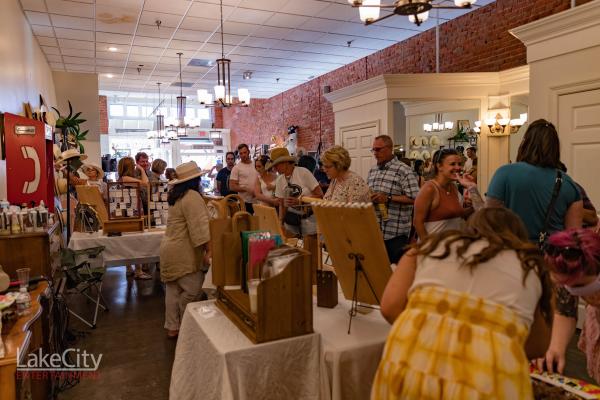 Photo: Lake City Entertainment 
From noon to 6 p.m. on Saturday, November 27 – which is also Small Business Saturday – thirty-five local artists and artisans will pop-up their tents, roll out their tablecloths, and offer handmade jewelry, original art and prints, and other artisan items that are one-of-a-kind. It's easy to think of artists as hobbyists, but they are small business owners who put their money, time, and resources into creating something special. So you can skip the total blind panic of Black Friday shopping and instead support our local art businesses in this unique outdoor event.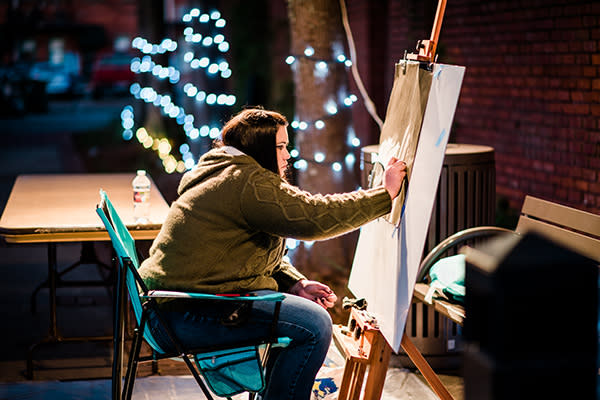 Photo: Kathryn Shea Duncan
"Since it's Small Business Saturday, this event will help give the opportunity for these small art businesses to have a storefront during the biggest shopping weekend of the year," said Devan Corbello, Arts & Humanities Council Executive Director.  "We also wanted to marry together the concepts of past Holiday Art Markets with the layout of Spring Art Walk. People love walking around downtown seeing local art and hearing live music, so we brought those elements to this year's Holiday Art Walk."
Downtown centers are meant to be experienced on foot. It brings a new appreciation and perspective of your city when you see it from the sidewalks, and it's the exciting events like Holiday Art Walk that create the vibrancy you expect from downtown districts. You hear downtown's heartbeat in the live music, you see its spirit in local artwork, and you feel the perseverance when you see events and businesses come alive again after the hurricanes.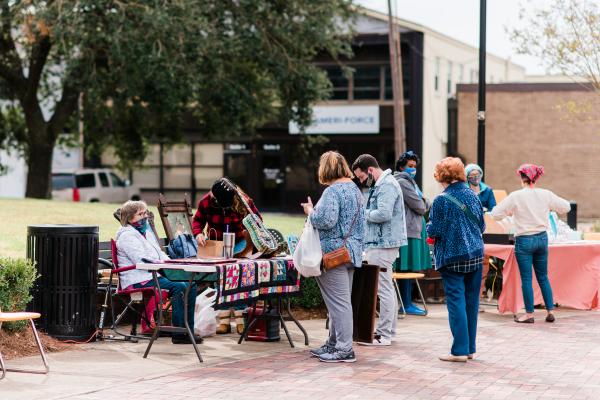 Photo: Kathryn Shea Duncan
So, if you have family in town still recovering from turkey overload from Thanksgiving, then bring them to this event and show off your pride in downtown Lake Charles. Ryan Street will be closed from Mill Street to Pujo Street, and Broad Street will be closed from Cotton's Burgers to Bilbo Street. Holiday Art Walk will also feature some great food vendors, live music, theatre performances – including a scene from ACTS Theatre's upcoming production of A Christmas Carol –  and alcohol sales, which benefit the Arts & Humanities Council of SWLA. The event is sponsored by Entergy and Madison Crain State Farm. Check out the list of venues, artists, food vendors, and live music below, but this list may keep growing. To view the latest list, connect with the Arts & Humanities Council on their Facebook page.
Art Vendors:
All Made Up
Art by Holly
Bohemian Sol
Christy's Handmade Jewelry
Kaleidoscope of Art
SWLAHEC
The Inkling Girl
A Touch of Color by Jason
All Forked Up
Carolyn's Creations
Katherine Petty & KK's Plants
SG Boudreaux
Pixel & Ink Creative
Studio//Blue Jeanne
Artist Val
Custom Hangers by Mia
Pearls of Inspiration/Peggy Borel
Calvin Pepper Art
Tie Bye Art by Fran
MD&E Enterprises
Paint & Fire
Food Vendors:
Diana's Cakes
Kona Ice
Soul Sister Food & Catering
Mary Lee & Moore Desserts
Lolly's Sweets Treats & More
Venues:
Entertainment:
Dominique and Joseph Darbonne
Ganey Arsement