There are so many ways to enjoy the Holiday season. One of my absolute favorite traditions is driving around the city to see the wonderful displays of Christmas lights and decorations. There's a certain magic that you feel when you see the twinkling lights and festive decor, especially when accompanied by songs that bring you back to the wonder and anticipation of Christmas. Lake Charles and the surrounding area offers many ways to experience this feeling. So tune in to 92.9 The Lake where "it's all Christmas till Christmas" and let me take you along to some of the best spots in town!
First Stop, Christmas Spirit!
If you have time before the sun goes down, a great first stop to get into the Christmas spirit is the Historic City Hall Arts and Cultural Center located at 1001 Ryan St. On the second floor, you will find a Christmas Village display featuring more than 700 houses, street scenes, and tiny shops. Originally owned by Nancy Stone Crowe, the village is generously being displayed through December 31st. Hours are from 10 a.m. - 6 p.m. Admission is free!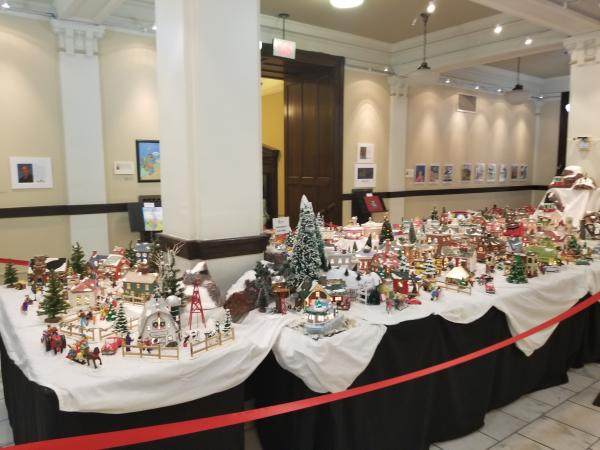 For your next stop, I highly recommend picking up a cup of the best hot cocoa in town to take along with you. Boombox Pops is quickly becoming THE place for hot cocoa in Lake Charles. What makes it so special? The perfect combination of chocolate, coarse sea salt and vanilla are slowly melted into the finest natural milk from Hill Crest Creamery in DeRidder. It is then placed in a frother that makes it nice and foamy. It's topped with a from-scratch marshmallow, made by the elves at Boombox, that is hand torched and perfectly toasted. So delicious! While you're there, you can purchase cocoa for a loved one that they can come in and enjoy at their leisure. Their certificate will be placed on the "Buy a friend a Pop (or Cocoa) board. Then tag your loved one on social media to let them know there is a treat awaiting them! A super fun way to give a little Christmas treat. This would make for a great teacher appreciation gift!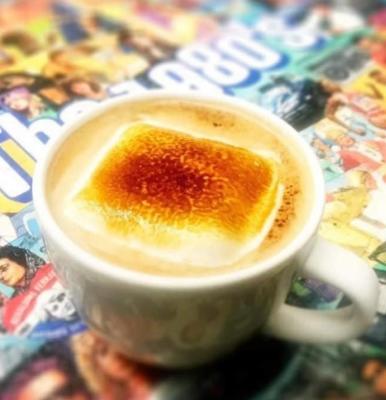 On to the Lights!
Now you are ready for some lights! Let us begin in the heart of the city, the Lake Charles Civic Center. As you drive in, you are greeted by an army of lighted Christmas soldiers that line the grounds of the Center. As you make your way up the main drive, you will see the magnificent display of the 12 Days of Christmas made up of thousands and thousands of tiny colorful bulbs. You can park your car and enjoy a leisurely stroll along the display and take advantage of this great photo op!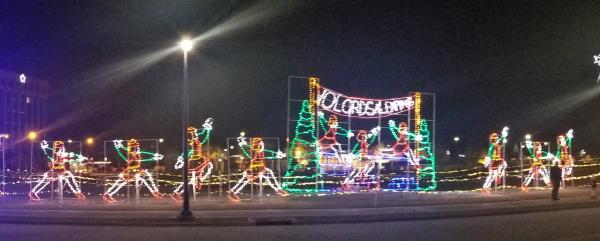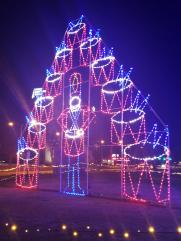 Just a short drive away, you will experience the jaw-dropping beauty of the historic homes along Shell Beach Drive. If you want to create a truly magical and memorable night, you can even take a tour of these homes on a horse-drawn carriage with Lake Charles Carriages or Vintage Carriage Company! Hot cocoa in hand, snuggled in a cozy blanket, the clip-clop of the horse's hooves...what a great gift of a Christmas experience this makes! Also perfect for a Holiday date night with that someone special.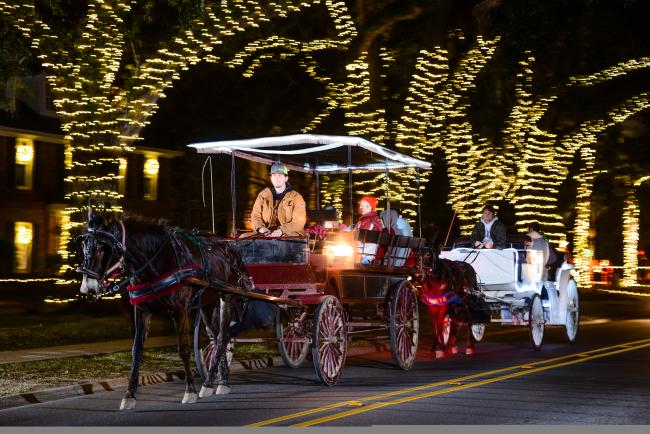 Now, venture just a short drive away to Prien Lake Park located at 3700 W. Prien Lake Rd. There is a giant, beautiful Christmas tree that is perfect for a Christmas picture with family or friends. This light display can be enjoyed while strolling through the park or from the comfort of your car. I don't want to give away too much but here is a little peek of what you'll see.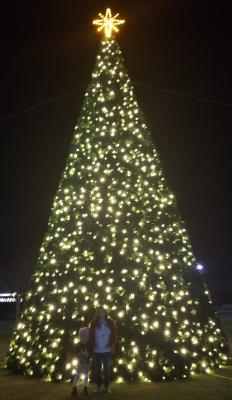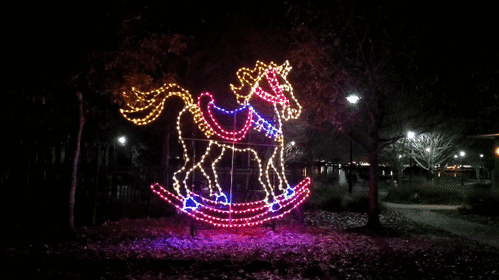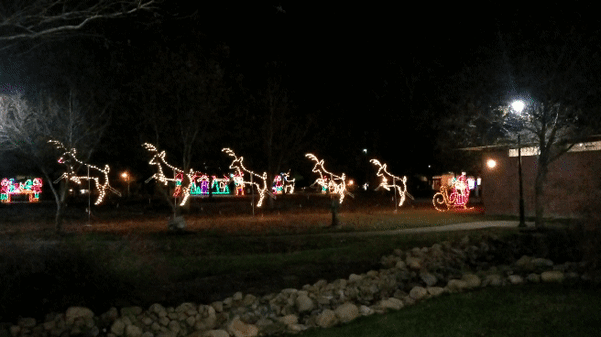 Another really neat display is located at Trinity Baptist Church located at 1800 Country Club Rd. Starting Sunday, December 8th, you can see an eight-minute, computerized light show in the front circle drive. This display will run through Christmas day from 5:30 p.m. - 11 p.m. nightly.
Want more? If you are ready to go a little off the beaten path, here are some great destinations for MORE LIGHTS!!!
For over ten years now, the family behind the Lake Area Light Show has delighted the town with their display located at 5721 Alder Street in South Lake Charles. You can get a behind the scenes look, check out the schedule, and see the full list of songs that are synchronized to their lights here: http://lakearealightshow.com. Tune your car radio to 94.9 FM, sit back, and enjoy!!!
Another beautiful display worth seeing is located at 1813 Linden Ln. in Lake Charles.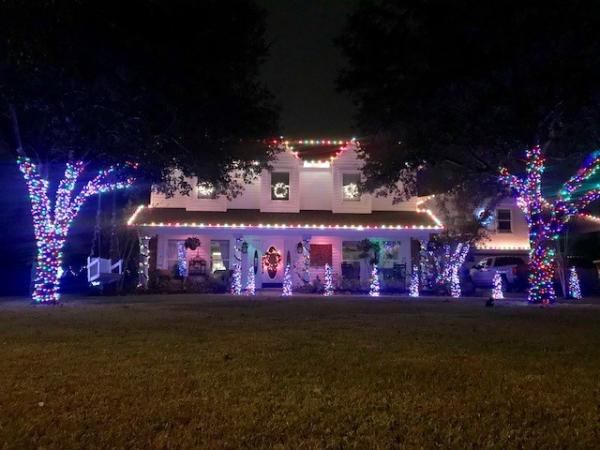 If you head to Moss Bluff, you will find the Cruze's Christmas Light Show located at 2193 W. Armand St. Over 15,000 dancing lights and a "singing Santa" creates a super festive mood. There is a special mailbox located there for all of your letters to Santa! The show runs from 6 p.m. to 10 p.m. every night until December 31st. Tune in to 88.1 FM for Christmas songs and Pop tunes that accompany the light display.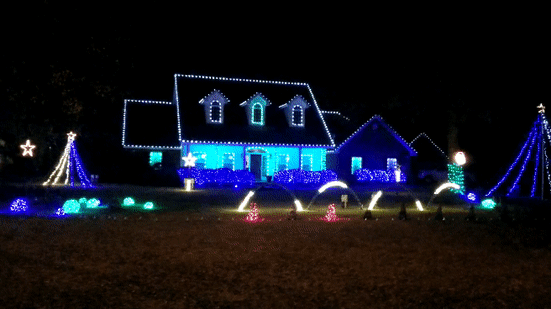 One last, but definitely not least, way to spend an unforgettable night is the Water Christmas tour hosted by Lake Area Adventures. Beginning December 12th, enjoy a cozy evening cruise with Captain Jo Joe and enjoy the festive lights in a whole new way. You'll be treated to hot chocolate and marshmallows or you're invited to bring your own Holidays "spirits" to enjoy on your cruise. Private tours will run through the end of December. You can check out the other exciting events being hosted by Lake Area adventures including PARENTS NIGHT OUT  and The Christmas Bash on their website: https://www.lakeareaadventures.com/events. For reservations, call 337-602-6956.