Virginia ("Ginny") Fuchs is among the most elite female boxers fighting today. A veteran of the ring, she has racked up a staggering number of wins throughout her decade-long career, with accomplishments including an 18-0 record in 2017. She was the U.S. boxing team captain at the Rio Olympics and is a viable contender for the gold medal at the Olympic Games Tokyo 2020.
When Fuchs steps into the ring at the 2020 U.S. Olympic Trials for Boxing and USA Boxing National Championships at the Lake Charles Civic Center (Dec. 9-15), she'll receive both national attention as well as local Louisiana praise. You can expect to see supporters wearing purple and gold in the crowd.
The Houston native's boxing career started when she was a student at Louisiana State University a decade ago. She was a track athlete then, joining a team that had won more than a dozen NCAA national team championships. She eventually moved into boxing, quickly racking up wins at Golden Gloves tournaments and transitioning from local bouts to national tournaments.
That was in 2010 —right around the time, women's boxing was formally made an Olympic sport. She set her sights on making it into the games. She made it as far as the semifinals for the 2012 U.S. Olympic Team Trials, and between training for the 2016 (and now 2020) Olympics, Fuchs fought in rings around the world. Currently, Fuchs, who fights in the flyweight class, is ranked number 3 worldwide.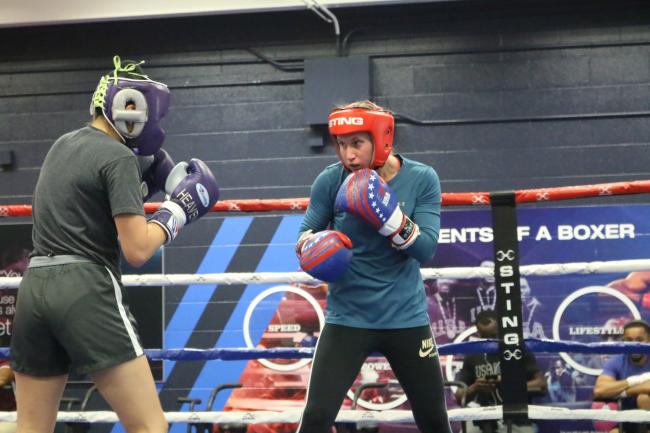 Even with all of her international travels and the well-earned accolades Fuchs has received, her return to Louisiana for the trials carries special meaning.
"When they announced it would be in Lake Charles, I thought it would be so awesome, like —  the stars were aligning."

-- Ginny Fuchs
She adds, "I am coming back to the place where I started boxing. My boxing family in Louisiana, they've been following me, and they haven't seen me fight live in years. I'm so pumped for it. This will be the best trials I've done, back home fighting in my element."
As for whether Fuchs is feeling any pressure to win the gold medal in Tokyo, she's casual and confident about her prospects.
"I believe in myself."