My Maw-Maw was a great little 4'11 Cajun lady from Cameron by way of New Iberia. One of my family's favorite things to remember about Maw-Maw was that every day, first thing in the morning, she would put on the coffee pot and the rice pot at the same time - even if she hadn't yet decided what to cook.  Whatever ended up on the menu for the day, you could pretty much always bet on it including rice! Like my Maw-Maw I love a good rice dish, so today let's talk about a Cajun classic: jambalaya! 
There are two basic rules about Cajun jambalaya: 
Rule number 1: It is pronounced [jum-buh-LIE-yuh] NOT [JAM-buh-lie-yuh]. It sounds nothing like what you put on your toast in the mornings. 
Rule number 2: There are NO tomatoes.  Tomatoes are a staple in Creole jambalaya, which I actually quite enjoy, but in the Cajun version of the dish, it's a big no-no! So remember – Cajun Jambalaya = no tomatoes. 
There are several different varieties of jambalaya that can include different combinations of proteins.  Sausage, shrimp, chicken, pork and crawfish are all popular and delicious choices.   Today, I'll show you how I make jambalaya with chicken and smoked sausage.  
INGREDIENTS
•    1lb sliced smoked sausage 
•    1lb trimmed and diced chicken thighs
•    1 Tbsp. cooking oil
•    1 cup diced onion
•    ½ cup diced green bell pepper
•    ½ cup diced celery
•    1 or 2 cloves minced garlic
•    2 cups uncooked white rice
•    ½ cup water
•    3 ½ cups chicken broth or stock
•    1 Tbsp.  flour
•    1 Tbsp.  Worcestershire sauce
•    1 Tbsp.  Kitchen Bouquet browning and seasoning sauce
•    2 Tbsp.  parsley
•    2 bay leaves
•    salt, pepper, Cajun seasoning and hot sauce to taste
First, grab a heavy pot with a tight-fitting lid and warm it with your cooking oil on medium-high heat.  Season your chicken thighs with salt, pepper and Cajun seasoning and start browning them in the pot for about 5 minutes.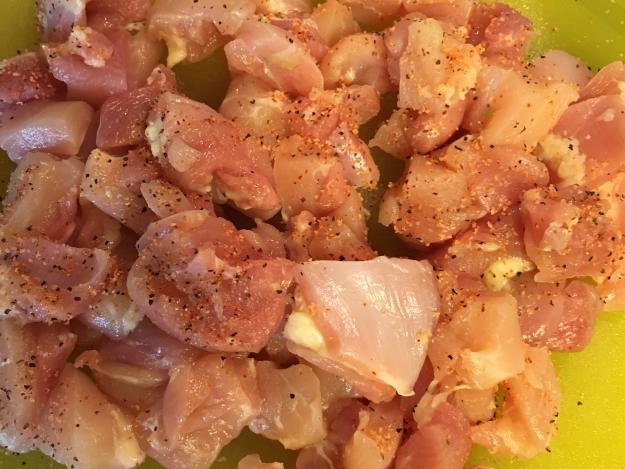 Feel free to use chicken breasts if that's your preference.  I just love the flavor of chicken thighs in Cajun dishes. Plus, they don't dry out during cooking, and they're cheaper – score! 
Once your chicken is brown, stir in your sausage and brown for another 5 minutes.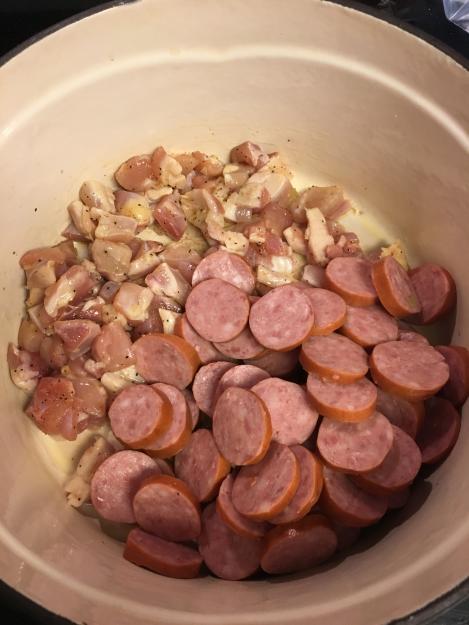 Now you're ready to add in all those flavorful veggies – the Cajun trinity of onions, green peppers and celery, plus some garlic because it makes everything wonderful. Stir the veggies around for 5-10 minutes and let them soften and soak up all the beautiful meat juices.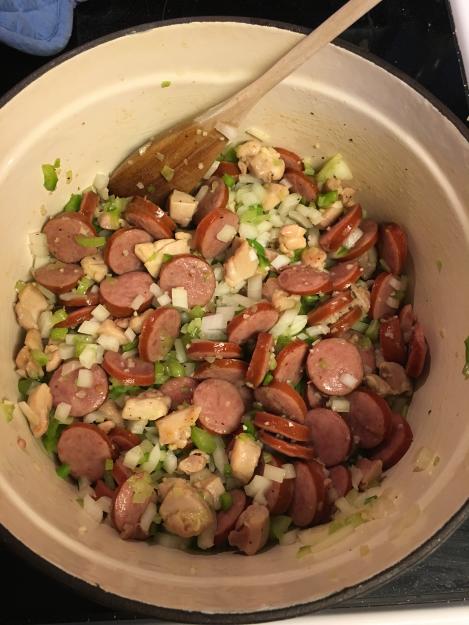 Your kitchen should be smelling amazing right about now. 
Next stir in your parsley, flour, water, and broth, making sure to scrape up the bits from the bottom of the pot for even more flavor.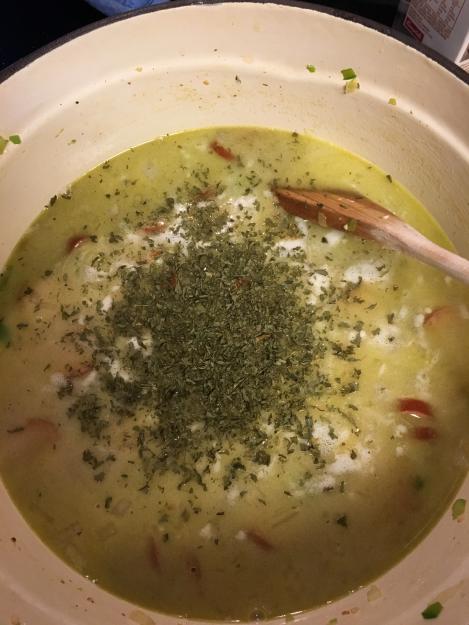 Bring to a boil and then add the rest of the ingredients: rice, Worcestershire sauce, bay leaves, hot sauce and Kitchen Bouquet and stir it all together.  This is a good time to give your sauce a little taste to check on your seasonings and adjust if necessary. If it seems a little over-seasoned, don't worry. As the rice absorbs the liquid, the flavors should balance out. 
Then cover, turn your heat to low, and let it cook for 30 minutes, stirring every 10 minutes. 
After 10 minutes: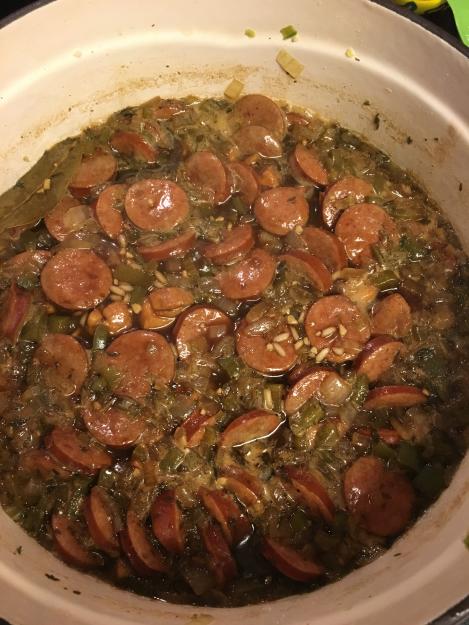 After 20 minutes: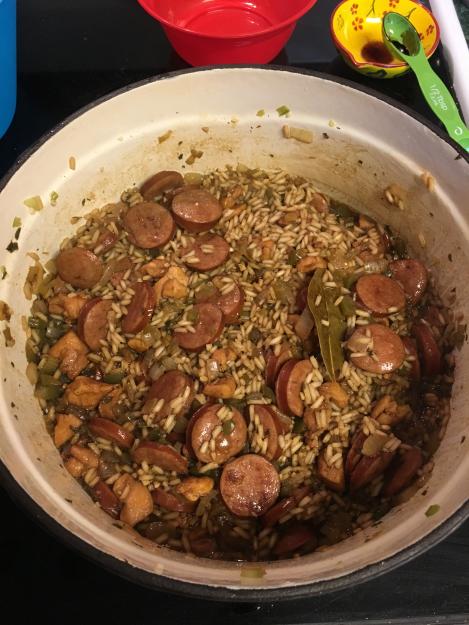 After 30 minutes – are you hungry yet?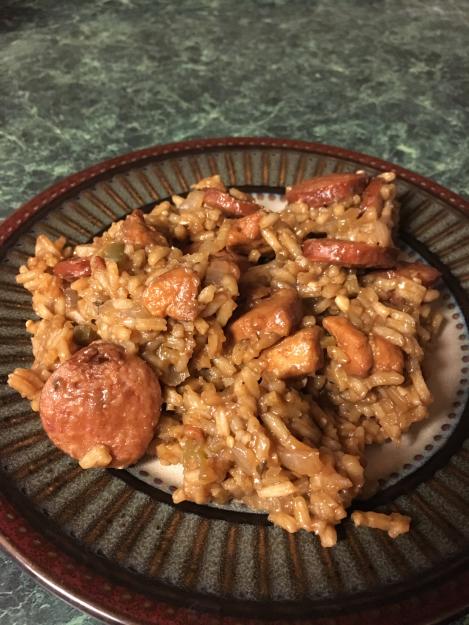 Serve alone, or with a cooked veggie on the side. I like to serve mine with smothered green beans and cornbread, followed by a good nap. 
Bon appetit!