When traveling, it's often difficult to stick to your normal exercise routine. Lake Charles has an event for that! June 21 is International Yoga Day. Joining cities across the globe, we'll celebrate with Summer Solstice Yoga in the Park. This free community event will be held from 6:00 – 8:30 p.m. at Drew Park, 416 Dr. Michael Debakey Dr, Lake Charles.

Spear-headed by local yogi Adelaide Saucier, Yoga in the Park will be hosted by a partnership of several yoga studios and instructors throughout the city. Saucier says the event offers a great opportunity for visitors to get out, interact with the local community, and experience a bit of our wellness culture.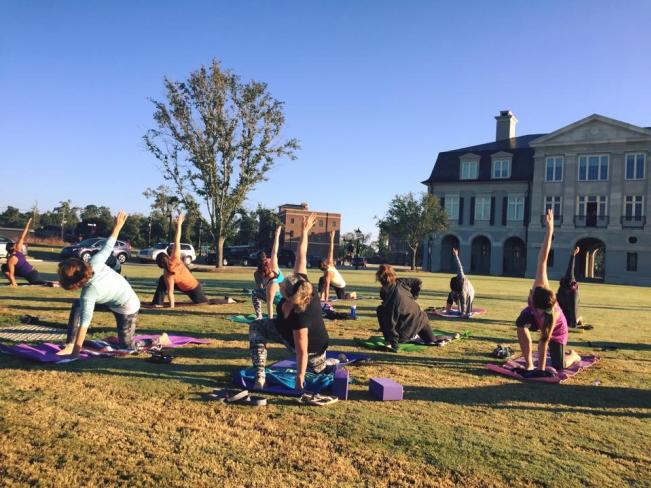 Yoga at Walnut Grove facilitated by the Yoga Center.
Photo Credit: Carl & Chelsea Boudreaux
In addition to a 50-minute yoga flow at 6:30 (suitable for all yoga skill levels), area food and juice vendors such as Main Squeeze Juice Co., Pure Press Juicery, Boombox Pops, and other popular food trucks will offer refreshments for sale. Wellness vendors and educators will also be on hand to answer questions about the benefits of yoga, mindfulness, and meditation. Information tables will be set up for yoga instructors and wellness experts to provide information and education to attendees, as well as fun door prizes such as free yoga classes, massages, juices, and essential oils. Participants should bring a mat and/or towel, water bottle, props (optional), a folding chair to relax in after the flow . . . and maybe some mosquito repellent. (It is Louisiana, after all.)
If you're a yoga enthusiast, this is an event you won't want to miss, but it is also a great opportunity for those who have rarely or never experienced yoga but are curious. "For beginners, a yoga studio can be a little intimidating because there may be some mystic surrounding it; however, this Yoga in the Park event is a nice opportunity to explore what yoga has to offer in a more accessible, less formal way," says Saucier. "Yoga comes in all shapes and sizes. It's available and accessible to everyone."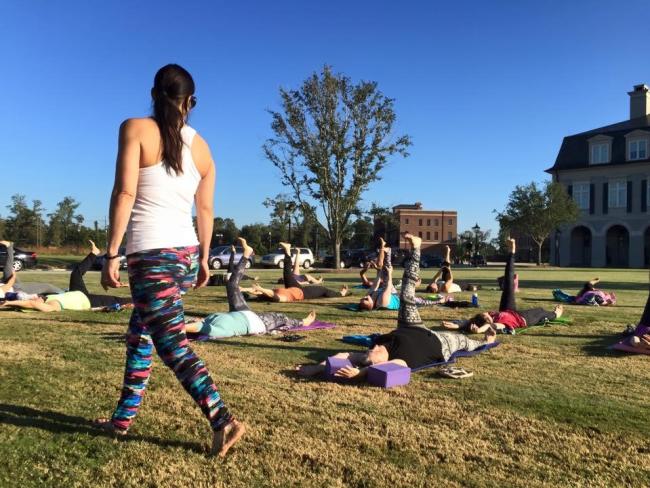 Yoga at Walnut Grove facilitated by the Yoga Center.
Photo Credit: Carl & Chelsea Boudreaux
Saucier emphasizes that the benefits of yoga extend beyond the physical. "There are so many emotional and mental benefits, as well. In our busy, hectic lives, often the thing that falls away is time for ourselves. But really what can give us the energy to be our best selves is giving ourselves time. Yoga offers this space for the self, with self-reflection and moving meditation, integrating the mind and body."

If you're a visitor to Lake Charles and want to find a yoga class but won't be in the area on June 21, there are several yoga studios in Southwest Louisiana, all of which typically accept walk-ins. Yoga in the Park partners include The Yoga Center, Yoga, Y'All, Seed Yoga and Flower Massage, and Lisa Tauzin Yoga Studio.
Summer Solstice Yoga in the Park is an alcohol-free and tobacco-free event. Sponsorship provided by the City of Lake Charles Partner's in Parks, Southern Janicorp, LLC, and a brand-new organization, For the Love of Chuck, a grassroots initiative promoting quality of life through arts and wellness projects.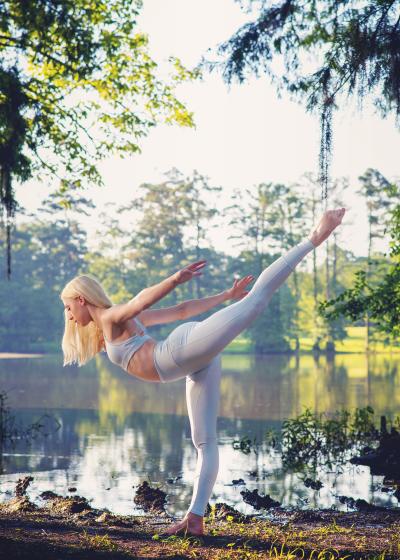 Adelaide Saucier practicing yoga along the lovely Calcasieu River.
Photo Credit: Carrie Kudla
For more information, find Summer Solstice Yoga in the Park on Facebook, @summersolsticeyoga, or contact Adelaide Saucier via email: adelaideasana@gmail.com or on Instagram, @adelaideasana.