I know y'all have heard me say this a million times, but there is SO MUCH TO DO in Lake Charles! No matter your interests – this area has got the experience for you - food, art, luxury, music, family, pets, and outdoor recreation – we've got it all!
This month's photo of the month features on of the area's most popular outdoor experiences – kayaking. There is just something about being on the water here in Southwest Louisiana. And when you mix in a sunrise/sunset – you're golden.
Check out this photo shared by Brandon Hirsh on Instagram.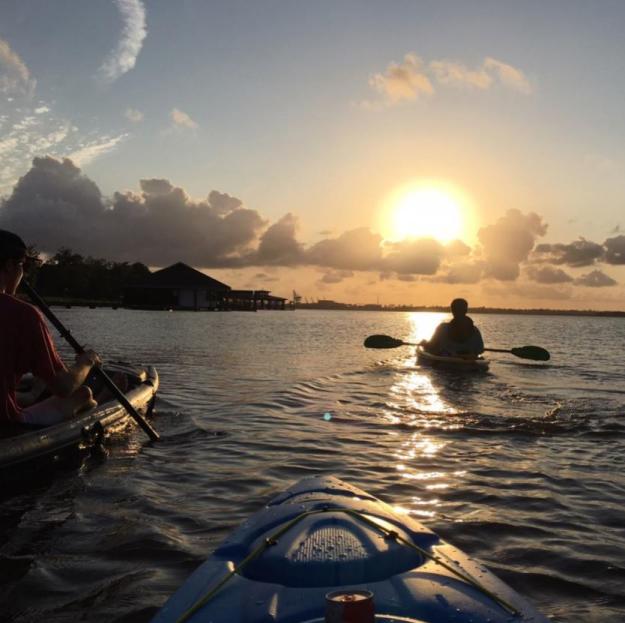 "I took this photo on the day I bought my kayak. That was the first one I had ever owned myself, so I was really excited to get out on the water. I had a few buddies that wanted to join me, so we all naturally just agreed on Prien Lake Park for the location. We knew we wanted to catch a good sunset, and Prien Lake Park offers beautiful sunsets every single night. The second we got out to open water, we all started taking pictures. The lighting was perfect - and it kept getting better by the minute. We were all in awe of how gigantic the sun seemed. It was a unique sunset too; it was low, but still bright like a morning sun. And the skirt of clouds beneath it just made it seem even larger. It bounced off of the water in such a beautiful way (…) This was a prime example of just being in the right place at the right time. I'm just glad I got to experience another beautiful sunset in Lake Charles!"
Thanks for sharing, Brandon! What is your favorite Lake Charles experience? What is something you'd like to experience in Southwest Louisiana? Let me know in the comments.
For your chance to be shared on our Instagram, Facebook, or Twitter pages, featured on our blog, or even claim the title "Photo of the Month," tag your photos with #VisitLakeCharles.
All Photo of the Month winners receive a FREE mini canvas with the official #VisitLakeCharles hashtag stamp!