Growing up, my father's photography studio was located in downtown Lake Charles in a historic building from the early 1900s.  I spent many summers there helping in the office, answering phone calls and assisting in photo shoots.  My brother and I would even play hide and seek when we were kids.  Those old homes have lots of hiding spaces!
After my dad bought the home in the early 1980s, they did some renovations and found some pocket doors.  In the pocket doors, they found newspaper articles stuffed within the walls from the 1800s.  I always thought that was so cool and I think that's what started my fascination with the Charpentier Historic District.  Charpentier is French for carpenter, by the way!
Recently, the Lake Charles/Southwest Louisiana Convention & Visitors Bureau developed a free Lake Charles Historic Tour App.  It brings the Charpentier Historic District to life through a guided tour of the 40-block area of homes in the National Register of Historic Places.  You can choose a 30 Minute Tour, One Hour Tour or Ghost Stories Tour.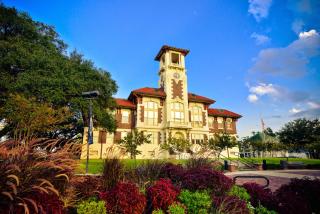 1911 Historic City Hall has a permanent exhibit on the Great Fire of 1910 and is
featured on the One Hour Tour.  Photo by www.lindseyjanies.com
The haunted legends tour, or Eerie Calcasieu Tour, as it is named in the app, has some pretty crazy stories included.  There's even a video that captures some great stories of the local ghosts.  There are also videos on the Great Fire of 1910, Lake Charles Architecture and the History of Lake Charles.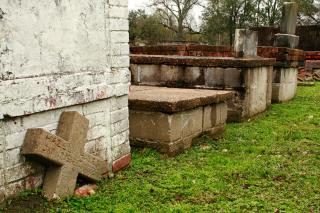 The Eerie Calcasieu Tour features haunted sites throughout Lake Charles.
The app promotes social network sharing and even allows the user to create a post card from the district.  It's available in multiple languages and Closed Captioning, which is great if you have friends from other countries who are visiting and would prefer to experience the tour in their native language.
Download the free app in your app store by searching for "Lake Charles Historic Tour."  
Learn more about the Charpentier Historic District at www.visitlakecharles.org/historic.
Check out this quick video about the Lake Charles Historic Tour App.