Walk into Stellar Beans on Broad St., Lake Charles, and you'll see beautiful handmade pottery throughout the coffee shop – steaming mugs of dark roast, plates of beignets, large bowls displaying yogurt parfaits. These pottery pieces are the work of local potter Rex Alexander.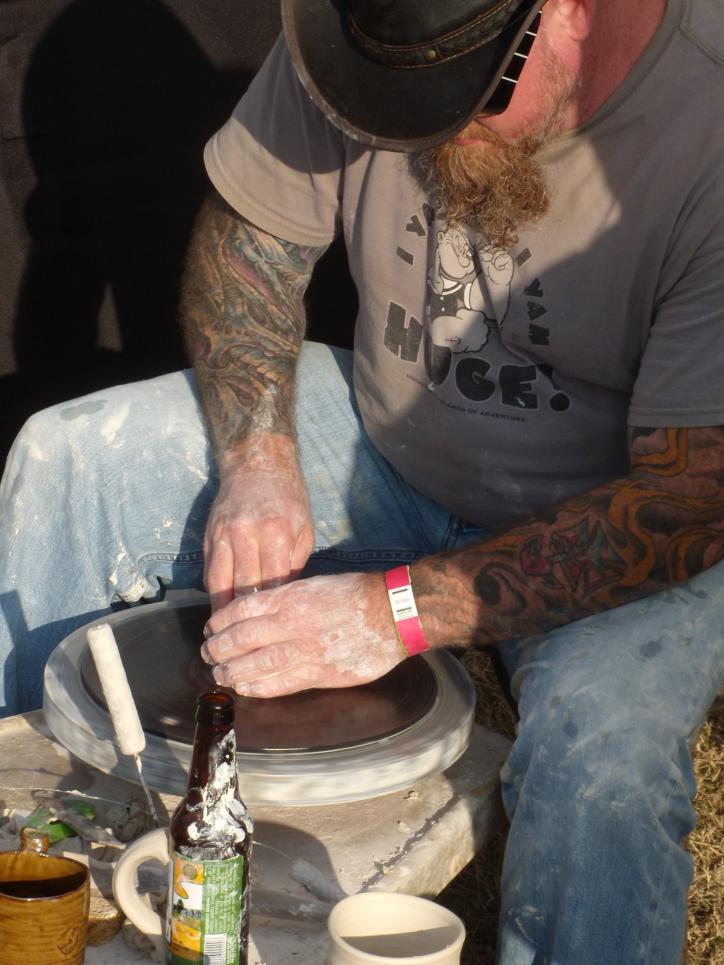 Alexander has been making pottery for sixteen years. He describes his work as "functional." His kitchen overflows with shelves of mugs, countertop canisters, and bowls of all shapes and sizes. His front porch displays plants growing in pots he created in his backyard shop. Some pieces are similar, but no two are exactly alike. Part of the fun of pottery for Alexander is that he never knows what a project will look like until it comes out of the kiln.
His style is simple, but special and unique. He creates the majority of his work on a pottery wheel, so he makes a lot of round containers – cups, bowls, pots, vases. He gravitates toward earth tones -- greens and browns. Sometimes he'll fire a piece with no glaze at all, showcasing the natural beauty of the clay. His fans easily identify his artwork. "People tell me they can see Rex when they see a Rex bowl. They can tell just by looking at it. They can see the energy in it."
His work is also marked by his signature stamp, TRX. "The first day of my pottery class, a Cajun lady called me Ti. Ti Rex. I made my stamp out of clay and have been using it ever since."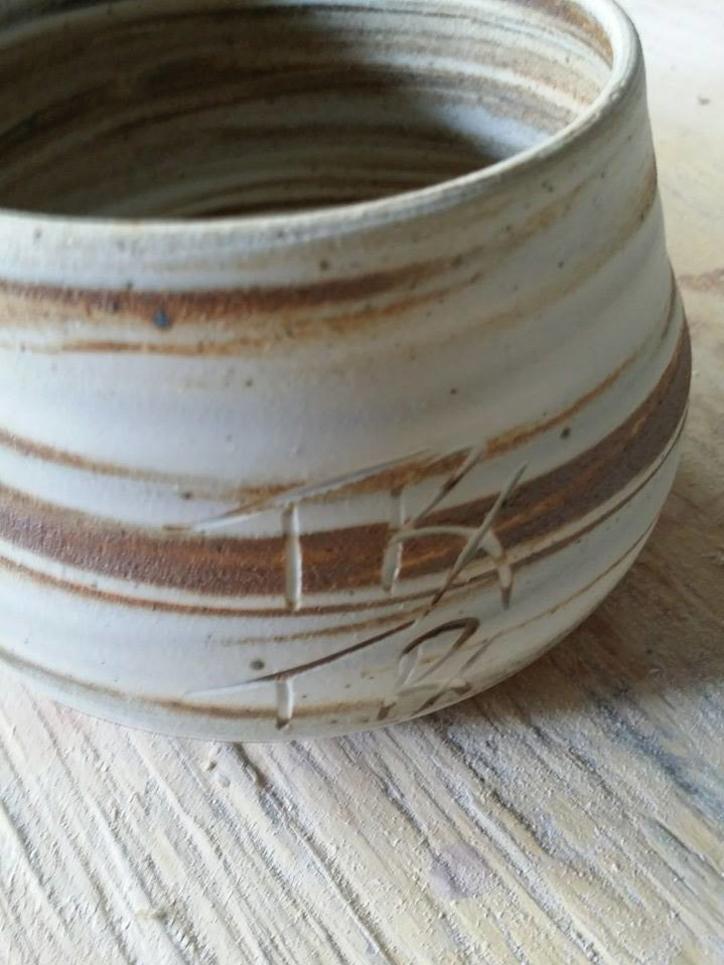 Alexander discovered his talent somewhat later in life. As a child, he made Indian pipes and arrow heads out of clay he found in his yard. He enjoyed crafts like basket weaving in Boy Scouts. But he never considered himself an artist.
At the age of 39, he attended McNeese State University as a geology major. On his way to a final exam one day, he smelled smoke. Upon investigation, Alexander discovered some women outside the fine arts building firing pottery in an open pit.
"These three little old ladies -- they were as sweet as could be -- pulled me into their covey. We talked. The next semester, they gave me some clay and I made a piece." Alexander proudly displays that rough first mug on a shelf in his home. He still doesn't consider himself to be artistic, but admits there are elements of art and craftsmanship in what he does. "I'm just really good at making pots."
Alexander works full time as a lab technician at Westlake Chemical -- Styrene Plant. He is married with a family. He's in the process of restoring a 100+ year old home in Lake Charles' historic district. How does he find time to make pottery? "Well, I don't fish," he says. "But seriously, I love doing it, so I make the time."
Alexander occasionally attends festivals and other events such as Live at the Lakefront and Downtown at Sundown. But he doesn't only display and sell his work. He actively demonstrates his craft. He takes his wheel and bags of clay and sets up shop under a tent. He enjoys sharing his technique with children and other festival-goers. Even if he doesn't sell many pieces at an event, he uses that time to add to his inventory. His next event will be Lake Charles' Chuck Fest on October 10.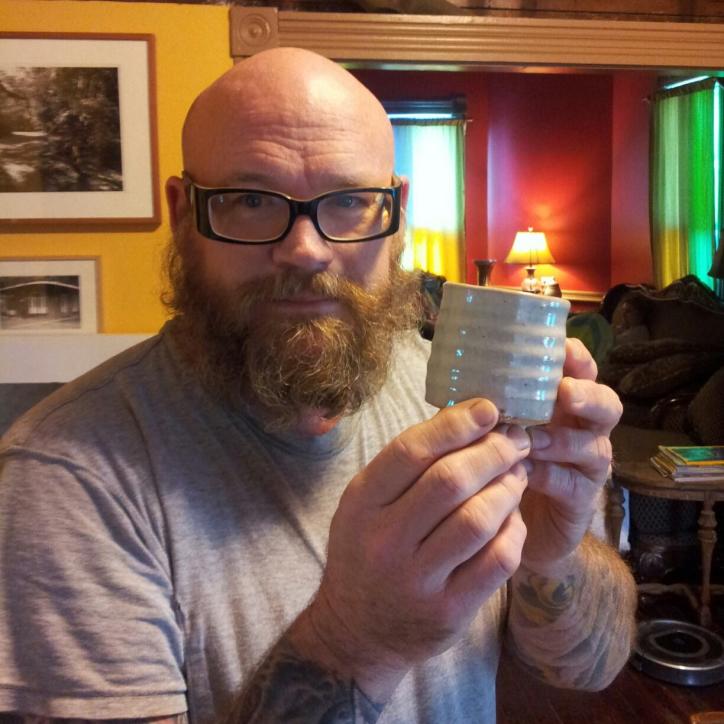 Alexander does take commission work, but only if he is given full artistic freedom. "I don't want my work to be controlled. Tell me what you want and I'll make some things. You can come pick something out. If you don't like any of them, that's okay. I can try again. But it has to be my color schemes and my style."
Certainly, Alexander sells his art, but he also enjoys simply sharing his work. He makes pottery as gifts for family, friends, and his wife Toni. He donates pots to charities and fundraising events. He has made and donated hundreds of bowls to the local Salvation Army's annual fundraiser, the Empty Bowl. He made 100 mugs for McNeese's radio station, KBYS-FM. This generosity is his way of giving back to the community he loves.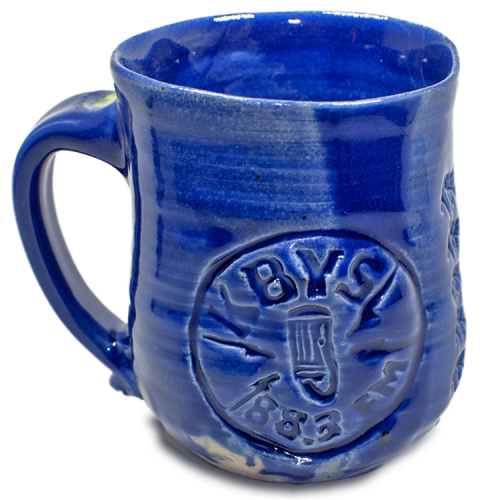 Next time you're in Stellar Beans, ask for a Rex Alexander mug. If you like it, you can buy it and take it home. Or you can leave it at the coffee shop on a top shelf with your name on the bottom and use it each visit.
For more information or to peruse and purchase Alexander's work, see his website, http://trxtrxtrx.com.
Find local artists like Rex at this year's Gallery Promenade. Click for details!