Lake City Cruisers – Bikes that Light up the Night!
Biking has made a resurgence. It's something to do outside, and bonus – it's healthy. One thing about Louisiana is that it's hot, oh and, a second thing – humid! So, Lake City Cruisers has found a way to beat-the-heat and bike at night with glow-in-the-dark bikes! Local owner, Amber LeDay-Hills experienced a similar bike company in the Baton Rouge area and decided to bring this concept to Lake Charles. In July 2020, she officially opened her operation, and the feedback has been overwhelmingly positive.

The glowing bikes roll at 7 p.m., 8:30 p.m., and 10 p.m. shifts on Fridays and Saturdays. This route includes rides around downtown and a pass on Bord du Lac Dr next to the Lakefront Promenade. Each bike rents for $25, and it's the perfect experience for family bonding, fun with friends, or special occasions.  
Amber explained what she loves so much about Lake City Cruisers:
"My favorite part of leading the cruises is to see the excitement and joy on the riders' faces. Many of the riders have not ridden a bike in years. I get to see the expression 'It's just like riding a bike' literally happen in real time!"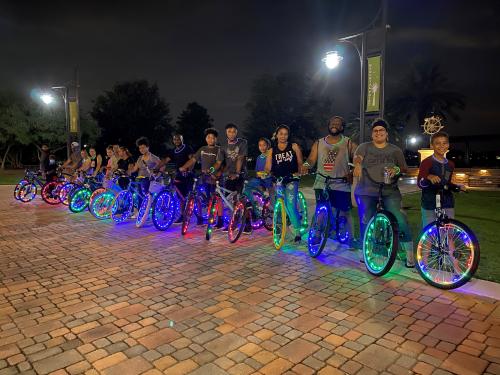 Check out the Bike Variety!
Blue, green, red, rainbow colors – the bikes come in a variety of glowing shades! As of today, they have a fleet of 25 single rider bikes that they rent for the cruises, and they have also recently purchased a double rider trike that will allow parents of children and young adults with special needs to participate in the rides. They also have additional bikes for volunteers that ride with the group for safety purposes, and they are working to expand their single rider bikes and also another trike. However, single rider bikers must be 13 years and older.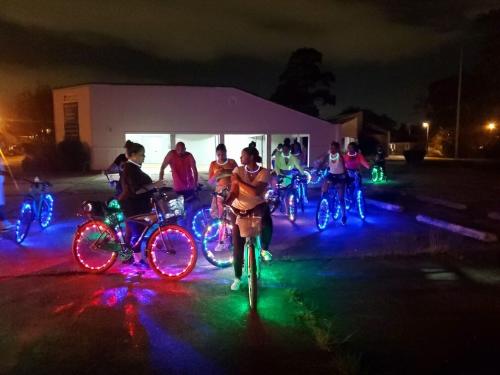 Biking for Causes:
One of the highlights that makes Lake City Cruisers unique is that they select organizations that directly benefit and impact the Lake Charles/Southwest Louisiana area, and a portion of their proceeds goes to that organization of the month. Amber looks for organizations that might be overlooked or underfunded.
"I reach out to the organization's leaders, introduce myself and Lake City Cruisers, explain our goal, and ask for any information that the organization may want to share on the Lake City Cruisers platform. On the following Monday, after our rides, we will donate a portion of our weekend sales to that organization," Amber explained.
For the month of August, Lake City Cruisers donated to the National Alliance on Mental Illness of Southwest Louisiana (NAMI SWLA), and her plan for September is to have Lake City Cruisers support Families Helping Families of SWLA.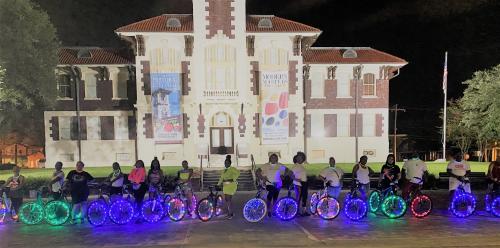 "I would like to thank everyone in SWLA and surrounding areas for their overwhelming support and excitement they have shown thus far for Lake City Cruisers. I am humbled and blessed to finally have my vision come together, and this wouldn't be possible without the support of the community," said Amber.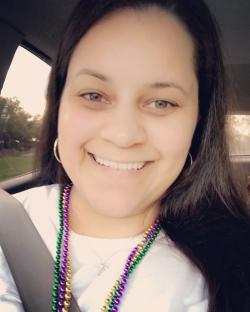 Amber LeDay Hills, Lake City Cruisers, owner
Amber's Advice for Aspiring Entrepreneurs:
"I would tell them not to wait! I felt a long time ago that the Lake Area deserved something like this. It is long overdue. When something is meant for you, the feeling to put action behind your ideas can be overwhelming. I couldn't shake my ideas, and my vision was getting bigger and bigger. I had no choice but to make Lake City Cruisers happen. I wasn't going to let more time pass me by."
Private Bookings:
Lake City Cruisers is also accepting bookings for private groups of 20 guests or more on days outside of our normal rental hours. They can deliver bikes and cruise in a different requested area. Please email lakecitycruisers@gmail.com to discuss the private group rental.
Suggest Organizations:
Lake City Cruisers is always open to receive information on Lake Area organizations that could use some support. Please email suggestions and information to lakecitycruisers@gmail.com.
Looking for Black-owned Businesses? We have a list:
 www.visitlakecharles.org/blackowned