I am sure you've heard "Louisiana has a flavor all its own." And has cliché as that sounds, it is 100% true for Southwest Louisiana. Our cultural identity is filled with tastes and sounds of Zydeco and Cajun foods and music. It is also deeply rooted in traditions stemming from Native American, French and German customs.  Southwest Louisiana's history and culture live viscerally our music, art, food, and culture.
For me, one of the places to find all of this "flavor" is Downtown Lake Charles. On a stroll along a downtown sidewalk you'll find restaurants, live music venues, art galleries and historic buildings/homes; the perfect storytellers of Southwest Louisiana's tale. 
Recently, one of our Instagram followers shared a picture that really got me thinking about the story our part of state has to tell.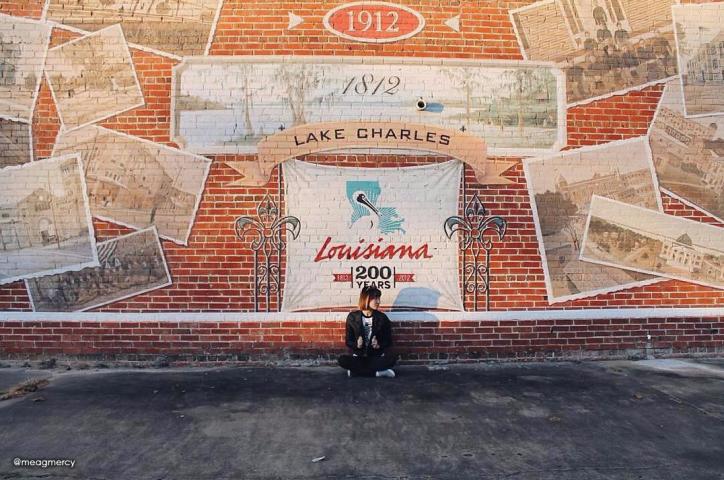 @MeagMercy's photo showcases the Bicentennial mural painted by local artist Fred Stark in 2012. The mural shows the visual history of Louisiana from 1812 to 2012 and includes our local ties with 100 year anniversaries of for local landmarks: Margaret Place Historic District, Historic Calcasieu Parish Courthouse, Central School Arts & Humanities Center and Cathedral of the Immaculate Conception.
Great photo, @MeagMercy and congratulations on Photo of the Month!
To hear more stories of Southwest Louisiana history and tour historic areas, download the Historic Tour App.
For your chance to be shared on our Instagram, Facebook, or Twitter pages, featured on our blog, or even claim the title "Photo of the Month," tag your photos with #VisitLakeCharles.
All Photo of the Month winners receive a FREE mini canvas with the official #VisitLakeCharles hashtag stamp!