History comes alive in Lake Charles, Louisiana, on Friday, Nov. 5, from 5 p.m. to 8 p.m. with the  Living History Cemetery Tour! This popular tour makes its return after a year hiatus to let historic figures speak from the grave. The event brings a spotlight to historic figures who played important roles in the development of Lake Charles and whose names aren't always on buildings and street signs.
People from Southwest Louisiana may recognize names like Michel Pithon, Judge David Reid, and Clara Pujo Barbe, but many more will visit their gravesites – or simply visit as Wandering Spirits – to tell their stories. Ticketholders can visit the cemeteries at their own pace, and upon arrival they will be placed into groups which will be led throughout the cemetery by a Tour Guide. Each group will visit three to four actors in period attire who represent people who played integral roles in Lake Charles history.

Samuel Kirby (actor, Chris Breaux)
While the tour features historic figures who may have died a century ago, it will also feature recent figures, such as Judge Norma Holloway Johnson, who is buried at Combre Memorial Park on Opelousas Street. She gained national prominence when she oversaw the grand jury investigation into President Clinton's relationship with Monica Lewinsky. Judge Johnson died in 2011.
Another recent figure is the illustrious Rosa Hart, founder of the Lake Charles Little Theatre and for whom Rosa Hart Theatre is named. She passed in 1964. The tour will also feature New Orleans photographer Clarence Laughlin, whose work is exhibited globally. He died in 1985.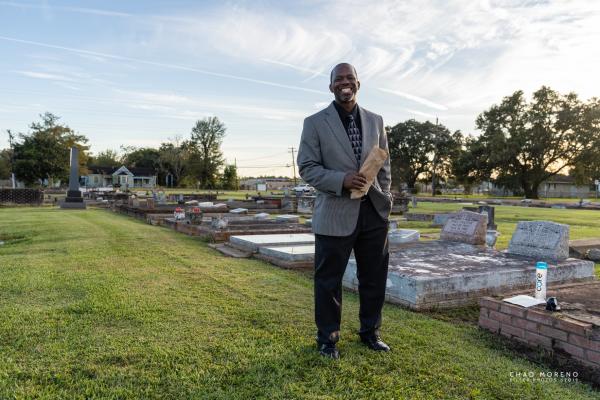 Reginald Ball (actor, Mark Steward)
While the event takes place at cemeteries, it is not a spooky event, so children are encouraged to come learn about Lake Charles history.
Four Lake Charles cemeteries will be featured on this year's tour: Bilbo Cemetery on the Lakefront; Corporation Cemetery on Church Street north of I-10; Combre Memorial Park on Opelousas Street; and Sallier Cemetery on Dr. Michael DeBakey Drive.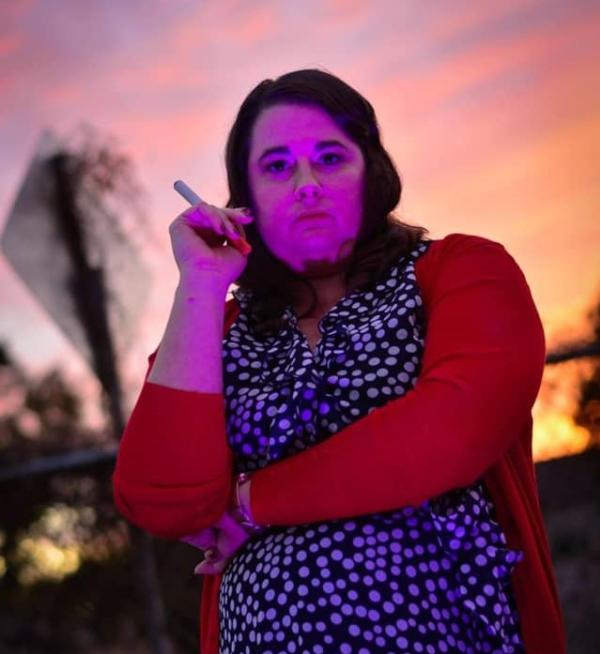 Toni Jo Henry (actress, Jennifer Spees)
Where to go and who to see:
Bilbo Cemetery, Veterans Memorial Boulevard
Toni Jo Henry (1916-1942)
Rosa Hart (1900-1964)
Ted Lyons (1900-1986)
 
Corporation Cemetery, Church Street
Albert Jessen (1814-1883)
Judge David John Reid (1824-1881) and Mathilde Veazey Reid (1824-1895)
Ann Smart Collins (1851-1908)
 
Combre Memorial Park, Opelousas Street
Doretha Combre (1896-1962)
Anonymous Hurricane Audrey Victim (????-1957)
Ralph C. Reynaud (1885-1969)
Judge Norma Holloway Johnson (1932-2011)
 
Sallier Cemetery, Dr. Michael DeBakey Drive
Michel Pithon (1771-1871) and Zora Pithon (????-1879)
Clara Pujo Barbe (1845-1923)
 

Anna Bilbo (actress, Codie Lee)
Tickets are $20 for adults, $15 for seniors, and free for children 12 and under (must be accompanied by a ticket holding adult), and can be purchased at www.CemeteryTourLC.com. The event is sponsored by Calcasieu Historic Preservation Society, CSE Federal Credit Union, Thrive Magazine, and supported by a Tourism Marketing Grant from Visit Lake Charles. Proceeds benefit the Arts Council of SWLA, which provides needed programs and events to support the arts in the region.
To learn more, call the Arts Council office at (337) 439-2787 or email CemeteryTourLC@gmail.com.
*The Cemetery Tour began in 2018 by the Arts Council of SWLA as a way to educate the public about Lake Charles history, and it has become greater than the sum of its parts. 
Photo Credits: Chad Moreno