St. Patrick, the patron Saint of Ireland, has a spirit that resonates throughout the world. This time of year, it's fun to tap into the lil' Irish in everyone. There's just something about getting decked out in green and celebrating St. Patrick's day that puts a smile on your face and a shamrock in your soul! There will be lots of fun and festivities here in Louisiana's playground surrounding St. Patty's Day. Here are a handful of events to pick from!
Authentic Irish  

For the quintessential St. Patrick's Day experience, you will want to head to the annual celebration at Lake Charles' very own Macfarlanes Celtic Pub, located at 417 Ann Street, Lake Charles.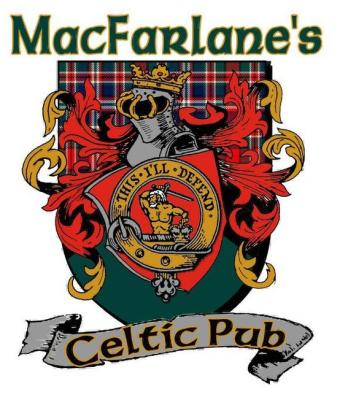 Tuesday, March 17th will be another St. Patty's to remember at Macfarlanes. The fun begins at 5 PM. There will be entertainment from Farouche, a fantastic and upbeat band that plays a blend of Celtic and Cajun music featuring bagpipes, fiddle, and Irish flute. You can learn more about Farouche (pictured below) here: https://www.facebook.com/FaroucheBand/ . Piper Rock Scissors will also be entertaining everyone with everything from "Traditional Celtic to Willie Nelson. You never know." Check them out here: https://www.facebook.com/piperrockscissors/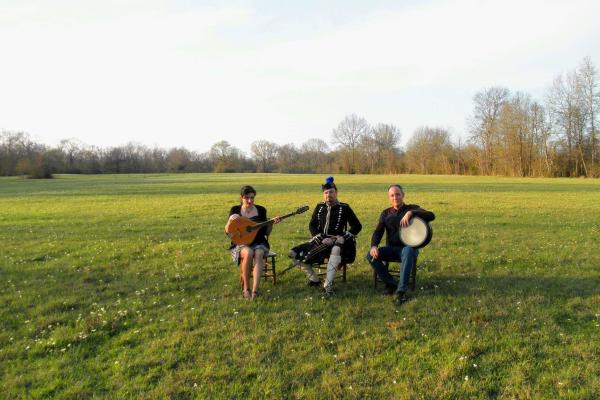 Aside from the awesome entertainment and atmosphere, there will be tastings available as well! Tickets are on sale now and are only $10 for each tasting experience! This isn't your average tasting. Hosts will introduce patrons to around 5 or 6 favorites. As you learn about each, you will enjoy a pour and soon find what may be your signature drink. The different ticket options for tastings include Jameson, Whiskey/Scotch, and Beer.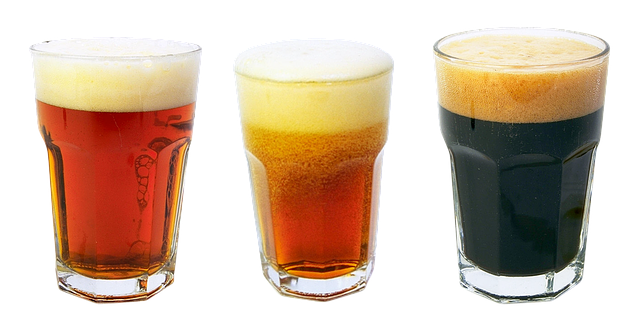 Macfarlanes is sure to draw a great crowd and they are ready to serve and accommodate more friends than usual for St. Patty's Day. BrickHouse Catering and Events, located right next door to Macfarlanes, will open their doors for the annual celebration. The tastings will be held here and there will be extra seating and servers to ensure a great time for everyone who comes out to enjoy the evening. If you have never had the chance to check out BrickHouse, this will be a wonderful opportunity to enjoy a great venue.  https://www.facebook.com/lcdowntowncatering/
Macfarlanes has a full menu of fantastic Irish fare and delicious dishes you simply have to try... Scotch eggs, Pub Fries, Blarney Stones and Drunken Irish Bread Pudding to name a few.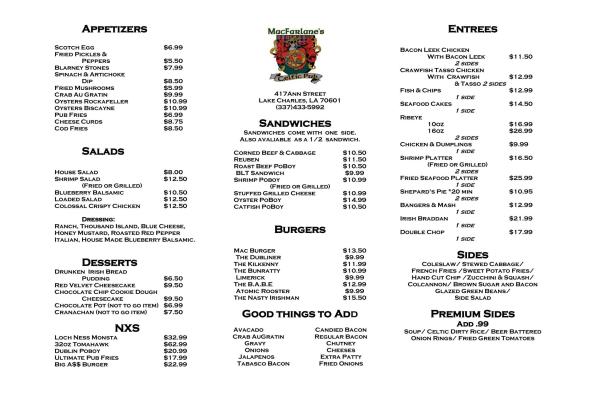 Irish I could try it all. 😜
Panorama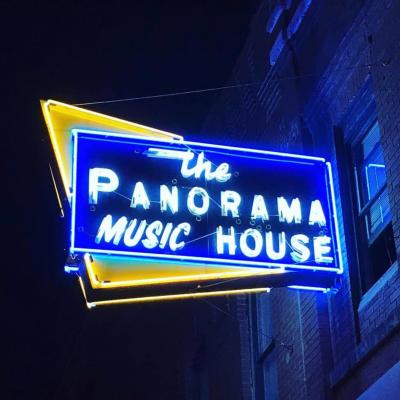 If you are looking to shamROCK the night away, Panorama Music House will also be hosting a St. Patty's day party on Tuesday, March 17th. There will be an all-ages set starting at 6 PM featuring Hailey and Brett Cooley. Then at 8 PM, Logan Soileau & The Cards go on until 11 PM!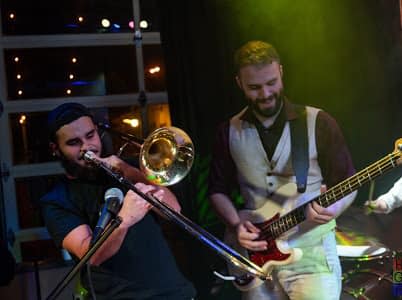 Walk...Run...Crawl
Ahead of the Holiday, there are some great events and opportunities to get into the spirit!
Happy Hour Rotary Club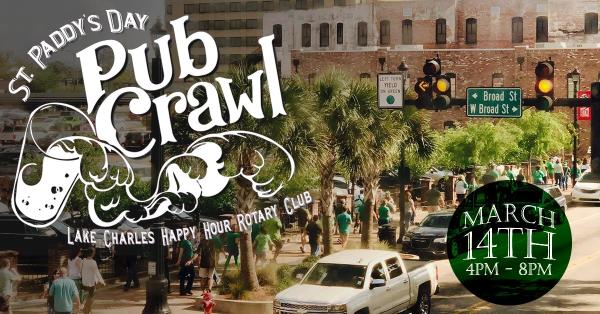 Macfarlane's is joining forces with the Lake Charles Happy Hour Rotary Club: https://www.facebook.com/LakeCharlesHappyHourRotary/ and will be the last stop on a super fun pub crawl that will begin at 4 PM on Saturday, March 14th. This Pub Crawl will begin at Panorama Music House. Other partners in this Pub Crawl include Luna Bar and Grill, Pujo Street Cafe, Tia Juanita's Fish Camp, Ol' Bastards Sports Bar & Grill, Crystals, and 1910. You can purchase your tickets and get all the details here: https://www.eventbrite.com/e/st-paddys-day-pub-crawl-a-lake-charles-happy-hour-rotary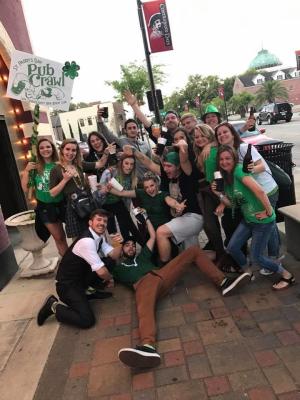 Macfarlanes will be the last stop on the crawl and is fully prepared to feed and serve everyone ending their night here. The kitchen will be fully staffed and open late. This is sure to be a super fun night of food, friends, and Irish fare!
Green Hat Charity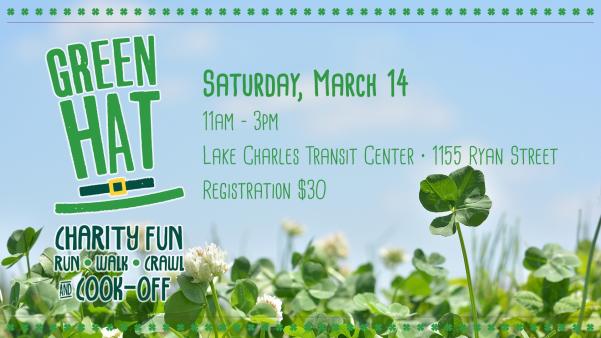 If you are looking for a weekend event that's not "after hours", check out the Green Hat Charity Fun Run/Walk/Crawl Cookoff! This event begins Saturday, March 14th at 11 AM at 1155 Ryan Street at the City Transit Center. There are five stops on this super fun route including The Plaid Pig, 121 American Bistro, Laguna's, Pujo Street Cafe, and Historic City Hall. Tickets are only $30 each ($20 for children under 12) and your ticket includes 
👉A T-shirt and goodies
👉1 Drink ticket for each stop (Adult beverage or non-alcoholic - your choice)
👉1 Appetizer at each stop
👉Lunch and entertainment by the Rosedown Rockers at the last stop, the LC Transit Center.
Find out more: https://stpatrickfoundation.org/events/green-hat-charity-fun-run-walk-crawl/
Brunch, Brew, & Painting too! 🍻🎨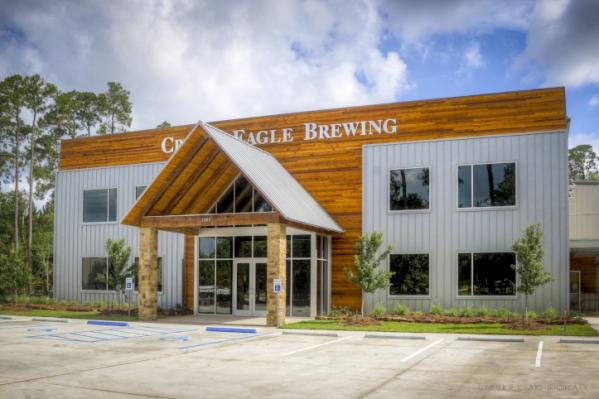 Crying Eagle Brewing Company will be hosting Brunch on Sunday, March 15th that will give you the opportunity to paint some fun beer glasses that you can use to toast your friends and drink your green beer on St. Patty's day! Brunch will be held from 11:30 AM - 1:30 PM. To purchase tickets, call Phone: 1-866-217-5835/337-990-4871 or visit http://www.cryingeagle.com/. Crying Eagle is located at 1165 E McNeese Street Lake Charles, LA 70607
Last Chance, Leprechauns!

The culmination of celebration will be the St. Pat's Pub Crawl Extravaganza, on Saturday, March 21st. This event will benefit the Louisiana's Firefighters Association.
9 Bars. 9 Shots. Huge Bash to conclude the night. The event begins at Rikenjak's at 5:45 PM. The group will travel and socialize together to the following locations: Coller's Ice House, Bad Apple Saloon, Pappy's, Martini's, A FUN SURPRISE & PHOTO OP, Panorama, and will end at Macfarlanes. Whether you are attending with old friends or looking to meet new ones, this will surely be an event to remember. Get your best St. Patty's Day attire ready. 
"Tutus are encouraged" 
Four-Leafed Fact
The difference between a shamrock and a clover is just one leaflet. Four-leaf clovers come about from a rare genetic mutation which causes the extra leaflet to grow! This is why it is so difficult to spot one, and why it is considered so lucky.🍀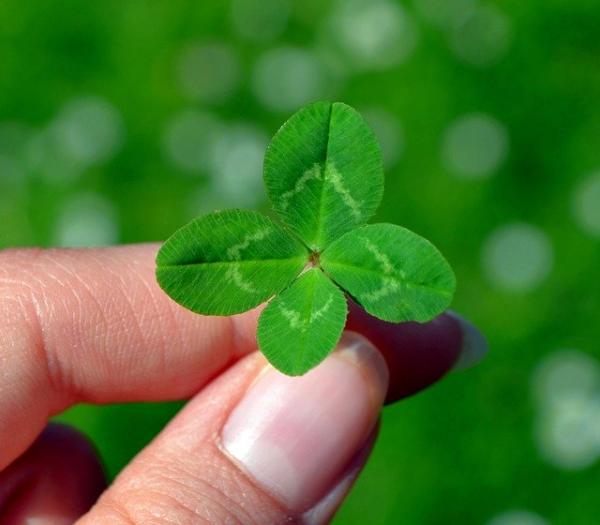 To me, living in Louisiana's Playground is like finding a four-leafed clover. This city has amazing people, amazing food, and amazing fun that can't be found just anywhere. It is rare, it is unique, and I definitely feel LUCKY to be a part of it! However you choose to celebrate St. Patrick's day, have fun, be safe, and share your memories with Visit Lake Charles! #getDOWNtownLC and remember, there's always something to do in Louisiana's Playground!