So, with January 1 being "National Bloody Mary Day," I thought that it would be appropriate to showcase one of the most incredible Bloody Mary drinks in the Lake Area. Last fall, I decided to go to brunch at MacFarlane's Celtic Pub in downtown Lake Charles with friends. One of my friends kept talking about how over-the-top the Bloody Mary drink is at MacFarlane's. I was like ... "Yeah, I am from the South, so how over-the-top can this particular rendition be?" Well, let's just say that I am not even sure if I should have ordered anything else on top of this festive concoction. It was basically a meal. 
*Pro Tip: You can enjoy this tasty treat for brunch January 2!
Take a look at this thing: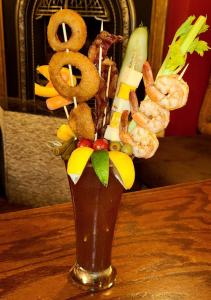 I am not sure what's more impressive, the drink or the garnishments:
So, ummm, let's see. There were celery, oranges, limes, lemons, bacon, cheese cubes, shrimp, fruit, a pickle, olives and onion rings! The onion ring, y'all. Made me laugh - if there is a way to throw something fried onto a dish, you're in the right place - Southwest Louisiana. While this might not be the way to a slimmer waistline in 2022, it's definitely something that will make you smile!
If you can believe it, we actually ordered food, so here's a recap of some of the deliciousness:
Brunch items that tickled our taste buds and made our imaginations run wild were the banana pancakes, chicken & waffles and crabby tomatoes with crab meat toppings and golden potatoes. Check out the pictures below for the full effect!
Crabby Tomatoes: 
Sauteed potatoes, onions and bacon topped with friend green tomatoes, sliced avocado, poached eggs, hollandaise sauce and lump crab meat!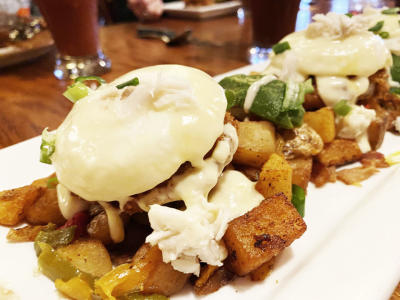 Banana Pancakes:
Tall stack of 4 pancakes topped with banana's foster and Nutella!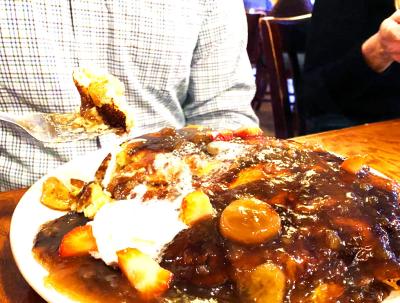 Chicken & Waffles:
You can enjoy MacFarlane's any time of the year, of course, including St. Patrick's Day later in 2022. This Irish lass always enjoys St. Patrick's Day! Anyway, follow MacFarlane's Celtic Pub on social media for updates. 
#EatSWLA #VisitLakeCharles #LouisianasPlayground #GetDowntownLC
For more restaurant and brunch options, check out www.visitlakecharles.org/eat.